Revisiting Jessica Simpson's "I Think I'm In Love"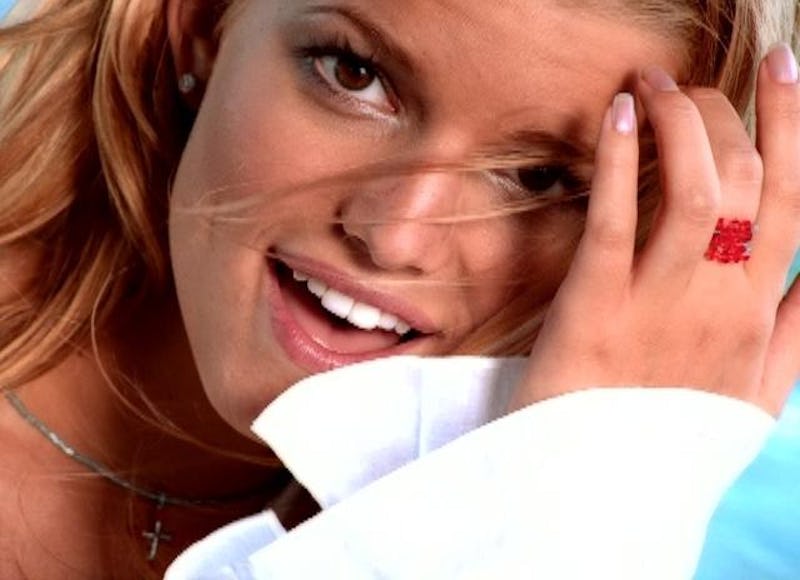 As a fan of pop music and the late '90s, I think it is time that we once again somersault headfirst into a place of nostalgia. What better way to do this than by revisiting the bubblegum masterpiece that is Jessica Simpson's 1999 "I Think I'm in Love with You" music video? Before rising to reality television stardom and subsequently becoming a fashion icon, Simpson was one of a few late '90s pop crooners who continually delivered the ultimate in effervescent ear candy. "I Think I'm in Love with You" spoke to the giddy feelings that accompany you when you first feel yourself tumbling toward amore. I, personally, would play this track on a continuous loop whilst daydreaming about that guy in my Animal Science class (I flunked Chemistry) who could never quite remember my name. What a flirt, right?? Ahem...
Although love is the presumed theme of the video, we never really find out who Simpson is "in love" with throughout the trajectory. Still, with a hodgepodge a dancing, questionable driving, and carnival antics, you don't even care that the video doesn't make a whole lot of sense. In celebration of bubblegum pop, nostalgia, and movers who moonlight as backup dancers (we'll get to that in a bit), let's take a look at 13 moments from "I Think I'm In Love With You" that you totally forgot about.
1. This Massive Shopping Spree
That's a lot of bags. I feel like I'm getting secondhand credit card debt just looking at this.
2. These Dancing Movers
These movers randomly stopped unloading a truck to bust a whole different type of move.
3. When Everyone Ditched Their Shopping Bags
Enticed by the group of dancing movers (which sounds like an oxymoron), Simpson and her squad chucked their bags of massive credit card debt to take part in the sweet undulations.
4. The Ultimate Symbolism
What better place to sing about falling in love than under a massive pink heart? Well played, Simpson. Well played.
5. Ashlee Simpson Was In The Video
Ever the supportive sister, Ashlee showed up as a backup dancer for the video. The icing on the cake? She also wore a tank top that read "Sweet Kisses," which also happens to be the title of Simpson's debut album.
6. Simpson Hated Wearing A Seatbelt
As magnificent as this video is, it failed at encouraging safe driving and passenger practices. Sit down, Simpson!
7. How Simpson Rocked The Braided Headband Look
So chic!
8. The Movers Spontaneously Lost A Layer Of Clothing
Emerging triumphantly from that truck they never finished unloading, the oxymoronic dancing movers were suddenly sans blue shirts. Huh?
9. No One Could Continue About Their Day Without A Dance Break
This crew literally pulled onto the side of the road — or bridge, rather — to engage in yet another dance break. I've never seen so much cardio take place on a road trip!
10. Everyone Ended Up At A Carnival
Everyone ended up at a carnival, because of course they did. I've said it once, and I'll say it again: Pretty much every single music video of the late '90s and early 2000s took place at a carnival or in outer space.
11. This Moment Of Serious FOMO
Simpson made us all super jealous while being sandwiched between two dashing movers (who, by the way, resumed wearing their blue shirts) in a spinny ride. Ugh, the FOMO — amiright??
12. When This Guy Stole The Show
His on fleek moves and mad mugging were everything ever.
13. Actually, This Stole The Show
Just when you thought things couldn't get any crazier, one of the movers pulled a leapfrog move whilst the other is cartwheeling alongside him. Why do these things never happen when I go to a carnival?
Now that you have been synonymously entranced and perplexed, watch this masterpiece in full below.
Images: VEVO (12); Giphy (2)