How To Wear A Romper In Fall & Winter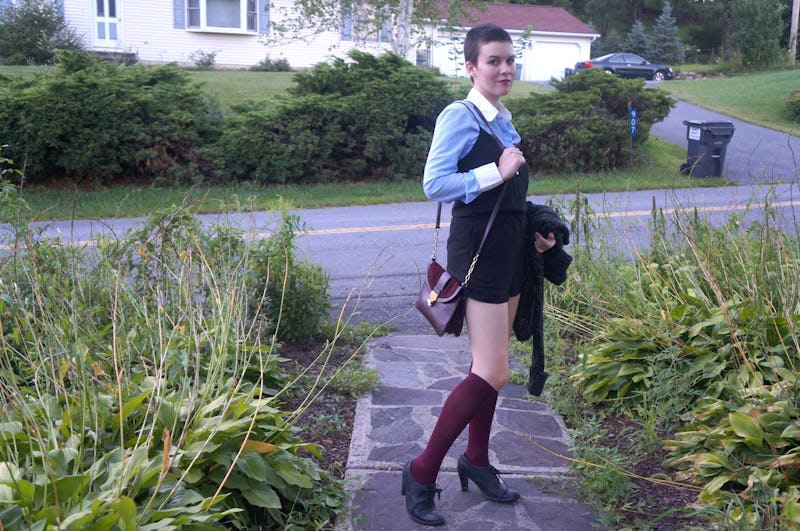 For someone who used to scoff at the idea of rompers, I certainly wore them a lot this summer. In fact, my little black romper became my go-to piece of clothing for the past few months — and I certainly plan on continuing to wear said romper in the fall. It was so easy to just throw it on with a pair of sandals and head out the door. It has the versatility of a little black dress, but a little more casual and a lot easier to, well, romp around in without flashing your underwear.
Luckily for all of us, the romper's versatility does not suddenly disappear with the onset of colder weather. You can easily pair a romper with tights, tall socks, jackets, sweaters, and other layers to make it wearable in cold temperatures.
I really do consider a simple black romper to be the modern equivalent of the LBD because it goes with everything. If your romper is, say, white or yellow or has a multi-colored pattern, it might not be quite as easy to transition it into fall, which is why I strongly suggest getting a little black romper to last you throughout the year. Forever 21, which is where I got the one I'm wearing in this article, has a lot of cute black rompers for under $30 like this lacy one and this minimal one. If you're not on a tight budget, I also love this business-like Nasty Gal romper and this suede Asos romper.
Once you're all set with your LBR, you may be wondering how to actually wear it this fall. To help you out, I put together three different outfits to prove that you can wear a romper no matter what the weather or occasion (a bold proclamation, I know).
1. To Class (And Then On To The Weekend)
Although I graduated ages ago, I still never get tired of the "back to school" thrill at the end of August. This outfit would be really cute for classes: casual, but still put-together.
When styling a romper for colder weather, be creative with layering. You can never go wrong with adding a striped shirt to any outfit, and putting one underneath a romper is no exception. Patent ballet flats class things up a bit, and red lipstick helps with the pulled-together vibe as well.
If it's chilly, add a denim jacket; if it's really chilly, consider black tights or cable-knit thigh-high socks. And, of course, don't forget your backpack.
Switch out the ballet flats for sneakers and you can easily wear this outfit for basically any weekend activity this fall, from hanging out with friends to going on a casual daytime date.
2. On A Date
Speaking of dates... Nothing makes me feel sexier than an all-black ensemble. For this outfit, I dressed up the romper with black heels, a clutch, and dark berry lipstick. You can wear tights if you want, but I prefer lace-top thigh-highs. They have more sex appeal when the bit of lace peeks out, and if they happen to have a few runs in them, even better.
I also added a long black cardigan for some warmth. You can swap that out for a trench coat if you want a more classic daytime look, or for a winter coat if it's really cold out.
The witchy feel of this outfit is perfect for fall. It made me feel like a member of The Craft , and let's be honest: If that movie was made today (which it actually may be) there's a good chance at least one of the girls would end up wearing a romper at some point.
3. To Work
Hey, I don't know how strict your workplace's dress code is. I work from home so my guidelines are basically "throw a kimono on over your underwear if there's a delivery at the door."
But if they're OK with an LBD or a pair of black shorts, then you may be able to get away with a romper (just make sure it's not too short, obviously). I personally would have no problem wearing the below outfit to a meeting like the romper-obsessed degenerate that I am.
I like this outfit because it takes the classic fall outfit of a button-down layered under a pinafore dress (as worn very charmingly by Meg Ryan in You've Got Mail ) and just updates it a little. I matched my purse and knee-high socks to my burgundy lipstick to pull the whole outfit together, and added a warm, chunky cardigan.
This outfit is so stinking cute you'll want to do a foot pop. Don't stop yourself, you deserve it.
These are just three outfits; really, the possibilities of a LBR are endless. Be sure to snap one up this fall if you haven't already, and have fun experimenting!
Images: Kelly Dougher