20 Awesome Street Style Photos From Afropunk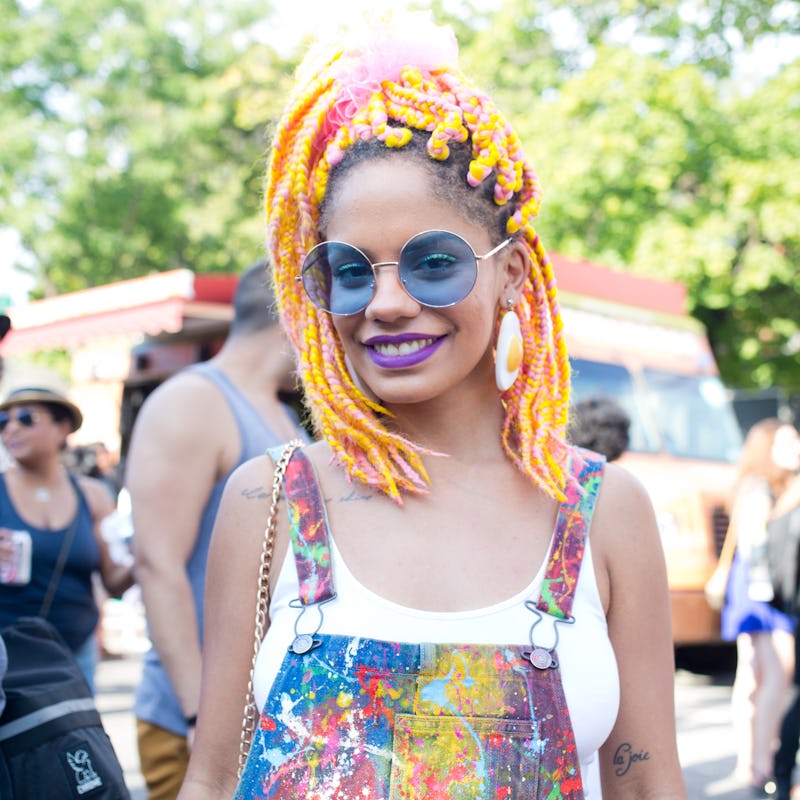 The Brooklyn of lore is not the Brooklyn of mustaches, glassy condos, and artisanal cheeses. The Brooklyn of lore is the heart of hip hop culture, the vibrant center of Black American culture that The Notorious BIG rapped about and Spike Lee made movies about. Even as it's people are being displaced still today by vestiges of classism, racism, and gentrification, Afropunk Festival brings New York together.
At Afropunk, you come for the music, but you stay for the good vibes. Afropunk festival demands a welcoming environment for people of every gender, race, age, sexual orientation, and body type; it's truly like a breath of fresh air. When I attended the 2015 festival, people were looking their best, feeling their best, and on their best behavior.
With performances from the likes of Grace Jones, Ms. Lauryn Hill, Kelis, and Lenny Kravitz, excitement was through the roof. Other stages hosted punk acts, African MCs, DJs and all manner of performers in between. The diversity was tangible and well enjoyed by all as babies, teens, and adults all partied for hours on the same green in Brooklyn. Grace Jones shut it down two nights in a row, proving that age is nothing but a number, as she hula hooped nearly nude for half her set at 67 years young.
With all the awesome diversity at the festival, it was hard not to feel inspired. Here are 20 gorgeous humans of Afropunk Fest (I asked them to describe themselves and their style in a sentence or less) that'll be the muses for your next outfit.
"Photographer on the move." — Day Trippin In Soho
"Afro-Lace" — Alice Sira
"Channelling my inner Scary Spice." — Anya
"I'm on my NY Sh*t <3" — Melanie
"I love love <3" — Dimitra Androutsou
"I'm hungry and happy" — Zoe
" *rainbow emoji* " — Magá Moura
"Pink haired mermaid and artist." — Jemila
" *peace sign emoji* " — Jillian Green
"Mia took my picture at #Afropunk." — JoJo
"Big Red" — Amanda Moore
"Feathergame" — Donovan
"#tipsy #afropunk" — Anna
"Calm vibes @afropunk" — Gianni
"The higher the hair the closer to heaven" — Elijah
"Superheroes Exist" — Ayade Rice
"Xx" — Marc Jeremy
"God bless Amerikka" — Dunni
"The future is now" — Morgan
"Trying to beat the heat." — Amina Davis
Aside from all these wonderful outfits, the biggest takeaway I had at Afropunk was the pushing forward of the message that so many in this world are trying to carry: Hatefulness will not be tolerated. In this new frontier of social consciousness two songs were most prevalent in between sets: Junior Reid's One Blood and Kendrick Lamar's "Alright". The enchanting hook echoed through Commodore Barry park in Fort Greene and beyond, calling out that Brooklyn is certainly alright, thank you very much.
Photos: Maria Penaloza