How Zac Efron Learned How To DJ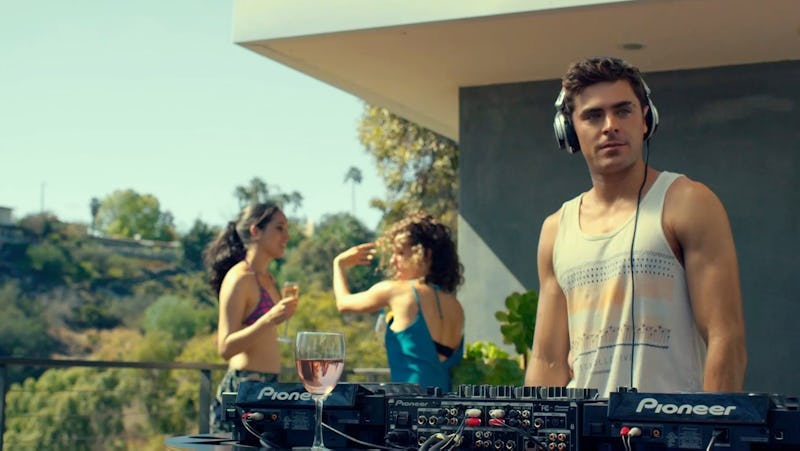 In the new film We Are Your Friends, Zac Efron portrays Cole Carter, an amateur DJ living in the San Fernando Valley of Los Angeles who dreams of hitting the big time and spinning in the hot spot clubs of Hollywood's nightlife scene. He gets his chance when an established DJ named James, played by Wes Bentley, recognizes Cole's talent and takes him under his wing. The story certainly has the feel of a rags to riches biopic and isn't so far fetched that it seems totally implausible, so is We Are Your Friends based on a true story?
Despite its realistic-seeming nature, We Are Your Friends is pure fiction. The movie was penned by screenwriters Max Joseph and Megan Oppenheimer, based off of a story by producer Richard Silverman. Silverman wanted to make a movie centered around EDM culture, since he thinks of it as the next major music movement in the country. He compares the movie to what he considers to be two other music revolution films, American Graffiti and Saturday Night Fever, in the way all three portray the rise of a new sound, rock and roll and disco in the latter two's cases, through the eyes of young people coming up in that world rather than famous musicians.
To add a sense of realism to the film, Efron learned how to DJ from an actual pro, Jason Stewart, better known by his stage name, Them Jeans. Like Efron's character in the movie, Stewart is a Southern California native (hailing from Orange County) who dreamed of becoming a DJ. Stewart trained Efron for three months in preparation for the film, teaching him how to use a CDJ digital deck in the process and even letting him take over the reins for a few tracks at some gigs around L.A. So to honor Stewart's contribution to the film, here are some of Them Jeans' best tracks.
Idio
This song has some seriously ominous tones; delightfully creepy. The only EDM track I know of that would be at home in an X-Files episode.
The Zoo
Totally chill, this is pool lounging music at its finest.
Git It
Can't write, dancing.
Linus and Dougie
I know what I'm playing at my next Christmas party.
Swedish Band
I could meditate to this track — so relaxing.
Gemini
I don't know about you, but I've got a hankering to go shopping at Uniqlo all of a sudden.
Vowel Play
Them Jeans' most famous track by a mile.
Good luck getting those beats out of your head — which is exactly what We Are Your Friends probably hopes to accomplish.
Images: Warner Brothers Pictures