Where To Buy Your Own 'BB17' Cat Hat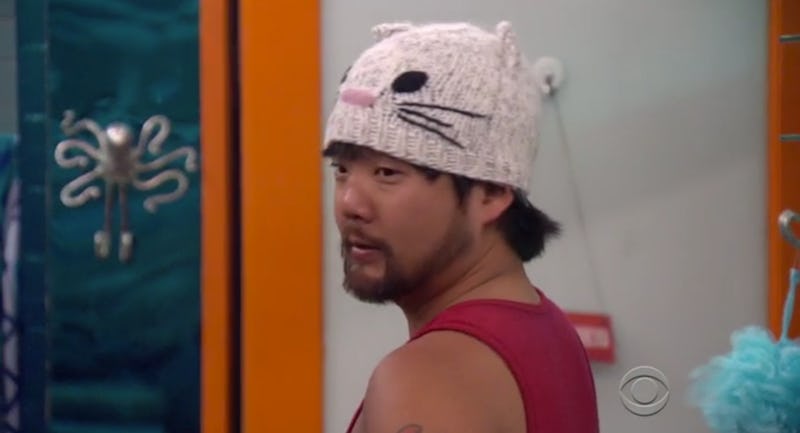 Big Brother isn't usually known for creating fashion trends, but this season has provided some of the most costume-friendly houseguests in the series' history. Trendy, all-white clothing while rocking chinstrap facial hair? Perfect Whackstreet Boy John costume. Wrapped up in a gray blanket with large sunglasses? Hello, Audrey. If you were looking to dress up like Big Brother 17 houseguest James, you'd be looking for a simple all-camo outfit as well as his trademark kitty hat to top it all off. Even if you're not throwing a Big Brother costume party (which you totally should), the cap is a fun, cute accessory that can fit with any casual outfit. But, where can you find James' BB17 cat hat?
The problem is that it's not available from most retailers, but luckily we've found where you can purchase it online. The "Comfy Critters Kitty Hat" is produced by the website Hats, Scarves, and More, which is an accessory-based company that specializes in headwear for people who suffer from illness-related hair loss. So, not only does getting a cap from them complete your perfect James costume, but it also help support a great company doing good work for victims of cancer, alopecia, and other medical conditions!
James' hat is his most definitive clothing article, but if you're going to have a complete James costume, you're going to need a few more things. Here are some great clothing articles to compliment your new head accessory.
Red T-Shirt
Everyone has a color that they look best in, and James' is red. He has at least two red tops (a t-shirt and a tank top) that he alternates between along with his other clothing. Red suits James not just visually, but emotionally as well as James is not afraid of getting metaphorical blood on him in the game of Big Brother.
Baby Rib Basic Short Sleeve T-Shirt, $15, American Apparel
Camo Shorts
A lot of James' promotional pictures feature him wearing full-length camo pants, but in the house James typically rocks gym shorts. For one peice of clothing that captures James, throw on a pair of camo shorts to let people know that you've got a rural charm, but you're ready to run for the HoH comp if you need to.
Peace Not War Short, $49.95, Billabong
POV Necklace
A James costume wouldn't be complete without a PoV necklace. James has only won one PoV, but there is no accessory that says "I'm good at winning competitions" like this definitive accessory. It may come off as tacky in day-to-day wear, but it helps communicate the full James persona and is an essential costume piece.Big Brother Veto Necklace, $64.95, CBS Store
Kitty Hat
James' hat (which started out as Liz's, but he has essentially claimed as his own) is the pièce de résistance. It's cute, fun, and lets everyone know that you are the coolest person in the room.
Comfy Critter Kitty Hat, $28.99, Scarves, Hats, and More.
For more on the houseguests, check out Bustle's very own Big Brotherpodcast, The Diary Room. Listen to the latest episode below, and be sure to check out future episodes on Bustle's SoundCloud page and iTunes.
Images: Screengrab/CBS (2); Screengrab/American Apparel; Screengrab/Billabong; Screengrab/Scarves, Hats, and More