'Suits' Will Leave Us With Plenty To Think About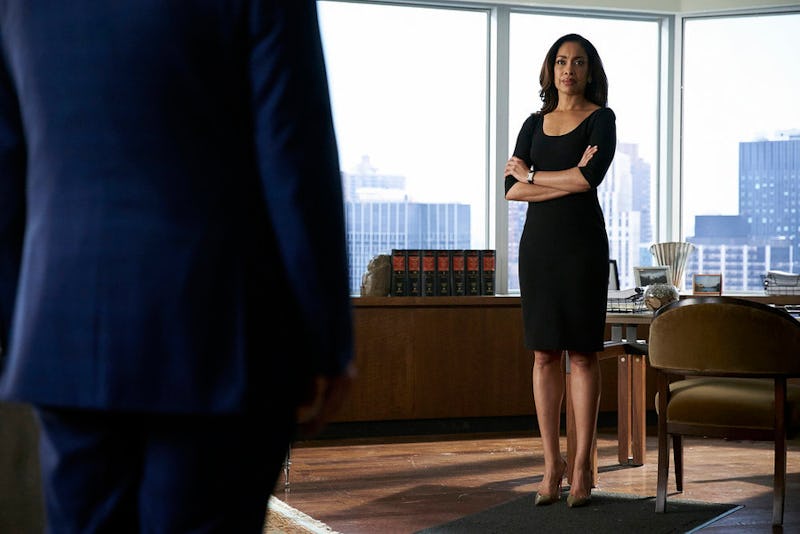 At some point, we're going to have to redefine what "season" means for a show. A mid-season hiatus used to be just a few weeks long, but now it's commonplace for shows to give us "A" and "B" seasons that span months, making it seem as if our favorite shows are always on. After tonight's summer finale on USA, when will Suits Season 5B return? The show that sustains hours of drama on a single lie was renewed for a Season 6, but the last six episodes of Season 5 are up first, so let's not get ahead of ourselves. Given that the state of (Louis and) Harvey and Donna's relationship is breaking my heart, and the Mike and Rachel wedding drama is just getting started, it better be soon!
For now, the answer is a big old emoji shrug. USA has not set a date yet. Sixteen episodes were ordered by the network, and as of Wednesday's summer finale only 10 will have aired. However, based on the show's history, I think it's a healthy guess that USA will give us the remainder of the season around January of 2016. We'll probably have an announcement from the network in a few months, if last year is any indication.
Let's look at some statistics, which will reveal both the reasoning behind my guesswork and why I am neither a doctor, a lawyer, or an astronaut who could harm others with numeric generalizations. While Season 1 ran straight from June to September, Seasons 2-4 took healthy breaks in the middle of their runs. Both Seasons 2 and 4 had their midseason premiere around the middle of January, while Season 3 started back up in March — which is a logical adjustment, as the summer half of Season 3 also started and ended a few weeks later in the year.
When you think about it, this is a smart move for USA. They are not a major network, and the reason that shows like Suits, Playing House, and Mr. Robot while we're at it, are so popular is that they air when the most popular shows on channels like NBC, Fox, ABC and CBS are taking their breaks. This holds true for the early winter months of the year as well. While summer may not be as busy as fall in terms of must see TV, they make sure there's always something to watch. The fact that networks like USA give us quality programming in these quieter months, and hold our attention during their fall hiatus, makes for an excellent, full year of entertainment.
So, yeah, Season 5B is probably awhile away, but you know the summer finale will leave us with plenty to think about until then.
Images: Shane Mahood/USA Network; WiffleGif (3)