Deciphering 'We Are Your Friends' Title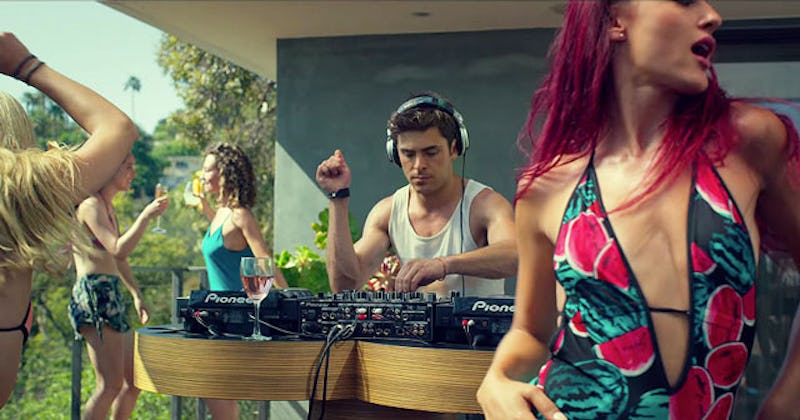 In the new movie We Are Your Friends, Zac Efron portrays an aspiring DJ in Los Angeles hoping to get his big break. Wes Bentley and Emily Ratajkowski also star in what's being billed as this generation's Saturday Night Fever, at least according to Efron. The film is the first major motion picture to center around the world of EDM (electronic dance music, for those of you who aren't on fleek), which has for years now been the music of choice for many members of the so-called Millennials generation. That's all well and good, what does We Are Your Friends ' title mean, exactly?
According to IMDb, We Are Your Friends is named after an EDM track by the French duo, Justice (which is featured on the movie's soundtrack), which is itself a remix of a track of the same name by British group, Simian Mobile Disco. This makes total sense, since the movie prides itself on being Hollywood's entry into the world of EDM. Yet although it may be that, it's hardly the first film to be named after a song. There have been a ton, so here's a small sample (well, 17) of movies who derived their names from popular songs.
Sixteen Candles
Classic John Hughes movie, classic song by The Crests. Not a bad combo.
Stand By Me
Another '80s coming of age tale, this one was based on a novella by Stephen King called The Body, but the movie decided to name the film after a Ben E. King song.
Blue Velvet
Clearly there was some nostalgia for '60s songs in the '80s. David Lynch named his Oscar-nominated 1986 mindbender after Bobby Vinton's 1963 heartbreaker.
Pretty Woman
Technically, Roy Orbison's song is called "Oh, Pretty Woman", but come on, it's clear where the Julia Roberts movie got the title from. Orbison's song even appears on the film's soundtrack.
My Girl
If you grew up in the '90s, you cried over Macaulay Culkin in My Girl. It's science. The Temptations' song the movie is named after is decidedly more upbeat.
Only The Lonely
Hey, another Roy Orbison song! This time it's a John Candy movie.
Love Potion Number 9
One of Sandra Bullock's first films, coming two years before she became a star with Speed, this movie draws its name from The Searchers' doo wop single.
My Boyfriend's Back
A precursor to modern zombie comedies? Maybe! Though the 1963 song by The Angels had nothing to do with anyone coming back from the dead.
Dazed And Confused
Alright, alright, alright. This '93 flick takes place in the '70s and gets its name from a 1969 Led Zeppelin tune. So many decades!
It Takes Two
The Olsen Twins were at the height of their power in '95 when they starred in this film, named for a Marvin Gaye and Kim Weston duet.
One Fine Day
Fun fact: When I was ten years old I saw this movie on an airplane while sitting next to my mom and I got super embarrassed during a scene where Michelle Pfeiffer appears in her bra. The Chiffons song is totally appropriate for moms, though.
Man On The Moon
1999: The first film on this list whose song isn't from the '60s! The Andy Kaufman biopic was named for the 1992 R.E.M. song, which was also about Kaufman.
Jeepers Creepers
Forget the '60s, this song originated in 1938. It was a sweet song for over 60 years, but the 2001 movie of the same name has made it a horror staple.
Sweet Home Alabama
Even if you're not from the South, you've got to love this 1974 classic from Lynard Skynard. Reese Witherspoon does, probably!
What A Girl Wants
Amanda Bynes and Christina Aguilera, could there be anything more early-2000s?
Love Don't Cost A Thing
Never mind, I found something more early-2000s.
Take Me Home Tonight
It took a long time, but '80s nostalgia has finally arrived. Eddie Money, FTW.
So there it is, plenty of proof that We Are Your Friends is far from the first film to take its name from a movie. It probably is the first to take its name from an EDM song though.
Images: Warner Brothers Pictures; Universal Pictures; Columbia Pictures; De Laurentiis Entertainment Group; Buena Vista Pictures; 20th Century Fox; Gramercy Pictures; United Artists; Relativity Media