You'll Want To See Zac Efron's New Movie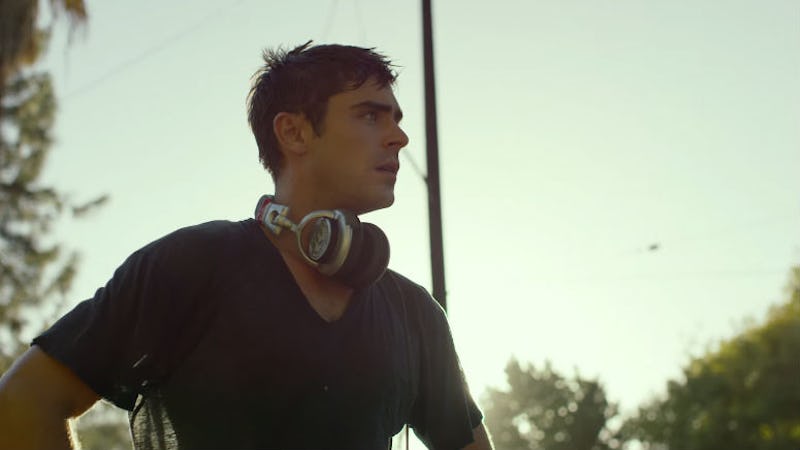 What's better than a strong dose of inspiration and Zac Efron? Hint: The answer is "nothing" — and luckily, you can find both right here, specifically with Warner Bros.' new trailer for We Are Your Friends . Efron, who historically plays very dateable characters, steps into the shoes of an aspiring DJ for his latest role.
According to the description of the trailer, We Are Your Friends is:
. . . about what it takes to find your voice. Set in the world of electronic music and Hollywood nightlife, an aspiring 23-year-old DJ named Cole (Efron) spends his days scheming with his childhood friends and his nights working on the one track that will set the world on fire. All of this changes when he meets a charismatic but damaged older DJ named James (Wes Bentley), who takes him under his wing. Things get complicated, however, when Cole starts falling for James' much younger girlfriend, Sophie (Emily Ratajkowski). With Cole's forbidden relationship intensifying and his friendships unraveling, he must choose between love, loyalty, and the future he is destined for.
In other words, prepare for a roller coaster ride while you wait to see if Efron can achieve his dreams. If that's not enough to convince you to go line up for this movie outside of your local movie theater (and honestly, how could it not be), though, the film's trailer should do the trick — trust me when I say it is seriously motivating, even as includes the setbacks all young adults face as they pursue their dream careers.
We Are Your Friends hits theaters on Aug. 28, but until then you can check out seven GIFs that prove you need this movie in your life.
When We're Treated To A Montage Of Efron Running
Every day he's hustlin'.
When Efron Is Not Here For Your Beyoncé Requests
And, no, he will not play "Drunk in Love." (Sorry.)
When Efron And Emily Ratajkowski Lock Eyes
New couple goals right here.
When Efron Gets Innovative
He's creating his own career as a DJ.
When We Get This Adorable Montage Of Love
I told you, couple goals!
When The Trailer Gives You All The Feels
Because this promises to be one inspirational movie.
When Efron Isn't Afraid
Just a massive crowd of people, no biggie.
Check out the trailer below:
Images: Warner Bros. Pictures/YouTube