Ellie Kemper So Deserved An 'Unbreakable' Emmy Nod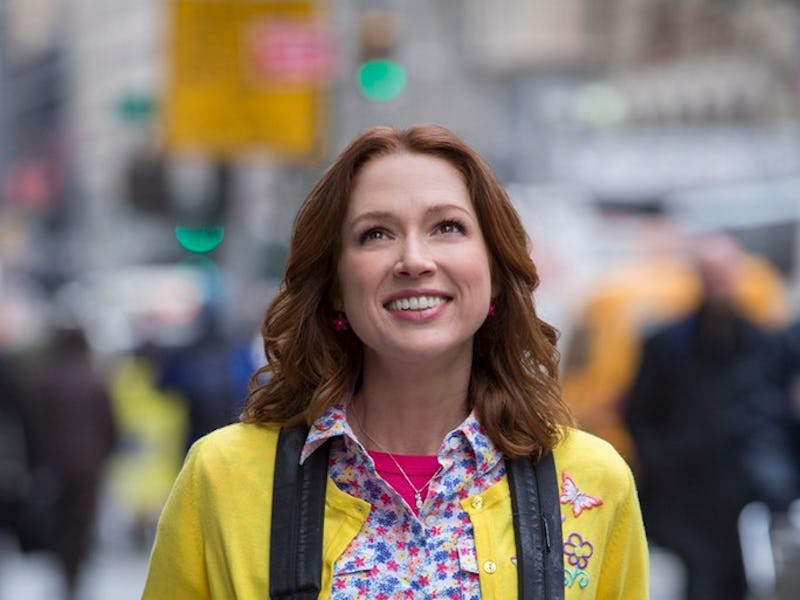 If you're like me, news that Titus Burgess had been nominated for a 2015 Emmy for his work on the Netflix series, The Unbreakable Kimmy Schmidt, catalyzed an instant, "YAS!" Burgess' nomination was, IMHO, fully well-deserved, as are the other nominations for the offbeat hit. During a Monday, Aug. 24, appearance on HuffPost Live, Burgess sat down with Karamo Brown to discuss his Emmy nod and dish on tidbits for Unbreakable Season 2. Within the interview, the actor went on to say that he felt one lacking Emmy nomination was "the snub of all snubs" — the nod that didn't go to Ellie Kemper, who portrayed Kimmy Schmidt.
"She is the show!" he said. "Without her delicious genius, we have nothing to play off of...We rely on what she offers. There's more seasons to come, hopefully, and we will see. I certainly share my nomination with her, because I could not have done it without her."
I would have to agree that Kemper's deft portrayal of the cult-hostage-turned-New-Yorker was more than award-worthy. While the character, Kimmy, maintained a near impossibly sunny disposition throughout the series' first season, she was anything but one-dimensional. Kemper aptly created nuances to the character's jubilant persona, as Kimmy struggled to acclimate to a world she had been sequestered from for 15 years.
Although she hasn't been given a nomination this go-round, that doesn't mean we can't celebrate the many moments that made Kemper's portrayal so inimitable. Let's take a look at eight moments from Unbreakable where Kimmy truly stood out — and cross our fingers for Kemper to get a nod next year.
1. When "2090 Called"
Somehow Kimmy is able to deliver one of the most macabre lines of the season and still appear to be the epitome of sunshine.
2. Her Moments Of Unbridled Enthusiasm
After spending a majority of her life in an underground bunker, it's no surprise that a plethora of newfound treasures in New York City would catalyze a fit of pure elation. I, for one, never grew tired of Kimmy's unadulterated joy.
3. When She Realized Her Spin Class Was Kind Of Cultish
While Kimmy was trying to — literally — spin away from her problems, she came to the realization that her spin class teacher and former cult leader (hi, Jon Hamm) had some eerily similar traits. A beacon of sass and strength, she ditched her scrunchy and revealed this fact to the other spinners.
4. When She Kissed A Boy For The First Time
When you haven't experienced the giddiness of a first kiss until closing in on 30, some definite butterflies are bound to ensue. Can we talk about the fact that Kimmy's eyes rounded to the size of saucers during the moment? Perfection.
5. Basically Every Moment From The Trailer
So good, right?!
6. When Her Birthday Party Went Awry
Despite its hilarity, the episode where Kimmy attempted to have a "normal" birthday party deftly displayed the angst Kimmy felt over attempting to acclimate to a regular lifestyle.
7. When She Had A "Weird" Romantic Moment
Once again, we got to see that — despite her normally unremitting positivity — Kimmy's character was far from one-dimensional. During some missteps in her first romance, Kimmy admitted to feeling out of place in her new surroundings. If anything, I found her "weirdness" extremely endearing and relatable. Normalcy can be so boring — amiright??
8. When She Busted A Move
Look me in the eye and tell me those moves aren't Emmy-worthy!
It looks like it's time for me to once again binge this series in its entirety — I think I've seen it a full five times at this point.
Images: Eric Leibowitz/Netflix; Giphy (8)