Carly & Kirk Are The Most Normal Ones On 'BiP'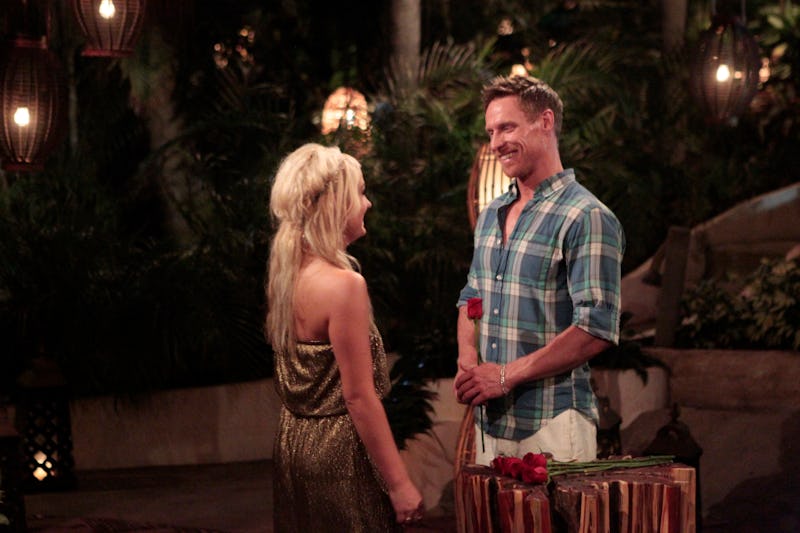 This season of Bachelor in Paradise has seen no shortage of drama. Joe manipulating Juelia, Sam manipulating Joe, JJ leaving for a girl back home, Lauren I. leaving for a guy back home, etc. That's why it's refreshing that Kirk and Carly's Bachelor in Paradise relationship is so normal. I mean, yeah, it's progressing quickly. After all, they just have a few weeks to form a connection. But, both Carly and Kirk are taking things seriously and also realistically. They already had a conversation about where they stand and how they feel, Kirk already met Carly's brother (well, over the phone), they already had a Fantasy Suite date, and so on. And, Kirk and Carly aren't letting a lack of BiP dates stand in their way. On Monday's episode of Bachelor in Paradise , Kirk took Carly fishing on a spur-of-the-moment date that totally won her over.
Knowing that the two of them shared a love of the sport, Kirk set the whole thing up (OK, OK, the producers probably helped), and he wooed Carly in front of a dazzling sunset. If she wasn't smitten before, she totally is now. Will Carly and Kirk work in the real world? Maybe! Carly was quick to point out that their fishing date was something that would happen in her everyday life. It was easy for her to picture Kirk in her real world, and that's important.
Doing average, normal things may not be as interesting as a fancy BiP date, but it gives you a leg up when you leave the show and head back to real life. And, I, for one, am totally rooting for Carly and Kirk to make it even when the cameras shut off.
Image: Rick Rowell/ABC