6 Drinks To Hold You Over Until PSL Season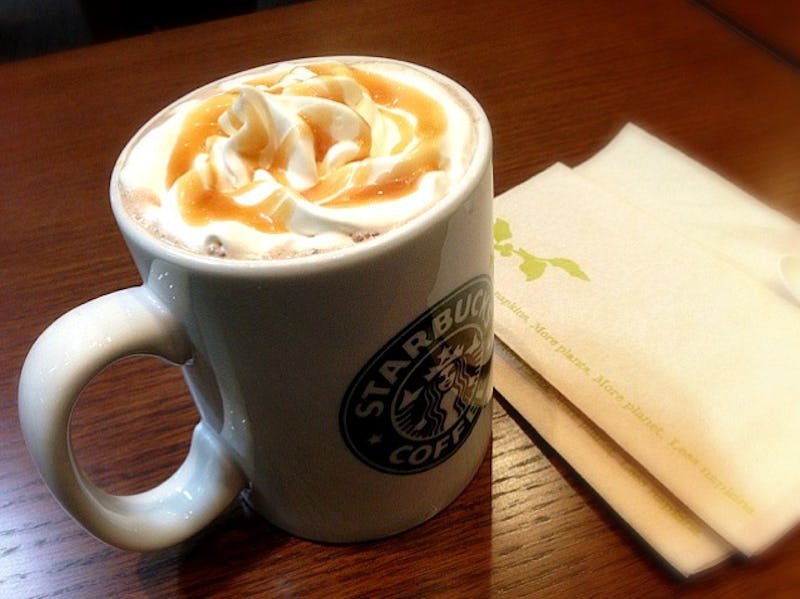 It's the question Starbucks fans probably ask 10 times a day — when does the pumpkin spice latte come out? You may be eager for that first sip of fall deliciousness, but according to Starbucks, the pumpkin spice latte's official release date isn't until Sept. 8, meaning you still have a couple of weeks to wait. I know, I know. When you're itching to get your hands on the first PSL of the season, a "couple of weeks" seems like way too long. It's time to start looking for other Starbucks drinks to help fill the PSL void.
I don't blame you. That eager feeling of waiting for the PSL to hit stores is nearly identical to the excitement you'd feel as a kid waiting for Christmas. Minutes feel like hours. Days feel like months. You're crossing off the days on the calendar, but they still move at an absolute glacial pace. We are totally over the summery juices, and the crisp iced teas. We want the warm, welcoming, and soothing taste of autumn.
To help keep you from going totally insane, I've rounded up six Starbucks drinks that will tide you over until the PSL makes its triumphant return. Of course, these could never completely replace your beloved PSL. They exist simply to keep you sane until you can order what you really want.
1. Caffé Mocha
With the rich tastes of mocha sauce and espresso combined with a sweet cloud of whipped cream, this drink will take care of your tastebuds for the time being.
2. Cinnamon Dolce Latte
The smell and taste of cinnamon is sure to evoke excitement for the upcoming fall and winter season. This latte combines that sharp spice with brown sugar flavors for a beverage that's almost as warm and inviting as the PSL.
3. Skinny Peppermint Mocha
Peppermint is another one of those classic flavors of autumn and winter. This minty and chocolatey magic will almost have you saying, "What's a PSL again?!" Well, I said almost.
4. Tiramisu Latte
There's nothing wrong with a drink that's as good as dessert, and this latte definitely fits the bill. With hints of creamy mascarpone and a perfect dusting of cocoa powder, this sweet beverage is just what you need to lift your PSL-deprived spirits.
5. Salted Caramel Hot Chocolate
Combine caramel and chocolate with anything, and I'm pretty much certain I'll love it. Add a dusting of sea salt topping, and this drink is a little slice of bliss that's sure to sweeten your mood.
6. Toffee Mocha Frappuccino
Alright, so perhaps a cold drink isn't exactly what you're looking for when you're craving a PSL. But, the deep and rich flavors of toffee, mocha, and cocoa are sure to warm you right up.
Images: hirotomo t/Flickr; kathy_capulong, starbucksargentina, mo_mos_madness, rajahbelle, freedom.recovery, jaimeleigh_1989/Instagram