Peek At 'I'll Give You The Sun's Unique New Cover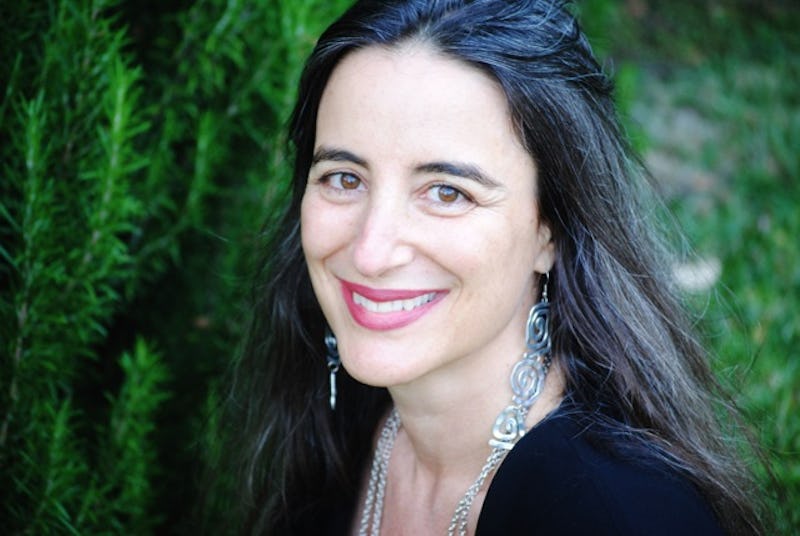 It's been almost a year since the Michael A. Printz Award winning I'll Give You The Sun was first published, capturing our attention (and a good-sized piece of our hearts) with its beautiful prose and all-too-real surrealist story of twins struggling to find their way back to each other. Just in time for your scheduled re-read of the novel, on October 27, Jandy Nelson's I'll Give You The Sun paperback release is out — and the unique story has an even more unique, new cover you're going to need on your bookshelves.
Luckily, publishing house Penguin Group's Young Readers teamed up with Bustle to give readers a sneak peek at that unique cover. Chances are, it's going to be the first of its style you've seen.
When readers — both young adults and grown-ups — talk about the acclaimed I'll Give You The Sun , they talk not only about its memorable characters Noah and Jude, but about Nelson's hit-you-in-the-chest words and the emotions they pull out of you. They are at times surrealist, poetic, and straight to the point. They have everything to say about art, family, love, and growing up. They're the types of words we'll carry with us even after we close the final page, both in our brains and (if I'm not the only one) scribbled on our notebooks or pinned up at our desks.
Any novel that opens with four quotations from Rumi, John Keats, Willa Cather, and E.E. Cummings knows how important words are. And it's with this sentiment in mind that I'll Give You The Sun's cover was redesigned.
I'll Give You the Sun by Jandy Nelson, $9, Amazon
Nelson's paperback release features a sort of "cover on a cover," showcasing one of the most vibrant quotations from the YA novel:
We were all heading for each other on a collision course, no matter what. Maybe some people are just meant to be in the same story.
I'll Give You the Sun by Jandy Nelson, $9, Amazon
In honor of I'll Give You The Sun's paperback release, here are 11 other of the best quotes from Nelson's novel, because a top 10 just wasn't enough.
1. "Meeting your soul mate is like walking into a house you've been in before — you will recognize the furniture, the pictures on the wall, the books on the shelves, the contents of drawers: You could find your way around in the dark if you had to."
2. "When people fall in love, they burst into flames."
3. "Quick, make a wish.Take a (second or third or fourth) chance.Remake the world."
4. "'Or maybe a person is just made up of a lot of people,' I say. 'Maybe we're accumulating these new selves all the time.' Hauling them in as we make choices, good and bad, as we screw up, step up, lose our minds, find our minds, fall apart, fall in love, as we grieve, grow, retreat from the world, dive into the world, as we make things, as we break things."
5. "You have to see the miracles for there to be miracles."
6. "'Who ever heard of getting arrested for being disorderly?' I struggle to decipher his sloshed words. 'Are you orderly, Picasso? Is anyone?'"
7. "Reality is crushing. The world is a wrong-sized shoe. How can anyone stand it?"
8. "Because I can see people's souls sometimes when I draw them I know the following: Mom has a massive sunflower for a soul so big there's hardly any room in there for organs. Jude and me have one soul between us that we have to share: a tree with its leaves on fire. And dad has a plate of maggots for his."
9. "This is what I want: I want to grab my brother's hand and run back through time, losing years like coats falling from our shoulders."
10. "I don't know how this can be but it can: A painting is both exactly the same and entirely different every single time you look at it. That's the way it is between Jude and me now."
11. "It's never occurred to me that the stars are still up there shining even in the daytime when we can't see them."
Images: Courtesy of Penguin Young Readers