15 Hunger Games Tattoos Fit For A Badass Woman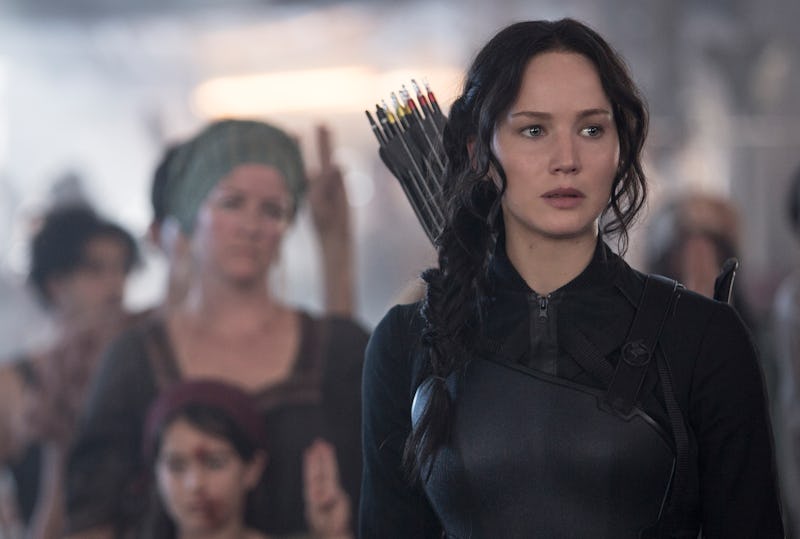 If you have a tattoo, then you know how oddly addicting they can be. And if you don't have one, well, what are you waiting for? In 40 percent of American households, someone has a tattoo, so gone are the days of being judged for inked skin. People's bodies are covered in tattoos that pay tribute to their love, tattoos of their favorite lyrics, full-blown recreations of artistic masterpieces, and (of course) there are tattoos for book-lovers.
At this point, you're probably thinking to yourself "maybe it's time I got a(nother) tattoo after all, but of what?" If you're a well-read bad ass woman, then the answer is easy: some Hunger Games ink. The trilogy features a fierce and fearless female hero, stories of perseverance, rebellion, love, family, and strength. It's an exciting and powerful YA series that is perfectly tattoo-worthy. Even Hunger Games star Jennifer Lawrence has some ink, and although it is basically a fail, her charming acceptance of it's inaccuracy makes it all the more adorable.
In case you want to match J. Law or her alternate on-screen persona, Katniss Everdeen, here are 15 tattoos inspired by the Hunger Games trilogy that are perfect for just that:
Maybe the most obvious Hunger Games-related tattoo is the mocking jay, but this water color one is absolutely stunning. Every bad ass woman is different, and should always put her own twist on everything — especially tattoos.
What could be more bad ass then a tattoo of the Girl on Fire herself? The answer, based on this bold, breathtaking tat is nothing.
Although the odds are never really in your favor, this tattoo will remind bad ass woman is up against — and inspire her to never quit.
Katniss and company refused to let the Capitol, or Snow, dictate their lives any longer and instead stood up for themselves and their loved ones. This tattoo says "you don't own me, and you never will."
Possibly one of the most powerful scenes from the first Hunger Games novel was when Katniss shot her arrow at the gamemakers. Talk about bad-assery, am I right?
You don't have to be big to be a bad ass, and neither does your tattoo. This simple arrow is delicate but strong.
Because all of the books are amazing, every bad ass woman can appreciate a tattoo that represents the transition, the struggle, and the victory of Katniss and the rebellion.
Not ready to commit to a full-on portrait of the girl on fire? Try this small interpretation of it instead.
Another symbol for the rebellion in Panem was this simple, sentimental goodbye. Who would have thought kindness could stir up so much.
"If we burn, you burn with us" was never a threat but a promise. This tattoo might as well be a "caution" or "danger" sign. Perfectly fitting of a kick ass, no nonsense lady like yourself.
Though seemingly sweet, this simple phrase is powerful as a punch in the gut. Like a bad ass woman, there's a lot more power behind its beauty.
A love quote of sorts, when Katniss shares this with readers, she's admitting the power she has within herself — so much so that she doesn't need anyone else's.
Trident aside, this quote from Finnick about putting yourself together when everything has fallen apart is motivational as any of the speeches from Katniss to the rebels.
Standing tall and fierce as ever, this Katniss tattoo shows determination, the kind every bad bitch has.
We all long to break free, and this mocking jay shows just that. Someday, every bird (and every woman) can take flight.
Image: Lionsgate; Instagram (15)