12 Of The Most Feminist Ferrante Moments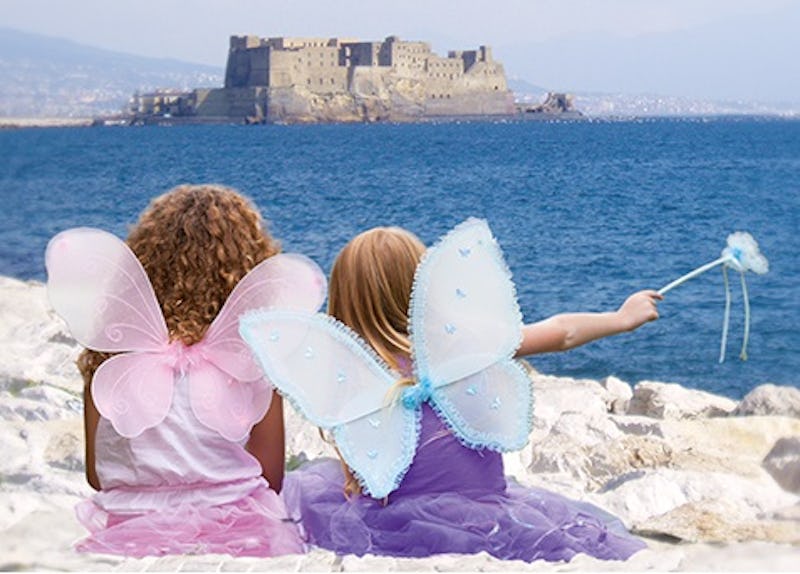 Look out, literary canonists: At least one male novelist will have to move over. With the publication of The Story of the Lost Child , the fourth and final Neapolitan Novel, Elena Ferrante has claimed a long overdue place for epic feminist stories on a notoriously male-dominated list. And I say it's about time.
Ferrante's masterful series has been compared to works by Jane Austen (if, of course, Jane had been super-pissed). The books trace the path of two girls growing up amid the brutal poverty and violent male dominance of Naples, Italy beginning in the 1950s. Lila Cerullo and Elena Greco form a fierce bond, at times destructively competitive, others generously supporting. They make different choices with their lives (admittedly, many are made for them), and the results are traced against, influenced by, and plotted within the turbulence of the sexual, political, and social upheaval erupting in the West in the second half of the 20th century.
Although the sweeping novels offer so many opportunities to be rightly angry at the raw deal misogyny has historically handed women, there are also tremendous role-breaking moments to celebrate. At just less than 1,700 pages, these four books' feminist moments abound and are totally worth celebrating — and here are 12 of 'em.
Lila Defeats The Boys In An Academic Duel In Elementary School
Not only does she prove her skill, her superior abilities, but she "lighted up like a holy warrior" doing it. Those boys never stood a chance.
Lila And Elena Buy Little Women, Not Dolls, And Vow To Write Novels
There's nothing wrong with dolls, of course, but this is two girls imagining lives for themselves beyond the typical roles for women at that time. They wanted to earn their own money through writing and get themselves out of the neighborhood.
"Nowhere is it written that you can't do it."
When, in Middle School, Elena is faced with having to retake the Latin exam and it seems she'll have to give up studying to take her place in the domestic realm, her mother — of all people! — tells her to go for it. This line should be a bumper sticker.
Elena Studies At Lila's With Her Encouragement
Whatever dynamics were operating between them — competition, jealousy, sublimation — the act of pushing her friend to study so she could develop her mind was undoubtedly woman helping woman to be more than an object for a man. Or, well, girl helping girl, in this case.
Lila Asserts Her Rights Over Her Image In The Wedding Dress
It's a destruction of herself, yes, but also the destruction of the role she was given, of her objectification. This is Lila taking control in whatever way she could manage within the confines of situation. An added bonus is the play of shared creation that she and Elena have working on it.
"Now everything I was, I wanted to get from myself."
After contorting herself for approval on Ischia all summer, Elena at last detaches from Nino. She becomes aware of neglecting things she liked in order to conform to his tastes. She takes up her studies with rigor, and starts tutoring.
Elena Puts Her Money In A Post Office Account Rather Than Turning It Over To The Family
During the time of the novels' setting, women didn't have their own bank accounts. Even if some had power around money — Manuela Solara, even Elena's mother — it was a twisted power ultimately always beholden to patriarchy. This is a definitive act of breaking with tradition to strike out on her own.
Elena Vows Not To Be Silent At University, To Disagree With Franco
Rather than playing the pleasing head nodder as she'd always done with Nino, Elena decides to take part in "dialectical jousting" and push back in arguments. Hooray!
Elena And Lila Go To A Female Gynecologist And Get Birth Control
This might be the iconic feminist move of all times. Period.
"I am Elena Greco and my daughters are my daughters."
Elena leaves her unsatisfying marriage with Pietro and stands up to his powerful family. Yes, Adele is a strong matriarch, but her motivations seem ultimately self-serving rather than liberating. Elena says enough.
Lila Starts Her Own Computer Company With Enzo
This she orchestrates to get out from the Solaras. She learns a new business, designs the logo, arranges for the money. This time she doesn't give away the goods as she was forced to do with her shoe designs.
Elena And Dede Talk About Mother's and Bellies, Sleeping Partners, And Last Names
Dede asks her mother: If women's bellies are their own and babies come from there, why are children given the surnames of their fathers? It's Lila talking through Dede, but Dede genuinely wants to know. This moment questioning the naming of offspring superbly highlights the inter-generational feminist shifts under way.