These Vines Will Soothe Your Soul In 6 Seconds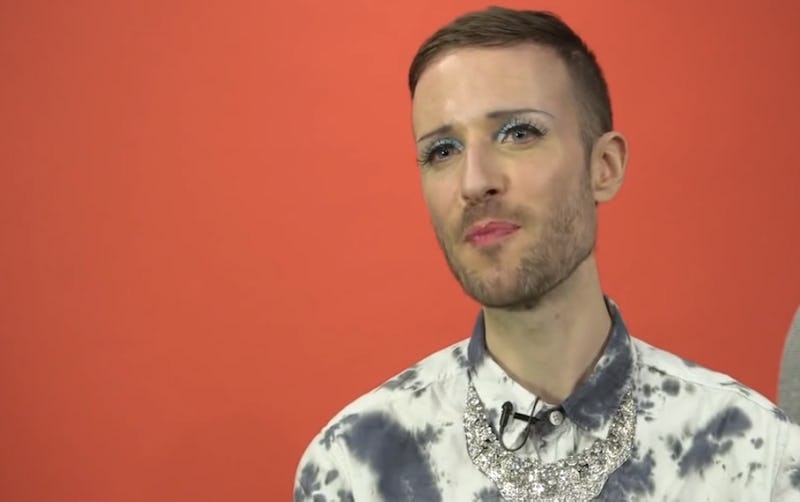 If you're not already borderline stalking LGBTQ rights activist and social media powerhouse Jeffrey Marsh's Internet happenings, then boy howdy, do I have a treat for you. Jeffrey Marsh's inspirational Vines are so powerful that they are about to turn your entire world upside down in less than six seconds. Like, I would strongly advise you ration them by listening to one each day at the most, because that is just how earth-shatteringly brilliant they are, but at the same time I just watched them all in such rapid, glorious succession that I'm really not allowed to talk.
You may have already seen one of the gender-fluid Vine star's many videos pop up on your dash on Tumblr or Twitter in the past few months, but you may not have realized just how far-reaching the Vine-venturing has gone. Jeffrey has already accumulated over 190 million views (approximately a million of them were me, last night, and I am a much better human for it) on the popular Vine account, and when you watch even just one of the videos, you'll understand why. The advice Jeffrey gives is so succinct and so intimately personal that I swear, if your brain could change colors in reaction to humans, Jeffrey's words would turn your brain bright pink.
Here's the Vine that broke Tumblr with its greatness:
If you're not SURPRISE! tearing up, then you're lying right now. I've watched this Vine too many times to count and I still get emotional watching it. But the awesome advice doesn't end there. Here are some of Jeffrey's similarly awesome real sauce Vines:
When The Haters Gonna Hate, Hate, Hate, Hate, Hate
How To Follow Your Bliss
The Secret To Accepting Your "Flaws"
How To Respect The Gift Of The Time You've Got
When You Forget Your Worth
This is really just the tip of the Jeffrey Marsh iceberg, y'all. Not only are there even more of these lovely Vines, but Jeffrey runs the podcast "Coming Out With Jeffrey Marsh" and is also releasing a book in 2016. To learn more about Jeffrey, watch the hosting reel below:
In the meantime, if anybody needs me, I'll be glued to the screen watching Vines until I reach nirvana.
Images: VIMEO