Let's Figure Out Why Dean Wants More 'Below Deck'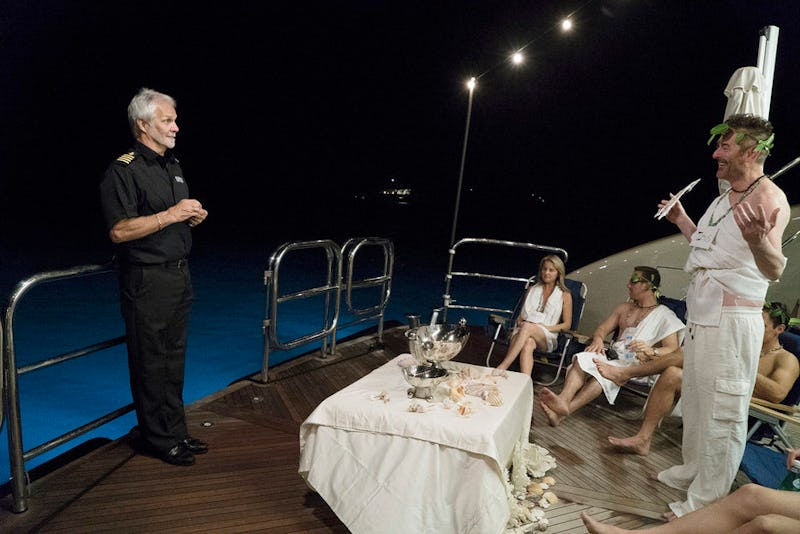 Each episode of this season of Below Deck will follow the trials and tribulations of the nine full-time crew members aboard the Eros. However, you might as well add one more to the cast to make it an even 10. That's because it looks like the most memorable charter guest last season — nay — in the history of Below Deck , Dean Slover, is returning to rock the boat some time this season. For a moment in the trailer, we see the profile of a man who looks a lot like Dean, and a still from a future episode shows him aboard Eros. Since he has already appeared twice on the show, why would Dean come back on Below Deck for a third time in Season 3?
Well, we're all adults here, so let's be practical about this. Dean caused a lot of drama, was super entertaining, and is a familiar face for Below Deck fans. Taking all of that into consideration, it's likely that the casting department for the show just called Dean to see if he wants to go out on another voyage for Season 3, since Bravo casts charter guests for Below Deck just as it casts the ship's crew members. Check out the GIF from the trailer below to see his brief appearance in his signature color.
Perhaps the greater question here is why Dean would want to return to the show for a third time? Doesn't he want to go somewhere else on vacation for a change?
If Dean's exact motivation for appearing on Below Deck again is unclear, but I've got some pretty good guesses as to why the sea called to him once again.
He Wants To Cure Kate Of Her "B*tchy Resting Face"
One of the reasons why Dean caused such a stir during his first visit to Below Deck is because he told Chief Stew Kate Chastain that he was displeased with her "b*tchy" demeanor, to which she (understandably) took great offense because she claims that she just has a "b*tchy resting face." That's just the way God made her, Dean. But since Dean took so much issue with the way Kate looked, perhaps he wanted one last attempt at turning that frown upside down.
He Wants Another "Rocketship" Blanket
Kate's response to Dean's "b*tchy" comment will forever go down in Below Deck history. Shortly after the incident, Kate left a very special blanket origami on Dean's bed. She maintained that she had folded the blanket into the shape of a rocketship, but we all know it looks like something else. You would think Dean, who was one of the more finicky charter guests to appear on Below Deck, would have been immensely appalled by Kate's actions, but he thought it was hilarious and kind of loved it. So maybe he has come back to Below Deck looking for another blanket origami original from Kate to add to his collection. A pair of moons to match that "rocketship," perhaps?
He Wants To Sample New Chef Leon's Cooking
Dean and Chef Ben Robinson didn't really see eye-to-eye during his first couple of times on Below Deck. The charter guest was very specific about when he wanted his meals served, which Ben decided to ignore and for which he would later experience the consequences. Knowing that Ben would be replaced by Chef Leon Walker may have intrigued Dean and made him eager to try out the new chef's cooking and, more importantly, listening skills.
He Wants To Go On Another Power Trip
Bossing around Ben was only part of what made Dean one of the more controlling charter guests in Below Deck history. Not only did he have specific preferences for himself, but he also made them apply to all of the other guests accompanying him on the charters as well. As an entrepreneur, Dean is kind of used to being the boss, but some people just crave that power 24/7, you know?
He Wants To Finally Get That Pirate Scavenger Hunt
In addition to giving Dean that blanket gift, Kate also punished him for his "b*tchy" comment by canceling the delightful pirate scavenger hunt she was going to throw for him and all of his guests. We only got to see a glimpse of the preparations for it on Below Deck, but I could still tell that it was going to be amazing. Dean must have watched the episode back and realized that he missed out big time. Now he just has to hope Kate can forgive and forget enough to hide that buried treasure once again.
He Can't Get Enough Of That Slide
Remember that ginormous, inflatable slide from Season 2 of Below Deck? Well, it was the bane of every deckhand's existence, but Dean was a big fan. There aren't many places where it's socially acceptable for adults to slide down one of those things, so perhaps it's time for Dean's fix.
Toga! Toga!
Judging from this photo from the season, it looks like Dean requested a toga party for him and his guests during their time on the Below Deck yacht. Let's not forget about the wild disco jungle-themed party Kate and the other stews threw for Dean last season. What can I say? The dude likes to dress up, dance, and have a good time.
Kate Really Is His Soulmate
Before Kate actually got to know Dean, she dubbed him her "charter guest soulmate" for how detailed and organized he was on his preference sheet. They easily moved past a bit of a misunderstanding during Dean's first charter and seemed to be getting along just fine during his second. Maybe Dean just came aboard one more time to hang out with Kate, who he realized was his soulmate, too. In fact, if there was a spinoff just featuring these two on a boat, I would totally be on board with that as well.
Images: Virginia Sherwood/Bravo (3); Lindsay Mannering/Bravo; Giphy