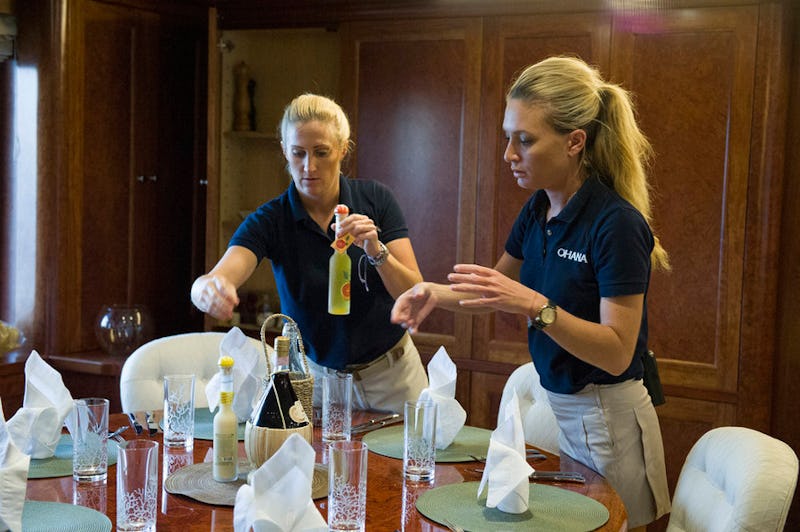 Confession time: Below Deck is one of my favorite shows to watch. I love the crazy charter guests; I love when they have to get out that inflatable slide; I love watching Ben cook; I thought the penis-towel incident was fantastic; I think Eddie might be my soul mate; it's just great all around. I save the episodes for a time when I really want to relax because it's so easy to watch, but it's engaging too, because I know exactly nothing about working on a boat, let alone a 164-foot mega yacht. But at times, it seems like the people working on the boat don't know a lot about working on a yacht either. I'm always wondering how they the Below Deck crew got hired, so I started looking into it. Turns out: it's not that difficult of a process. It's much like applying for a job that doesn't result in having your entire life filmed while you live in a matchbox room and try not to fall in love with your roommate.
So, if you're interested in getting a job as a stew, deck hand, or even engineer on Below Deck, there are a few things you can do, and they're more about being open to working hard while being filmed than having a ton of former yachting experience. (Unless you want to be an engineer — please have a lot of experience if you're going to be an engineer.)
Be ready for television
According to captain and crew's website, The Triton, only Chef Ben and Stews Adrienne and Kat had any real yachting experience to speak of when they set out on M/Y Honor. That's not to say that everyone else was an actor; they probably just had a rejection letter or two from The Real World stashed under their bed (I'm looking at you, Sam). Or they were aspiring yachties like Eddie, with at least some deck experience, or former Marines like Dave. But it's safe to say that after a pretty experienced crew made actual-captain, Captain Lee, almost pull his hair out, they upped the experience level for Season 2. And with more notoriety, come more people who both want to be on reality TV and have yachting experience. So, if that is you, you might just have the chance to eat some of Ben's 5-star food in a year or so.
You could also lie
This is not a route I would recommend, especially if you don't deal well with anxiety, or have much of a work ethic to speak of, but Andrew simply lied about his experience and faked his resume to get on Season 2. The guy was very clearly an actor looking to get on TV, and already had quite an illustrious (if mostly Philippines-based) modeling career. But it worked for him — he got on the show! Then, of course, it stopped working for him once everyone realized he was completely incompetent. I would recommend at least a little yachting experience, particularly if you want to be a part of the deck crew on Below Deck.
There's an application, of course
According to the Below Deck website's casting (er, hiring) page, Bravo doesn't appear to be looking for a new Below Deck cast; but by the time Season 3 is picked up (and it must be), you can be ready. There's a Below Deck application online! It's just like applying for college, except you're asking to live on a boat with 11 strangers, work really hard, get bossed around by rich people, and have your entire life filmed. The application has all of the basics of something that would be on the top of the clipboard at a doctor's office, plus a section for you to talk about your experience level and a brief bio.
Of course, there's a place for a picture upload, and "casting directors may invite applicants to audition via Skype." This is no interview... this is an audition. So make yourself sound either as dramatic or funny as possible, and get ready for "Season 3: The Rise of Kat."
Images: Virginia Sherwood (2), Tommy Garcia (2)/Bravo