11 Literary Halloween Costume Ideas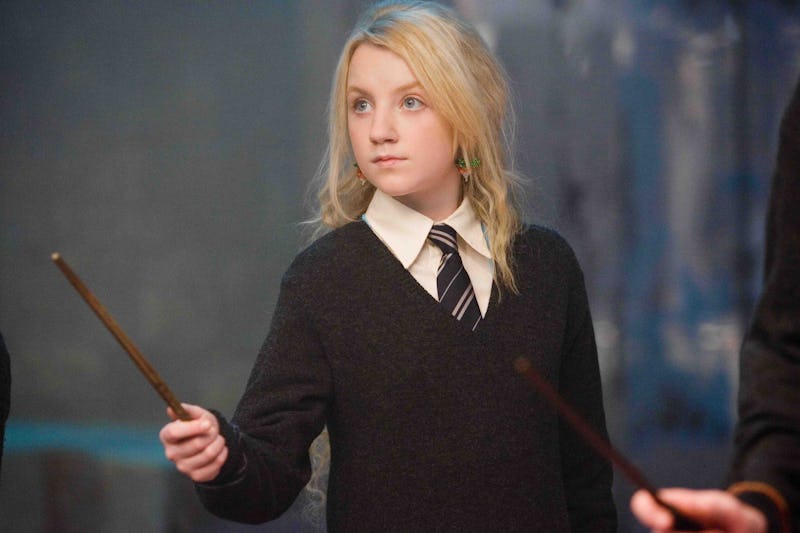 Halloween is one of the best holidays for book nerds. You get to think of literary Halloween costume ideas that'll allow you to dress up as your all time favorite character. I told you, it's the jam, right? But if you're still trying to decide which character to be since there are too many good books to choose from, you're not alone.
It's a big decision to make, but one thing to consider is that when you're dressing up as a literary character, you get to also become her for a night. You get to act like the dreamy Luna Lovegood or the spunky Arya Stark. And with the rise of such strong protagonists like Katniss Everdeen and Daenerys Targaryen, who wouldn't want to spend a night in their shoes? Remember, too, that are also plenty of female characters you grew up with that are just as awesome, like Pippi Longstocking and Madeline. So. Many. Choices.
To help, I've compiled a list of some great female characters from books that recently made their way to your shelves, and that you probably read as a little girl, but that still inspire you to this day. Here are some of the best feminist characters you could be for Halloween this year:
Katniss Everdeen From Mockingjay
Katniss has been a pretty popular Halloween costume for the last three years, but with her new outfit reveal in Mockingjay — a badass black suit with a matching Mockingjay pin — shakes up the traditional costume of her leather jacket and combat boots. There are quite a few other characters from the Hunger Games series you could be as well: Primrose Everdeen in her nurse outfit from District 13; Effie Trinket in one of her embellished ensembles; or even Cressida with her amazing ivy tattoo.
Miss Frizzle From The Magic School Bus Series
This awesome DIY costume would be especially perfect if you're a teacher or student teacher! Imagine your classroom lighting up at the sight of the best field-trip creator there ever was.
Luna Lovegood From The Harry Potter Series
Luna Lovegood offers another incredibly fun costume and character to portray on Halloween night, but that doesn't mean I'm not ignoring the many other witches you could dress up as from the world of Harry Potter. Ginny Weasley in her Quidditch costume, Hermionie Granger frazzled from Potions class, Fleur Delacour in her beautiful wedding dress... you have TONS of options when it comes to a Harry Potter-themed costume.
Coraline From Coraline
A blue wig + a yellow raincoat + some cute freckles = Coraline! Dress up as one of Neil Gaiman's most courageous and quirky characters this year.
Annabeth Chase From The Percy Jackson Series
This quick and easy costume will turn you into the Greek demigod and Athena's daughter, Annabeth Chase. Add a baseball cap and her Camp Halfblood necklace and you're good to go!
Madeline From Madeline
If you adored Madeline growing up, why not dress up as the cute and brave little girl this Halloween? Her fearless attitude and spunky nature made for one of the best characters you could look up to as a young feminist.
Pippi Longstocking From The Adventures of Pippi Longstocking
Go crazy with braids and red hair dye (if needed) to become the well-loved troublemaker, Pippi Longstocking! Add some striped tights and a patched up dress to complete the look.
Nancy Drew From The Nancy Drew Mystery Stories
Become the iconic mystery solver Nancy Drew for Halloween with some adorable T-Strap pumps and an embellished bucket hat. Case closed.
Elizabeth Bennet From Pride and Prejudice
Dressing up as the wonderful Elizabeth Bennet just takes a long dress and an updo. And, of course, a book. This costume is needed for every introvert talked in to going to a Halloween party. If things get awkward, you'll already have a book! And if anyone asks why you aren't dancing, you can just say you're portraying your character like the awesome person you are.
Sansa Stark, Margery Tyrell, Or Cersei Lannister From A Song Of Ice And Fire Series
If you already dressed up as Daenerys Targaryen last year, but are still in love with the costume ideas GoT provides, try being one of these elegant ladies with their amazing gowns and hairstyles. If being a queen isn't your style, you could always become Arya Stark with a fake version of Needle in hand or throw on a big parka jacket and be the quick-witted wildling Ygritte for a night.
Image: Warner Bros. Pictures