'Jane The Virgin's Little Jane Is Breaking Big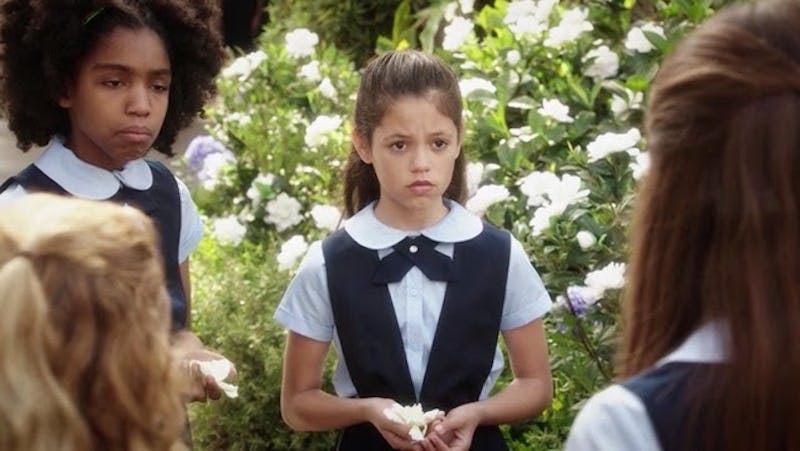 It's not like you need another reason to watch the Disney Channel given how addictive its shows are, but I am going to give you one anyway: little Jane from Jane the Virgin , Jenna Ortega, is starring in her very own Disney show. The tween actress is set to be Disney's next big thing in spring 2016 when the show, Stuck in the Middle, premieres. Variety reports the series is returning Disney to the single camera format, as the show focuses on a large Latino family with seven children. Ortega will play Harley, the middle child and an engineering genius, making Stuck in the Middle both diverse and a STEM positive program for young girls (and everyone else) to watch.
Are you excited yet? Because I know I am. Ortega has proven herself to be a gifted young actress on Jane the Virgin. She absolutely nails the role of a young Jane and gives the flashback scenes of Jane's childhood so much emotion. One of the show's most memorable moments is still the scene in the pilot when Jane's Abuela Alba gives Jane a flower to teach her about abstinence, thanks to Ortega's performance.
The actress' fellow cast members clearly see the young star's promise as well, if Gina Rodriguez's tweet of support is any indication.
Sorry, I know all of your hearts just melted. In case you were worried that the news means Ortega is moving on from Jane, fear not; she's set to appear in Jane the Virgin's Season 2 premiere. Although, moving forward, it might become tricky for the actress to balance Stuck in the Middle, Jane the Virgin and her voice work on the Sofia the First spin-off Elena of Avalor . Let's not forget Ortega also has to attend school, too, since she only just recently reached double digits. Still, with her star on the rise, Ortega is staying humble all the way.
While Stuck in the Middle will not begin production until later this fall, knowing Disney is expanding its lineup to include not only a comedy about a diverse family, but one where the young female lead is a STEM role model, is amazing news. In addition to Ortega, the show also stars familiar Disney faces Ronni Hawk as Rachel, Kayla Maisonet as Georgie, Isaak Presley as Grant, Nicolas Bechtel as Danny, Malachi Barton as Beast, and Ariana Greenblatt as Daphne.
Harley will spend most of her time using her inventions to keep her siblings at bay so she can get through life with half as many headaches. In tried-and-true sitcom fashion, most of Harley's plans will likely go awry, giving Ortega a chance to show off her comedic talents. The show definitely sounds like it will appeal to both a young and older audience thanks to its focus on family. Now if only it wasn't still so far away... I can't wait to meet Harley properly. I have a feeling she's going to be a standout character in 2016.
Images: The CW