9 Clearance Items You Need From Domino Dollhouse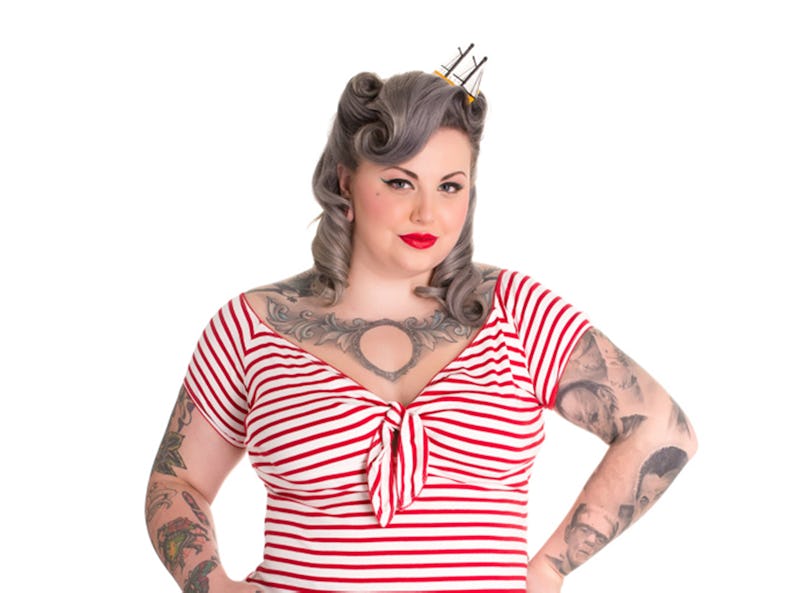 With the sad news that Domino Dollhouse is closing down comes the excitement about a totally legitimate excuse to buy all the clothes you were undecided about before the site goes on "indefinite hiatus." Although the brand will be sorely missed, I'm thankful that Tracy Broxterman has given us the fair warning to get our orders in before November 2015. Do I need an excuse to cop some fabulous plus size outfits? No. Am I going to use it as an excuse to do so when questioned? Definitely.
There's no shortage of Domino Dollhouse outfit inspiration out there, with many plus size bloggers having at least one outfit post featuring the brand. In the five years since the brand was started by Chubble Bubble's Tracy Broxterman, Domino Dollhouse has paved the way for alternative plus size fashion — or, as they put it, "plus size clothing without compromise" — long before brands like ASOS or Modcloth had a plus selection. I'm definitely excited to see off the brand with a massive order of some of the pieces I've been lusting over for too long.
With a wide array of styles, Domino Dollhouse has a lot to offer any kind of alternative fat fashionista, but there are some pieces that are truly special. They're the kinds of clothes that you won't be able to get anywhere else and totally represent what the brand is all about. Don't miss out! You have just under a month to get your paws and claws into all the plus size clothing Domino Dollhouse has left to offer.
Not only that, but luckily for us, everything on the site has been put into a "final clearance" — so get it before it's gone!
1. Dolly Top in Red
Dolly Top in Red, $20, dominodollhouse.com
This totally cute, nautical top is the perfect middle finger to those who think that thick girls can't wear horizontal stripes! The tie at the front takes the sailor look that extra adorable step further.
2. Vintage Style Girdle Skirt in Black
Vintage Style Girdle Belt in Black, $30, dominodollhouse.com
Domino Dollhouse notably gave Tess Holliday her first modelling job! The pioneering company will truly be missed by many, but copping this amazing piece of vintage style lingerie at such a low price will probably help you feel a bit better.
3. Pin Up Perfection Pencil Skirt
Pin Up Perfection Pencil Skirt, $25, dominodollhouse.com
Everyone looks good in a pencil skirt. That's just a fact. But the embellishments on this pencil skirt will bring a unique, vintage style to your wardrobe.
4. Eveline Dress in White
Eveline Dress in White, $55, dominodollhouse.com
There's something about a white dress that automatically makes you feel like Marilyn Monroe, isn't there? The simple sweetheart neckline on this dress adds the sex appeal that Marilyn exuded.
5. Pretend We're Dead Vest in Grid
Pretend We're Dead Vest in Grid, $30, dominodollhouse.com
This vest takes us from the pin up girl to the more punk rock edge that Domino Dollhouse has offered for years. The site has always shown that alternative can mean more than one thing and this edgy print totally tells that story.
6. Meringue Petticoat In Peacock
Meringue Petticoat in Peacock, $38, dominodollhouse.com
A petticoat is a staple item in any girl's wardrobe — to puff out a pin up skirt for a fabulous fifties look or occasionally to turn your underwear into outerwear and pull off as a quirky skirt. Although this petticoat is available in two different shades of pink as well, I think this blue is particularly perfect.
7. Longline Vintage Style Bra In Black
Longline Vintage Style Bra in Black, $32, dominodollhouse.com
Although this model shows the bra as underwear — and shows off how damn good it looks as underwear too — this type of bra is totally versatile. Rock it as a crop top for some serious Madonna vibes!
8. Hepburn Dress In Pink Lips
Hepburn Dress in Pink Lips, $70, dominodollhouse.com
The classic cut of this retro style dress is given a rockabilly, quirky update with a pink kiss print — something a little different for all the vintage fangirls out there.
9. Bitterness Barbie Skirt
Bitterness Barbie Skirt, $35, dominodollhouse.com
Just the name of this piece is reason enough to buy it, IMO. I think the way that Domino Dollhouse has styled the model with the skirt here is absolutely perfect too. It's definitely my favourite look on the entire site.
I for one am heartbroken that a plus size retailer is closing it's doors, but Domino Dollhouse is doing it for good reasons and it's given me a great excuse to update my entire wardrobe. We can only hope that they return with a bang one day, so I can have another excuse to buy their entire stock.
Images; Courtesy of Brand