All You Need To Dress Like A Robo Stepford Wife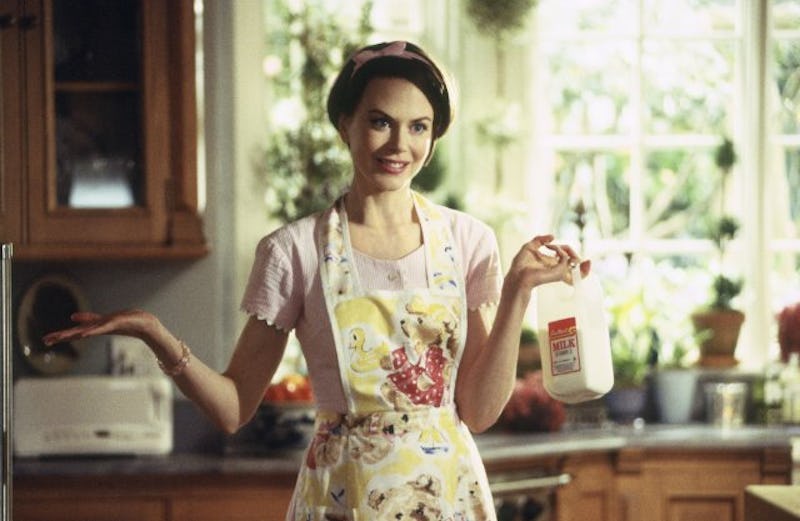 Since watching the 2004 adaptation of The Stepford Wives, I've been hankering to know the secrets to The Stepford Wives' style. Yes, I know the majority of them are robots, but there is something so deliciously seductive about their pristine, polished appearances. I'm not trying to strive for perfection here — because IMO perfection does not exist — but rather I want to explore the ways in which one may appear perfectly preened. After all, there are always occasions in life for which one must look "presentable."
I'm a big fan of 1950s culture and I often think it would have been great to have lived in simpler times with less technology. It is then that I remember that I probably wouldn't have been able to work my dream job as a writer, of course, and that I'd hate the oppressive, misogynistic attitude towards women.
The fashion of the decade, on the other hand, is a different story. Just like the wives of Stepford, the women of the '50s seem to have often made an effort with their appearances, always looking fabulous in that Betty Draper sort of way. I'm not saying we should all go back to feeling unable to leave the house without makeup on or wearing pantyhose every day, but once in a while it's pretty nice to pamper ourselves and feel great because of it. So if you wish to channel the housewives of the 1950s, take heed of these sartorial lessons from The Stepford Wives.
1. Color Coordination Is Key
The ladies of Stepford always looked picture perfect. I personally wouldn't want to be that pristine 24/7. Aside from the upkeep, I want my loved ones to actually be able to recognize me sans full face of makeup and in sweatpants. However, there are times in life when one feels the need to dress up. This could be for a special occasion or it could be to put a spring in your step on a Monday morning.
The golden rule is: Coordination is key. This is demonstrated by the immaculate Claire Wellington, the leading matriarch of the wives of Stepford, who is wearing a blouse, a headband, earrings, and lipstick all in a similar shade of pink.
Lace-Paneled Lattice-Back Blouse In "Peach," $20, Forever21
To get Claire's look, start with a smart/casual pink blouse such as this delightful dusky pink one.
Matte Rose Pink Headband, $4, Claire's
Tame every strand of hair into submission with a cute, pink headband to match the exact shade of your chosen blouse.
Finchittida Exclusive Pink Mini Bodhi Earrings, $72, ASOS
Add some decadent earrings into the mix, while making sure you stick to your color scheme.
Yves Saint Laurent Volupté Sheer Candy — Glossy Balm Crystal Color In "Tasty Raspberry," $36, Sephora
Complete your look with a slick of lip color in a matchy matchy shade.
2. Dress Up For The Mundane
If there's one thing The Stepford Wives taught me, it's to dress up every day. Why save your favorite sweater or that killer party dress for a special occasion that might never happen? None of us know what tomorrow might bring, so let's just wear our favorite garments more often. The stunning sirens of Stepford are well known for sporting their signature '50s style dresses to the supermarket and even while performing aerobics.
If you're having a bad day, wearing a traditionally feminine 1950s style dress could make you feel super glam and ready for what else the day-from-hell may have to throw at you. Think of your floral frock as patterned armor against the world.
Ethereal Anthem Dress, $140, Modcloth
Keep it classic with this pretty, pale green dress that features darling crocheted blooms. The best part is that it's available in a range of sizes from XS to 4X.
Tonight's Pop Story Dress, $80, Modcloth
For all the kooky gals out there, hone in on The Stepford Wives style but put your own retro twist on it with this kitsch popcorn-print dress.
Iron Fist Death's Diner Dress, $40, sourpussclothing.com
Sprinkle a little satire into your Stepford inspired look with this pretty, pink frock that on closer inspection is actually ghoulishly gruesome and grotesque. It's covered in diner treats that only a zombie would love to devour.
3. Wear Pearls With Everything
As Joanna Eberhart (played by Nicole Kidman) shows, pearls truly make an outfit. If not for the pearls in this ensemble, Eberhart may have looked as though she was going to work or to a formal meeting in her off-white blouse. However, with the addition of the pearls, Eberhart instantly appears chic and oozes sophistication.
Delicate Simulated Pearl Necklace, $15, Overstock
Keep your look classic and cruelty-free with a single strand necklace comprised of faux pearls.
Pearl And Rhinestone Bar Necklace, $25, Topshop
Go for vintage Hollywood glam vibes in this luxe, layered necklace.
Asos Floating Pearl Necklace, $11, ASOS
Alternatively, add a modern flourish to your attire with this floating pearl pendant that puts a twist on the classic pearl necklace.
4. Add A Sophisticated Touch With Lace Gloves
As seen here, these robo-babes just adore lace gloves, and what's not to like? Lace gloves add a subtle, vintage feel to your outfit while also acting like the cherry on the cake of your ensemble.
Sheer Lace Gloves, $28, Etsy
Stay true to The Stepford Wives in these delicate, pink gloves that would be wonderful to wear to a spot of afternoon tea.
Women's Mid Arm Lace Gloves, $5, Amazon
Go for a vampy vibe this autumn/winter with these gothic yet feminine black lace gloves.
Red Lace Gloves, $14, Etsy
Give your outfit an edge in these quirky, red lace gloves to make a statement in scarlet.
5. The Housewife Apron
The epitome of the 1950s suburban housewife has to be the humble apron. Doesn't Bette Midler look dashing in this fabulously frilly style? Don't get too carried away pretending to be a Stepford housewife, though. You don't want to be responsible for any burned fingers, like in that unforgettable scene.
Sourpuss Cherry Pie Apron, $27, sourpussclothing.com
Rustle up something yummy in this delectable cherry print apron.
Trick Or Treat Halloween Retro Apron, $55, Etsy
This halloween inspired apron treads the line between spooky and cute. It's a must-have for fans of All Hallows' Eve and a great gift for any of your pals with October birthdays.
Wonder Women Apron, $80, Etsy
Pay homage to the hardworking housewives of the 1950s, who IMO were real life wonder women in this adorable retro apron.
Get ready to transform into a Stepford wife when you want to feel like a million dollars. There's a reason they're called "glad rags," you know.
Images: Paramount Pictures; Giphy (3); Courtesy Brands