8 Hiking Trails You Can't Miss This Fall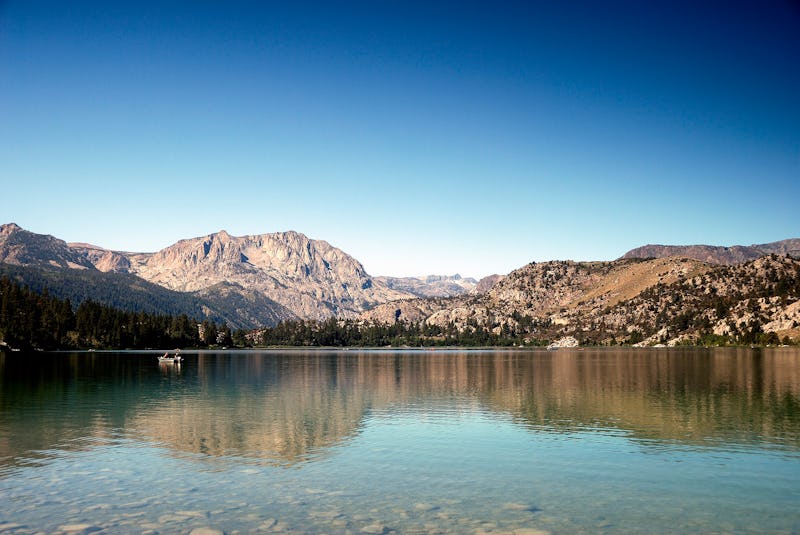 Fall is nearly upon us, and I know I'm not the only one looking forward to cooler weather and all the traditional fall activities that come with it. Of course, one of the best parts of the changing season is the changing of the leaves — and you can take in some of the best fall foliage on one of the best fall hikes. Don't forget to bring your cutest fall sweater!
I know that hiking isn't for everyone, but it's a relatively easy form of exercise, and you get to enjoy the great outdoors. Fall is a perfect time to get out and stretch your legs after being cooped up in an office or huddled by your air-conditioning all summer, and before the winter cold makes it not as enjoyable or even doable. I promise that the Instagram photos alone will be worth the trip — besides all those endorphins, of course.
The great thing about these hiking trails is that you can pick and choose and take at your own pace. Don't want to go the full 20 miles? No problem. Not sure about high elevation? Take a stroll around the sea-level lake instead. These hiking spots are bound to have something for everyone.
1. Aspen, Colorado
Aspen is a popular destination year-round, but it's also one of the best places to see the leaves change in the fall. Take in all the fall foliage on the Maroon Bells trail — but prepare for some crowds at this popular spot.
2. Cedar City, Utah
Zion National Park gets a lot of attention for its hiking and scenery, but nearby the Cedar Breaks National Monument has some must-see fall hiking, too.
3. June Lake, California
The eastern Sierra Mountains will have plenty of gorgeous fall foliage to behold, but the June Lake area also has lakes (duh), waterfalls, rock climbing, and more.
4. Stowe, Vermont
The Stowe Pinnacle Trail is only 2.8 miles, but it's a bit steep, so be prepared. You'll have some amazing views once you reach the summit, though, including all the incredible fall foliage Vermont is known for.
5. Portland, Oregon
You might not want to do all 30 miles of the Wildwood Trail, but you can do a little four-mile loop that includes the Oregon Zoo, the Japanese garden, and a sequoia grove.
6. Sandpoint, Idaho
The Mickinnick Trail through the Idaho Panhandle National Forest is for moderate hikers — it's 7 miles roundtrip that climbs 2,100 feet — and you might even see some snow at the peak among the fall leaves.
7. Bellingham, Washington
If you want an amazing view of Puget Sound, Mt. Baker, and the Coast Mountains, try the 10.4-mile hike along the Chuckanut Ridge Trail. It goes up to 1,900 feet, but it's so worth it.
8. Empire, Michigan
You can choose from more than 100 miles of hiking trails in the beautiful Sleeping Bear Dunes along the National Lakeshore. Pick a direction — in this case, you honestly can't go wrong.
Images: djvass, Don Graham, jay0110, billysbirds, moteviolence, karen_d, ahhhsucre, rkramer62/Flickr