Duochrome Shadows Will Easily Up Your Makeup Game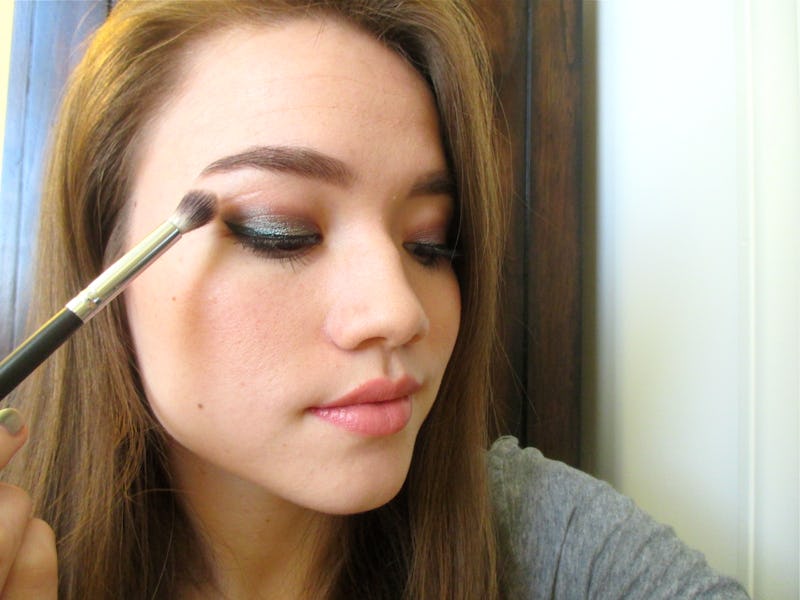 Neutral eyeshadows are pretty great. And, dare I say, you can never have too many. But sometimes we just need to mix it up a little. Add a little color. But how about adding two colors at once with a fancy, shmancy duochrome eyeshadow? Just in case you're unfamiliar, "duochrome" refers to any product that can appear two different colors depending on how the light hits. These can also be called "reflects" because of how they change when the light, well, reflects on them. Regardless of what you call them though, they're absolutely gorgeous. Especially on the eyes.
But as fun as these types of shadows can be, they can also be a little difficult to find — not too many brands make them. The trick is to also look for loose pigments. Once you get your hands on some, it'll be game-over for any eye-look you create. Duochromes are total scene-stealers, and they even work for single-shadow looks. By applying a duochrome shadow all over the lid and through the crease (and making sure to blend), the various colors provide enough dimension on their own. So it'll look like you spent much more time and effort than you actually did. Just be careful to not walk by too many mirrors when you rock duochromes. You'll have to stop every time.
Urban Decay Eyeshadow in Fireball, $19, Sephora
Peach and pink are such fun and bright colors. Plus, it will totally make blue eyes pop.
NARS Dual-Intensity Eyeshadow in Pasiphae, $29, Sephora
First it's gold. Then it's olive. Either way, it's love.
Emerald amps up neutral brown, and makes for a gorgeous one-shadow smoky eye.
Ardency Inn Modster Manuka Honey Enriched Pigments In Peacock, $21, Sephora
Makeup Geek Duochrome Pigment in Chameleon, $12, Makeup Geek
I mean, just look at those colors. Do you die? I die.
MAC Cosmetics Pigment in Blue Brown, $22, Nordstrom
This combo of colors is such a classic. And it looks good on every eye color.
6. Blue-Purple
ColourPop Supershock Shadow in Bae, $5, Colour Pop
It's like a peacock. On your eyes.
Urban Decay Eyeshadow in Tonic, $19, Sephora
This combo is seriously a showstopper.
MAC Cosmetics Pigment in White Gold, $22, MAC
The perfect shades for brightening eyes while giving dimension at the same time.
9. White-Blue/Purple
Makeup Geek Duochrome Pigment in Sugar Rush, $12, Makeup Geek
Because who doesn't want frosted, cotton-candy eyes?
Now how about mixing that white-gold and teal-gold for some trichrome action...?
Images: Miki Hayes; Courtesy of Brands