7 Positions Every Grown-Ass Woman Needs To Know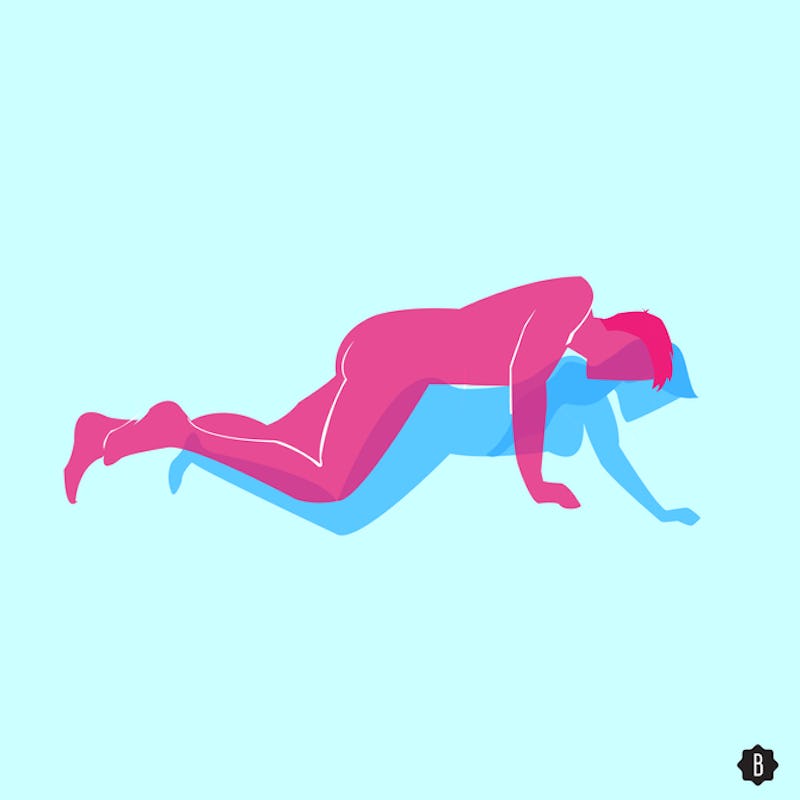 You know you're a grown-ass woman when you know how to do you. It's after learning exactly what works for you and what doesn't work for you that you finally arrive in your sexuality. The positions you can conquer when you've matured are far different than the ones you experimented with when your sex life was in its early days and that's the way it's supposed to be. You're supposed to evolve sexually and have better sexual experiences, or else what would you have to look forward to? Yes, that's morbid, but you know what I mean!
By the time you've reached official grown-ass womanhood, at whatever age that may be, you should definitely have more than a few tricks in your sexual arsenal. You should have already found what gets you excited when you're solo, whether it's your favorite vibrator or watching porn, that certain type of person who makes you wet the second they walk through the door, and of course a handful of positions that really drive you wild. I mean, what did you think all those years of practice were for anyway?
While not every position is the right one for every grown-ass woman, because tastes, bodies, experiences, and partners vary, but there are still those certain positions that every woman, no matter her height or the size of her partner, should at least know about. And if you do give them a try and don't like these positions? You're still a grown-ass woman, because like I said above, it's all about doing whatever the eff makes you feel good.
So get ready to take some notes, grown-ass women, because here are seven sex positions to acquaint yourself with:
1. Girl On Top
How To Do It: Although I know the name is a dead giveaway, here's what you need to know: Have your partner lie on his back, crawl on top, straddle him while taking his penis inside you, and let the games begin. You can gyrate in circular motions, bounce up and down, or rock back and forth ― really, the choice is yours.
Why You Need To Know It: Because you deserve to be in control. I know that for some women being on top can be scary, especially if you have body insecurities, but try to see beyond that. Being on top of your partner, controlling the situation and your orgasm (because your clit is going to love you for this position), is empowering for many women. Don't like being on top? Number 2 has your name all over it.
2. Legs Up
How To Do It: For this one you want to lie on your back while your partner is facing you on his knees. Then, when you're ready, lift your legs up and back, so you can rest your ankles on your partner's shoulder while he penetrates you.
Why You Need to Know It: Because the deepness is almost too good to be true. With your legs over your head, your partner can really get in there and hit your G-spot with maximum depth. Honestly, I'm not sure you can get much deeper than how deep he'll get with this position. It's simply delicious!
3. Woman On Top
How To Do It: This one is a bit of a variation from the other woman on top position, because in this one your partner should be sitting while leaning against the headboard, ideally at 45 degree angle. From here you straddle him and lower yourself onto his penis.
Why You Need To Know It: If you think I'm hammering these women on top positions into your brain for a reason, then ― voila! ― you win a prize, because I definitely am. Grown-ass women own their sexuality and one way to do that is to take control and that's exactly what being on top gives you: Control. From here you can move in ways that will both stimulate your clit and your G-spot ― both of which feel fantastic.
4. Coital Alignment Technique
How To Do It: Don't let the fancy name scare you off! This is definitely a position you want to know. After starting in missionary position, you want your partner to pull his body up a bit higher than it would normally be in that position. From here it's more about grinding than thrusting ― hence the name coital alignment ― so your partner should be gyrating his pelvis against yours.
Why You Need To Know It: Because this level of grinding directly affects your clitoris while you're being penetrated. You get to enjoy the clitoral stimulation without breaking out the vibrator collection or using your hand.
5. Modified Doggy Style
How To Do It: You can get into this position in one of two different ways. Your first option is to get into regular doggystyle, then lower yourself onto your stomach while your partner stays inside you. Your second option is to lie flat on your stomach while your partner enters you that way.
Why You Need To Know It: Well, for starters, it's the lazy woman's doggy style and there's nothing wrong with that ― sometimes you just don't want to be on your hands and knees! Secondly, because you're on your stomach, it creates a different sensation than when you're in the traditional doggystyle position... oh, and did I mention you get to be lazy? What you have here is your G-spot being stimulated while you take a load off ― it's prefect for after a long day at the office.
6. Sitting In A Chair
How To Do It: As the name suggests, you want to get a chair for this position. Find one? Great! Have your partner sit in the chair, then sit on top of him facing away from him while lowering yourself onto his penis. Just as it's the case with the other positions with the woman on top, you're in charge, as you bounce up and down, gyrate, or rock back and forth on this penis.
Why You Need To Know It: Because it combines the deepness of doggy style with the control of you being on top, and, if that weren't enough, it helps him last longer. With this position, you can only win and you get to decide when you and your partner are going to orgasm, so maybe you can even orgasm together, which is always fun.
7. Sideways Straddle
How To Do It: With your partner on his back, have him bend his legs so his feet are flat on the ground. From here, you're going to lower yourself onto his penis, straddling one of his legs, while facing the other way. In this position you can enjoy being penetrated while rubbing your clitoris against your partner's thigh for some mind-blowing stimulation.
Why You Need To Know It: With the majority of women needing to have their clits stimulated in order to orgasm, it's essential to know what else is out there in addition to you being on top the traditional way.
Want more of Bustle's Sex and Relationships coverage? Check out our video on sex positions for small penises below:
Images: Caroline Wurtzel/Bustle