12 Squash Recipes To Get Your Autumn Started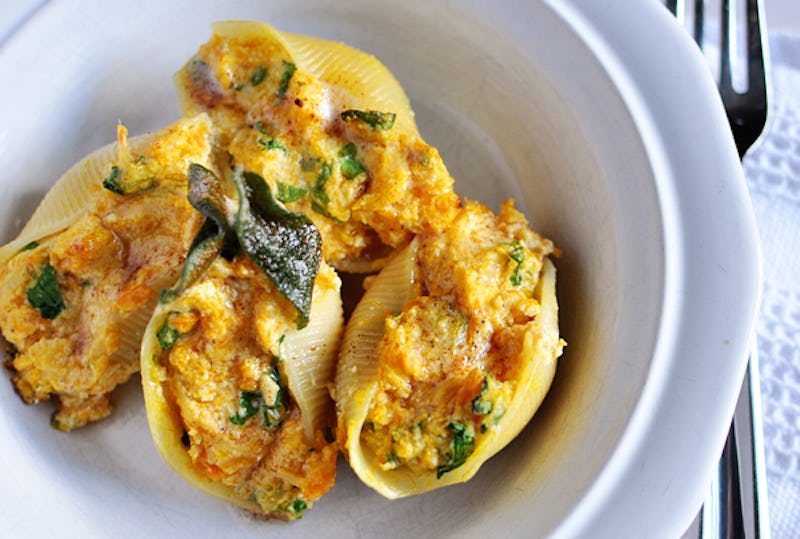 Autumnal food isn't just about pumpkins. Acorn, butternut, delicata — we're all about fall squash recipes, to the contrary. These vegetables are so much more than pretty pieces of produce at your local farmer's market, and while they do admittedly look amazing in a cornucopia, they're delicious enough to crave all year long.
Granted, squash can be kind of intimidating. They're difficult to cut into, and while we know that you can't go wrong with some salt, olive oil, and a little time in the oven, sometimes we draw a blank when thinking of unique ways to serve it. But actually, this in-season vegetable is extremely versatile. Put it in a soup, or use it in a casserole. Make it for brunch, or whip up a quick squash-filled lunch — it tastes delicious in countless dishes.
As autumn begins and pumpkin starts to overtake your palate, don't swear off autumnally inspired foods just yet: consider the squash. Whether you can't get enough butternut squash recipes, or you've decided it's about time you learn exactly how to make an acorn squash, there's nothing quite like these 12 recipes to bring some seasonal flair to your plate. Trust us, and your taste buds (and your local farmers' market) will thank you.
1. Crock-Pot Lentil And Squash Curry
Curry is undoubtedly one of the best comfort foods. Just imagine this dish by The Crepes of Wrath simmering in your kitchen on a cool, autumn night.
2. Roasted Cinnamon-Ginger Delicata Squash
Roasting squash is an easy way to make a simple side dish, but a little cinnamon and ginger do a lot to take it to the next level. Thanks, Averie Cooks!
3. Twice-Baked Acorn Squash With Maple Butter And Pecans
Like twice-baked mashed potatoes? Then you'll love A Cozy Kitchen's twice-baked acorn squash. And you'll never look back.
4. Butternut Tabbouleh
Here's your new go-to fall lunch. Cookie and Kate's butternut tabbouleh can be eaten hot or cold.
5. Squash Casserole
This end-of-summer casserole by A Spicy Perspective may just replace mac and cheese in your life for a bit.
6. Couscous With Butternut Squash And Cilantro Sauce
Cilantro sauce adds an unexpected zing to Five and Spice's butternut couscous.
7. Acorn Squash And Pecan Waffles
Forget the pumpkin pancakes. Acorn squash waffles are where it's at for autumnal brunching. Thanks, The Crepes of Wrath!
8. Delicata Squash And Black Bean Enchiladas
A seasonal veggie makes this Mexican-inspired dish by A Cozy Kitchen a lot healthier — and cozier.
9. Roasted Squash With Pear And Blue Cheese Streusel
Pears and blue cheese give A Spicy Perspective's roasted squash a light, refreshing filling.
10. Curried Acorn Squash With Lemon-Arugula Salad
Naturally Ella knows that squash only tastes better when filled with a stuffing of some sort. And you can't go wrong with something lemony.
11. Acorn Squash Lasagna
With just five ingredients, I Am A Food Blog's squash lasagna couldn't be simpler.
12. Butternut Squash Stuffed Shells With Sage Browned Butter
This hearty pasta dish by Mel's Kitchen Cafe simply has us drooling.
Images: Mel's Kitchen Cafe (2); The Crepes of Wrath (2); Averie Cooks; A Cozy Kitchen (2); Cookie and Kate; A Spicy Perspective (2); Five and Spice; Naturally Ella; I Am A Food Blog