15 Pumpkin-less Squash Recipes to Try This Fall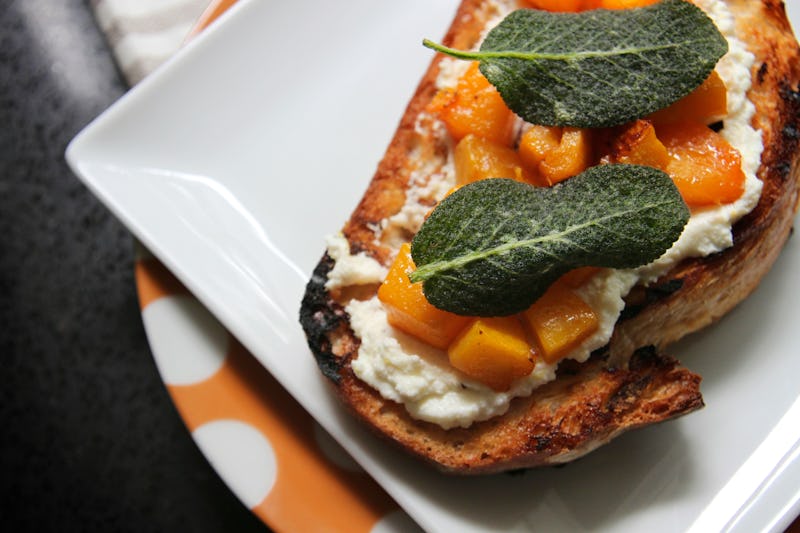 In the world of squash, pumpkin is king. Legions of pumpkin-eaters rejoice every fall, and even those who don't eat the fruit itself probably enjoy one of the zillions of pumpkin spice-flavored things sold these days. I admit, I love nomming on pumpkin bread and sipping pumpkin spice lattes as much as the next girl, but as I've grown up and started to experiment in the kitchen, I've fallen in love with lesser-known squash — and it's time you did too.
The whole family of fall and winter squash tastes delicious, and can be used to make almost anything the hunger beast inside you desires. We've all seen tons of stuffed spaghetti squash recipes on Pinterest (and hey! I've included a couple on this recipe list because they're ingenious), but it's worth branching out to try other varieties of this wonder food as well. Kabocha, butternut, blue hubbard, delicata, red kuri, acorn... any of these sounding familiar? Not to worry — they're about to. Don't be afraid to pick them up at the store as more than just a centerpiece for that bowl on your IKEA table. Make food with them! To get you started, here are 15 delightful fall squash recipes, both savory and sweet, and you won't find pumpkin in a single one.
1. Apple & Butternut Squash Pulled Pork Casserole
Fall comfort food at its best, this dish from The Healthy Foodie will warm you up during your next Netflix binge. It's also paleo, if that's your thing.
2. Acorn Squash & Pecan Waffles
Squash at breakfast, you say? Yes! The hearty yet sweet taste of acorn squash adds great flavor to these waffles by Crepes of Wrath. Pour on the maple syrup, grab a cup of coffee, and discover bliss.
3. Delicata Squash Veggie Bowl
Unlike other squash, delicata is thin and easy to cut into rings for roasting. It mixes well with kale, tofu, and crimini mushrooms in this healthy bowl from Love and Lemons, which is topped off with a ginger miso gravy.
4. Butternut Squash Mac 'n Cheeze
Macaroni and cheese is THE BEST. Of course, it's not always the healthiest meal. Oh She Glows shows you how to add some nutritional value with butternut squash in this drool-worthy dish.
5. Spinach Artichoke Spaghetti Squash
It's like spinach artichoke dip, but better for you. Visit Taste and Tell to get the scoop on preparing this lightened-up party staple so you can impress your guests (even though it'll only take you 30 minutes to make).
6. Crockpot Pork Ramen with Curry Roasted Acorn Squash
Everyone loves ramen, and this godly creation from Half Baked Harvest uses a slow cooker so that lazy cooks like me can sit back and watch cat videos while the flavors simmer.
7. Spicy Cocoa-Dusted Kabocha Squash
Leaf Parade demonstrates how to turn this winter squash into a tasty side dish or snack with some sweet seasoning. Everything is better with cocoa dust, right?
8. Roasted Butternut Squash Fries with Sweet & Spicy Aioli
There's something satisfying about turning healthy foods into fries. Consider buying butternut squash instead of sweet potatoes for your fix next time, and then whip up Bare Root Girl's delish dipping sauce.
9. Spicy Roasted Squash with Feta and Herbs
The sweetness of the acorn squash plus the spiciness of the chili garlic seasoning make a killer combo. How Sweet It Is recommends turning down the heat with some feta on top.
10. Chicken Enchilada Stuffed Spaghetti Squash
With this gooey stroke of brilliance from Closet Cooking, it'll be totally normal to bring spaghetti squash to your next fiesta.
11. Butternut Squash Bread
Give the pumpkin bread a break, and use another squash for your fall carbo-loading. Find the recipe at My Baking Addiction.
12. Sriracha Marinated Butternut Squash and Black Bean Tacos
Naturally Ella has the recipe for turning squash into flavorful taco filling. Just add some garnish to mellow out the Sriracha bite, and you have one tasty dinner.
13. Sausage & Quinoa Stuffed Acorn Squash
The Messy Baker proves it's the stuffing that makes the squash with this one. The fruitiness of the apples and cranberries lightens up the savory flavor of the sausage for a perfect bite.
14. Roasted Acorn Squash and Sweet Potato Soup
There's nothing more classic than a creamy squash soup. Try this variation from Blogging Over Thyme, which uses coconut milk, ginger, and garam masala.
15. Butternut Squash Custard
OK, let's end things on a sweet note. This custard from A Pastry Affair is brilliant. Who thinks to use squash in custard? But it totally works, so you'll want to grab a spoon and try it for yourself.
Images: Tracy Benjamin/Flickr; The Healthy Foodie ; Crepes of Wrath ; Love and Lemons ; Oh She Glows ; Taste and Tell ; Half Baked Harvest ; Leaf Parade ; Bare Root Girl ; How Sweet It Is ; Closet Cooking ; My Baking Addiction ; Naturally Ella ; The Messy Baker ; Blogging Over Thyme ; A Pastry Affair