5 Guacamole Hacks Avocado Lovers Need To Know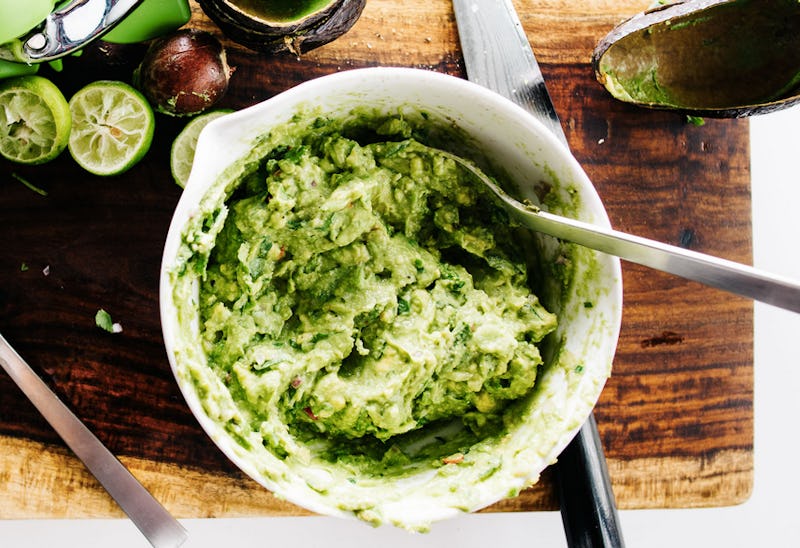 Happy National Guacamole Day! If this isn't one of the best national holidays of the year, I don't even know what is. An excuse to eat amazing guacamole recipes, munch on chips, and down pitchers of frosty margs? Yeah, count me in. These life-changing guacamole hacks will make your guacamole eating experience even better (yes, it's actually possible).
The almost avo-pocalypse in 2014 was terrifying for all avocado lovers (I can't think of anything more dismal than having to endure an avocado shortage), but now that we are in the clear, we can all celebrate National Guacamole Day the right way — by stuffing our faces with tons of the good green stuff. One great thing about us guac lovers is that we can appreciate the delicious dip, despite the fact that it looks like chunky, Nickelodeon slime.
But, let's be real, there's nothing worse than icky brown guacamole or a dip that has no flavor. So, for this special day, I decided to celebrate by coming up with five guacamole hacks you need in your life, so that you can guac and roll at home on National Guacamole Day, and every other day for that matter.
Go ahead and break out the margs now — you're gonna need 'em.
1. Learn how to cut an avocado the right way
Mixing your guac is so much easier when the avocado is properly scored. The best way to do this? Slice your avocado while it's still in the skin, and then scoop it out with a spoon. Then, get ready to mash that avocado to perfection. Learn how to slice an avocado from The Kitchn.
2. Mix in fruit, herbs, and/or meat
I tried strawberry and bacon guacamole recently, and it changed my life. OK, maybe that's a bit dramatic, but it was super good. Step up your guac game with this caramelized pineapple, bacon, and goat cheese guacamole from How Sweet Eats, or this mango and jalapeño version from Joy the Baker.
3. Prevent gross browning
Top your guac with a half-inch of water before tossing it in the fridge. The water won't soak in, but it will prevent oxygen from entering (and browning) your precious dip. When you're ready to eat it, dump the water out, and give your guac a good stir.
4. Make guacamole for one
Slice an avocado in half, empty the contents into a bowl, add a slice of lime, salt, and pepper, and put it back into the avocado skin. Grab some chips, and start dipping!
5. Up your dipping game
Guacamole is great for dipping things other than tortilla chips — try vegetables, crackers, or even topping your toast with a dollop in the morning! Don't be afraid to go wild with your options. On Guacamole Day, anything is possible.
Looking for more amazing ways to eat guacamole? Check out our deep-fried guac recipe below, and visit Bustle on YouTube!
Images: I Am A Food Blog; Averie Cooks; Joy the Baker; Giphy (4)