Elisabeth Moss Has To Win An Emmy This Year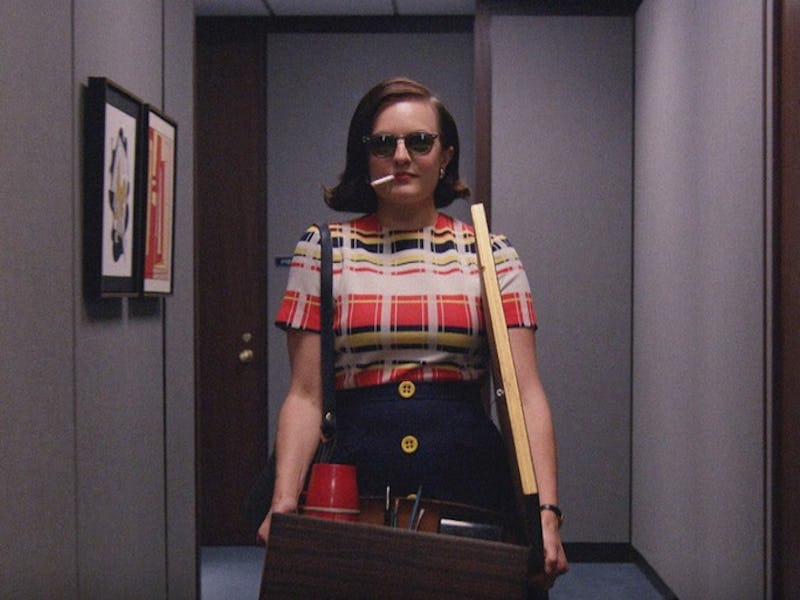 The Emmys have a long history of overlooking history-making performances — for instance, Lauren Graham doesn't have a single Emmy to her name for her work as Lorelai Gilmore on Gilmore Girls — but in the case of Mad Men, the state of which actors and actresses nab Emmys has been particularly depressing. Considering Mad Men ended its run in May 2015, this is the last year the Mad Men actors can win for their work — and though I can forgive the Television Academy if they don't send a statuette Jon Hamm's way, I firmly believe Elisabeth Moss must win an Emmy for her role as Peggy Olson on the series. Few TV characters have had an arc as coherent and beautifully told as Moss' Peggy, and to see her passed over for a sixth time would be too hard to watch.
Mad Men was as much Peggy's story as it was Don's, and while the second half of Season 7 didn't give Peggy as much to do as previous seasons did, Moss still had plenty of knockout moments. Besides, at this point, it would be a legacy Emmy — not only acknowledging the quietly powerful work Moss did this season, but honoring seven seasons of Moss bringing one of TV's greatest heroines to life. Peggy Olson is a legend, and not winning an Emmy wouldn't take that away from Moss or the character — but it would be really annoying for the fans. It's time for Moss to boss!walk up onto that Emmy stage and make Peggy proud.
Here are seven reasons why Moss must win the Outstanding Lead Actress in a Drama Series Emmy:
1. Moss Turned Peggy Into An Icon
Mad Men was supposed to be Don Draper's story — but from the very first episode, Moss felt like just as much of a powerhouse as Don. Her talent and range only grew as the seasons passed, and Peggy became more ambitious and confident. It didn't take long for the most iconic series on TV to produce one of the most iconic characters to ever grace the small screen: From her declaration that she didn't want to be just another color in a box to her masterful work in "The Suitcase" (not to mention her final conversation with Don Draper) Moss made Peggy more than unforgettable.
2. Everyone Else In The Race Has Another Shot To Win
Taraji P. Henson is a total force of nature on Empire, Viola Davis was the best part of How to Get Away With Murder Season 1, Tatiana Maslany does fascinating work on Orphan Black, Claire Danes always delivers a riveting performance on Homeland, and Robin Wright is a bona fide boss on House of Cards — they all deserve to win. But, you know what? Every single one of these women will have another chance to win an Emmy for the characters they're playing right now. In Moss' case, though, this is not a drill: If she isn't honored for playing Peggy now, she never will be.
3. The Academy Still Owes Moss For "The Suitcase"
The duet between Hamm and Moss that was "The Suitcase" did not earn them Emmys, and that is a crime against art. The Television Academy has one last chance to rectify the mistake they made four years ago.
4. Because Of That Final Phone Call With Don
Was anyone in the audience not gutted by Peggy trying so hard to keep it together for her mentor and friend? The fear and concern in her voice was palpable throughout that entire scene (which also happened to be the finale's best scene). That was all Moss, guys.
5. She Inspired Everyone Who Watched Peggy
To know Peggy was to love Peggy. Even when she screwed up or did something horribly insensitive, she was still far easier to root for than Don. Peggy inspired viewers! (At least, I know she inspired me, and for a television character to have that kind of effect on someone is no small thing.) Moss imbued Peggy with a sense of bravado, a fearlessness, and a deep sadness: She made Peggy just as much as the writing did, and without her, the character never would have become so influential.
6. Because This Happened
Scene. Of. The. Year.
7. She's Just That Good
Moss is a talent who has only grown as the seasons have passed. She's not just phenomenal as Peggy, she's amazing in everything she does: Top of the Lake, The One I Love, The West Wing. She can do pretty much anything, she just happened to be particularly brilliant at telling Peggy's story. From secretary to a major player in the advertising world, Peggy and Moss grew up right in front of the audience. The Emmys are supposed to honor the best of the best, and who is better than Moss?
The 2015 Emmys air Sunday, September 20 on NBC.
Images: AMC Studios; Giphy (7)