Ashley S. & Her Fiancé Go Way Back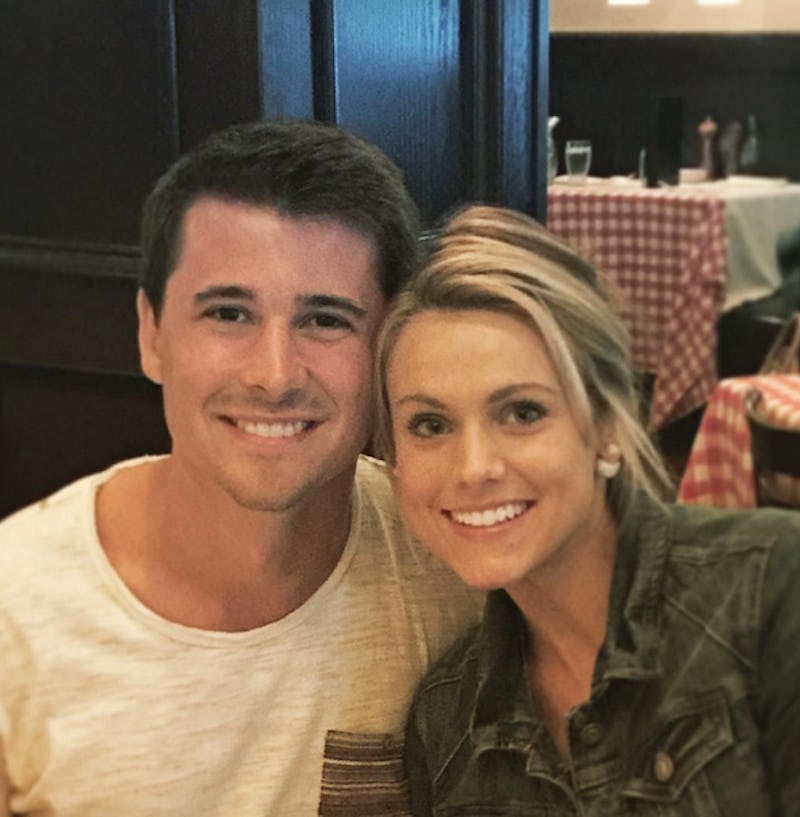 It's barely been a week since Bachelor in Paradise finished up for the season, but we've already gotten some pretty big news from one of the show's stars. Even though things didn't work out between her and Dan Cox this season, Ashley Salter is engaged — and even though this development is still relatively new, it's easy to become obsessed with Salter's new relationship. Her husband-to-be, Austin Brannen, is an adorable, golf-playing real estate VP, and from their Instagram photos alone, it's clear that they're over the moon about spending the rest of their lives together. But Salter has had a busy year, and between The Bachelor and Bachelor in Paradise (and her brief guest appearance on The Bachelorettewhen she styled Kaitlyn Bristowe's hair), so when could she have had time to meet, fall in love, and get engaged to someone who's not a part of Bachelor Nation? The answer is simple: She didn't. The story of how Salter met her fiancé began a long time ago.
Thanks to a super cute throwback photo shared by Brannen (pre-engagement), we know that he and Salter didn't just meet. In fact, it seems that happened when they were both in college at Auburn University, and that they dated back then. How cute were these two crazy kids?!
In an interview with Auburn's The War Eagle Reader, Salter gave a quick glimpse into what her college days were like. And although it may surprise you, they were pretty typical to the college experience most kids have. She worked at a boutique, she was part of a sorority (Alpha Chi Omega), and studied abroad in Italy before graduating in 2012 with a degree in Human Development. Meanwhile, Brannen, who she presumably dated during that time, was busy with college-guy things of his own, like being part of Beta Thi Pi before graduating in 2011 with a bachelor's degree in Business Administration. It would make sense if they met in the Greek life circuit, or through one of the other million ways
And from there? Unfortunately, neither half of my new favorite relationship has spoken up about their backstory, but it's pretty easy to guess what happened next. Now that they both live in Atlanta, I'm assuming they reconnected after Salter's stint on The Bachelor or BIP and rekindled their romance once Salter came back from Mexico, and the rest is history.
I have no doubt that Salter and Brannen will live happily ever after. Meeting in college gives your relationship way better odds than meeting on reality TV, after all. Plus, this means she's free of the Bachelor curse, right?
Image: Ashley Salter/Instagram