Reactions To Clinton's 'Tonight Show' Interview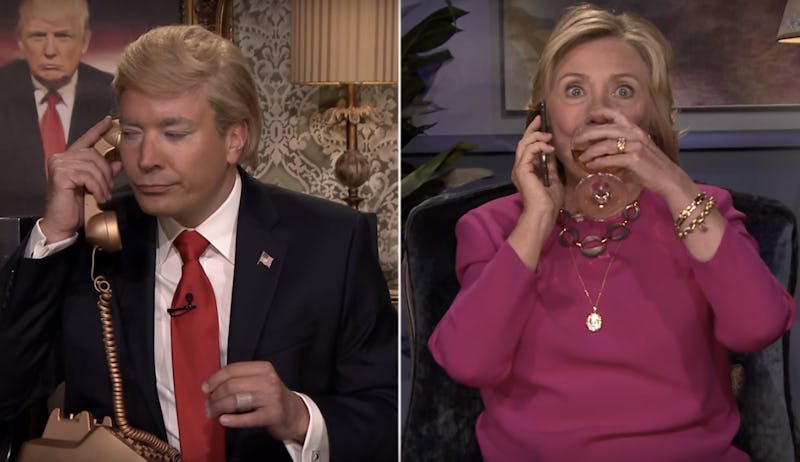 While most of the political sphere was watching the GOP presidential hopefuls debate each other on CNN, Hillary Clinton was enjoying plenty of laughs with Jimmy Fallon on Wednesday. Clinton was Fallon's guest on The Tonight Show, and the pair discussed everything from Bernie Sanders' improving poll numbers to Donald Trump's hair to Clinton's taking a selfie with Kim Kardashian. In one of the sketches, Jimmy Fallon — as Donald Trump — spoke with Hillary Clinton, and his impression was so spot-on that some argued Fallon-as-Trump should run for U.S. president instead of Trump himself. There were plenty of reactions to Clinton's Tonight Show appearance, which was honestly a good break from the three-hour Republican free-for-all.
During Fallon's interview with Clinton, the Democratic front-runner didn't shy away from saying that Sanders wants to "take it all away" from her after she's worked so hard on her presidential campaign. But while she was happy to join Fallon in mocking Trump's hair, which they decided resembles a Dairy Queen cone, Clinton refused to comment on when she thinks Trump will drop out of the 2016 presidential race. "I think he's going to go as long as he wants to go. That's one of the great things about this country," Clinton said of Trump. "He's making the most out of it. I'm having a good time watching it. I find it amazing."
If Twitter is any indication, there are plenty of people who found Clinton's appearance on The Tonight Show much more entertaining than the Republican debate. Here are some of the best Twitter reactions to Jimmy Fallon's interview with Hillary Clinton.
The Ones Who Were Just Happy Not To Be Watching The GOP Debate
The Ones Who Thought Clinton's Interview With Fallon Was Actually Funny
The Ones Who Hope The GOP Candidates Get A Chance At The Tonight Show, Too
The Ones Who Aren't Fans Of Clinton — But Still Watched The Interview Anyway
The Ones Who Were Just There To Laugh At Trump
The Ones That Don't Really Make Sense
Image: The Tonight Show Starring Jimmy Fallon/NBC