How To Get Street Styled Next Fashion Week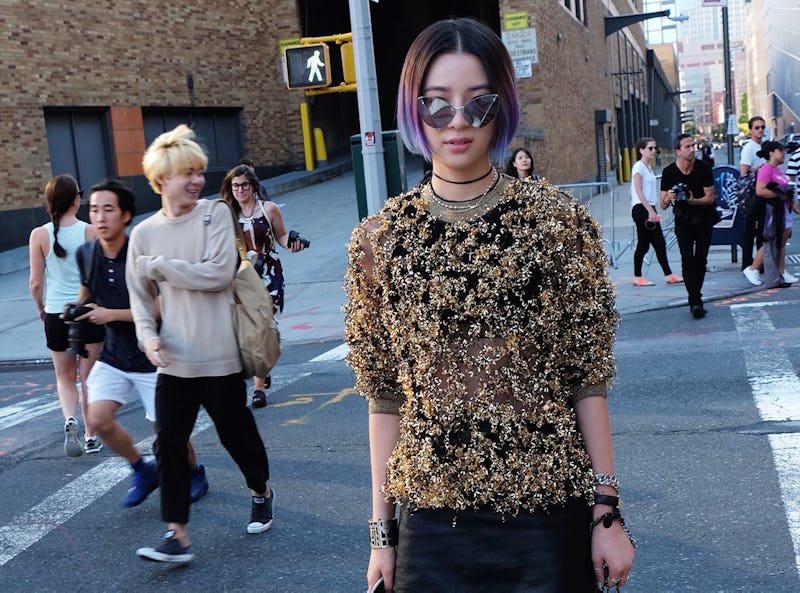 We've all seen the photos. Ladies and gents strutting down city streets in chic frocks, a herd of photographers chasing after them. Street style is a significant element of Fashion Week, particularly in New York City. We're one of the major fashion capitals of the world and our residents pride themselves in having original and risk-taking style.
But theses trendsetters didn't just roll out of bed and throw something on. The majority of those captured in street style shots are models, celebrities, fashion editors and famous bloggers who put time and money into curating each outfit. Of course, there are those non-famous New Yorkers and visitors who also get styled simply due to their eye-catching look or unique fashion sensibilities.
I've experienced New York Fashion Week from various perspectives: as a street photographer, sitting front row as press, in the photographer's pit at the end of the runway and as a regular attendee with a randomly assigned seat. While getting street styled is not the easiest thing to pull off, there are some simple guidelines you can follow to make it more likely to happen to you. I'm always amazed at how many people miss the mark on these rules and overcompensate their look and actions just to get some attention from the cameras.
The following tips will increase your chances of getting street styled at New York Fashion Week, or any Fashion Week (in case you're off to Paris) They're what I look for as a photographer and what has worked for me as an attendee.
1. Wear a Top Trend
This past week at NYFW there was one day when a slew of fashionistas wore stripes, and another when they wore an upscale pajama look (no joke). Photographers often have assignments to shoot those wearing current or upcoming trends so it's in your best interest to don them. Just don't wear all the trends at once.
2. Don't Wear Prom Attire
My apologies for sounding like a mean New Yorker, but it's sort of an inside joke when attendees wear the dressiest thing in their closet and assume it's fashionable. Fashion is not necessarily a cocktail dress. It can be a ripped vintage shirt, tomboy trousers or classic sneakers. Many often assume that New York City in general, and Fashion Week, calls for formalwear. Unless you're headed to a gala, that's simply not true.
3. Mix It Up
However, that doesn't mean that wearing something feminine or semi-dressy is always a negative thing. But maybe combine the look with something different — like heeled sandals, a tea-length skirt, and a casual cotton tank with a throwback logo on it from your local thrift shop. Nothing gets me more excited as a photographer and fashion addict than seeing unique combinations like this. It shows that the person has creativity, has put some thought into their look, and it also makes a great topic to write about for a style piece.
4. Arrive With a Partner in Crime
Two can be better than one, particularly in a photo. Maybe wear the same trend, but in different variations. Having your bestie in tow also means that you're probably having a blast — something that photographers are always looking to capture.
5. Don't Arrive the Same Time as Celebrities
Yup, unfortunately famous people come first for style photographers. Their photos pay the most and their posts get the most clicks. If you arrive in your new Givenchy and the Kardashians are right behind you, it's best to circle around the block or grab a coffee and have a do-over.
6. Smile & Show Your Personality
We probably know you're not a model or famous, so no need to wear the "model scowl." This isn't the runway, it's the street and you're just going to look angry. Humans are attracted to happy people in real life, in photos, and, yes, even in style pieces. Don't take yourself or the event too seriously. Subtle antics like twirling or throwing your arms up always make for cool shots.
7. Don't Look Like You Just Ran Errands
Even if you did, drop stuff off at your apartment or hotel first. Less is more in a style photo so don't show up with shopping bags, your laptop and gym bag. Your outfit won't stand out and photographers aren't looking to shoot someone who just left the office or tourists who binged on Madison Avenue.
8. Be Either Daring Or Classic
Wear that bright color, graphic pattern or feminist quote top… or wear all black in different textures and maybe a hat to stand out. We love to shoot both spectrums.
9. Don't Just Wait Around
If photographers didn't shoot your look in the first ten seconds of seeing you, then they probably won't at all. Don't take it personally. Maybe they've already shot six people with a similar outfit that day. But don't stand around pretending to be on your phone in the hope that they'll notice you. They've already noticed you, trust me.
10. Leave The Selfie Stick At Home
Better yet, leave it in the garbage. A photographer may shoot you for his or her personal documentary photo series on crazy tourists, but you won't end up in the style section of his or her publication.
11. Looking Comfortable, Confident, &Cool Is Everything
I once rolled up to Fashion Week in high tops, ripped jeans, an interesting t-shirt and shades like I owned the joint and photographers moved in for some shots. If you own your look — no matter what it is — you're going to make a perfect style series candidate.
12. Don't Ask to Have Your Photo Taken
We may take it to be polite, but it probably won't end up in the fashion post. Again, don't take street styling so seriously. You may get styled the next day, or next season. Photographers have set assignments, so your threads may be amazing but just not what we're looking for that day. I think it's cool when I see attendees who wear whatever they want and aren't sweating it. They're there to enjoy the shows and could care less about getting five seconds of fame. I may not take their photo, but they've gained my personal respect. Trying too hard is never attractive, and certainly not to photographers, so just be yourself.
Images: Mich Cardin; LaurenBeck, Mainstream/Flickr