Bride Decides To Be Her Own Wedding Photographer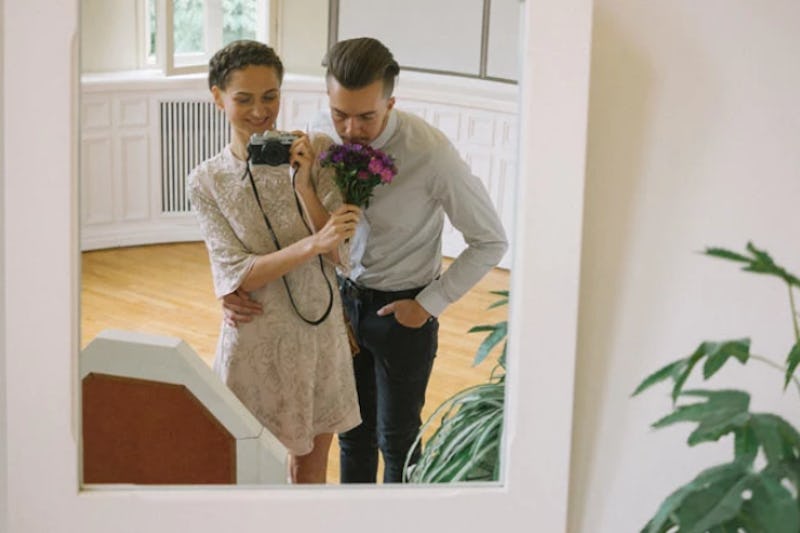 As wedding season winds to a close, let's all take some time to appreciate this innovative bride who was her own wedding photographer. How's that for original, eh? Estonia-based photographer Liisa Luts was married on August 28, and photographed her own wedding with a Fujifilm X-T10. She posted her photos online and they are getting incredible feedback. She and her now-husband run a small company called Mellow, providing photography, videography and animation services. She shot the day from her perspective, from waking up on her wedding day to going to sleep with her new husband that evening, and the perspective it offers is not only fresh and new, but entirely more intimate than ordinary wedding photos.
Not to mention, wedding photographers can cost an arm and a leg (north of $2,000 if you get one for the whole day). More and more, it is becoming popular to find ways around professional photography. (While it should be noted that, of course, professional photographers deserve to be compensated well for their time, it's just not in everyone's budget.) People are using every alternative, from putting disposable cameras on the table to "go retro," to relying on a hashtag to gather all the wedding photos — which is fine, but honestly might be risky if you have an open bar. But of all the alternatives you could consider, this one is probably by far the most meaningful and unique. Here is Liisa Lut and her husband's self-photographed wedding day:
Wake Up On Her Wedding Morning
Feelin' like P. Diddy.
Get Squeaky Clean On The Big Day
Her photos suggest that she didn't have a traditional wedding day filled with mimosas before heading to the church/botanical gardens/what have you, and that's so refreshing. She just went about her day without insisting on being pampered.
Her Friends Did Her Hair
The Princess Leia Look— a perfect choice.
And Then She Got All Ready
I honestly want to know which shoes she picked.
And Headed To The Wedding Venue
This image is the world's most perfect stock photo, except that it isn't a stock photo.
Where She Proceeded To Casually Get Married
*cues wedding music*
She And Her Husband Are Adorable AF
In love with her short dress.
After The Wedding, They Were Off To The Reception
Where they were greeted by loved ones.
See Look:
Clearly, it was beautiful.
And Then They Went To Bed After Celebrating Their Day
And as J.K. Rowling would say, all was well.
Images: Courtesy Of Liisa Luts