Your 2015 Halloween Playlist Is Here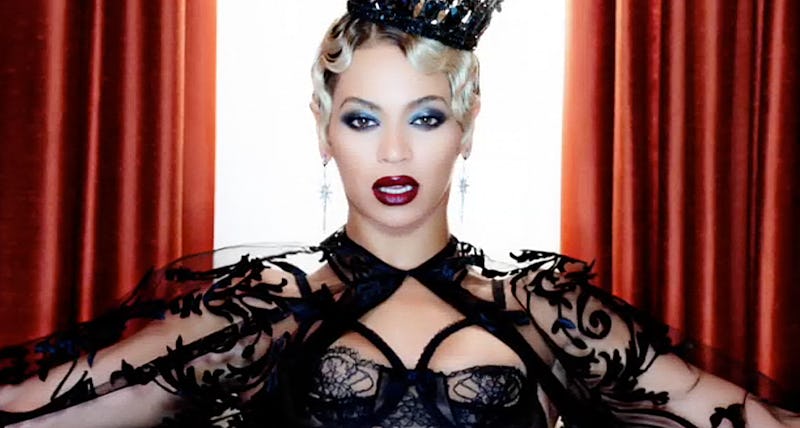 Halloween is just around the corner, and you've got a big dilemma: you're hosting a party, but you don't know what kind of music to play. So, naturally, you plop down on your couch, open up your laptop, and start searching for scary Halloween songs. Unfortunately, the suggestions you're finding aren't exactly what you're looking for. "The Monster Mash"? "Tubular Bells"? "This Is Halloween" from The Nightmare Before Christmas?? I mean, sure, those tracks fit the theme, but nobody actually wants to listen to that kind of music at a party! You're looking for songs that both set the mood AND make people dance — modern pop songs that aren't hokey and/or totally obvious. You're in luck, because I've put together a Halloween playlist full of fantastic tunes that do just that.
Trust me, this playlist is a game-changer. No longer will Halloween party guests have to suffer through AC/DC's "Highway to Hell" and Michael Jackson's "Thriller" 20 times throughout an evening! My 2015 Halloween playlist features frightening jams from major pop artists like Beyoncé, Lady Gaga, Rihanna, Adam Lambert, Little Mix, and Kesha — and I promise it's going to make your event totally spook-tacular. Check it out via Spotify below.
Here's a track-by-track breakdown:
Beyoncé — "Haunted"
"Haunted" is one of my favorite songs from Beyoncé's 2013 self-titled album. With its eerie spoken intro, hard-hitting percussion, and ghostly background vocals, it's the perfect track to kick off your Halloween gathering.
Allie X — "Catch"
"Thought you got away with murder/Left me at a loss for the words/Just wait until I catch my breath, wait until I catch my breath," Canadian pop singer Allie X warns on the ominous (and extremely catchy) chorus to her debut single, "Catch." It's only a matter of time before she exacts her revenge. Pretty spooky, right?
Adam Lambert — "Evil In The Night"
"Evil in the Night" will definitely get your costumed partygoers dancing (and its lyrics about a nefarious lover will send chills down their spines).
Alphabeat — "The Spell"
This slice of '90s-influenced dance-pop is nothing short of magical.
Yeah Yeah Yeahs — "Heads Will Roll" (A-Trak Radio Edit)
"Off-off with your head, dance-dance 'til you're dead," Yeah Yeah Yeahs vocalist Karen O commands on the infectious "Heads Will Roll" hook. Uh, could there be a more perfect Halloween song?
Eminem & Rihanna — "The Monster"
The "I'm friends with the monster that's under my bed" line always makes me think of the 1989 movie Little Monsters , which stars Howie Mandel as a blue goblin who lives under Fred Savage's bed. I honestly can't think of anything more terrifying than that.
MS MR — "Bones"
There's just something so haunting about MS MR's "Bones." "Dig up her bones, but leave the soul alone." Eek!
Natalia Kills — "Zombie"
Occasionally, pop singer Natalia Kills does Lady Gaga even better than Lady Gaga — and "Zombie" is proof.
Little Mix — "Black Magic"
Little Mix's buoyant tale of amateur witchcraft should help keep the mood at your get-together from getting too dark and scary.
Ella Henderson — "Ghost"
I know it may feel weird to bust a move to a song about being followed by an evil spirit... but I suggest you just go with it. "Ghost's" groove is pretty much impossible to resist, anyway.
Kesha — "Cannibal"
"Cannibal" is the kind of warped love song that only Kesha could come up with. "Whenever you tell me I'm pretty, that's when the hunger really hits me/Your little heart goes pitter-patter/I want your liver on a platter," she declares on the second verse. It's a little alarming, but I know she's just kidding around. Err, I hope she's just kidding around.
B.o.B — "Out Of My Mind" (Feat. Nicki Minaj)
With its frantic storm of electronic blips and bloops, B.o.B's "Out of My Mind" does a great job of making you feel like you're losing touch with reality.
Madonna — "Gang Bang"
I think it's safe to say that The Queen of Pop was dealing with a lot of unresolved anger when she wrote "Gang Bang." After murdering a former lover in the song, she tells us, "I'm going straight to Hell... and I got a lot of friends there. And if I see that b---- in Hell, I'm gonna shoot him in the head again. 'Cause I want to see him die, over, and over, and over, and over, and over, and over, and over, and over!" Yikes. Let it all out, Madge.
Fifth Harmony — "I'm In Love With A Monster"
I mean, it's on the Hotel Transylvania 2 soundtrack... how could I not include it? Plus, it's funky and fun.
Marina And The Diamonds — "Radioactive"
"Radioactive" is an icy (but totally danceable) pop track about love gone wrong. "When you're around me, I'm radioactive/My blood is burning, radioactive," Marina Diamandis sings on the soaring chorus. I think she might want to break up with this person before she ends up mutating or something. Just a thought.
Wynter Gordon — "Til Death" (Denzal Park Radio Edit)
A good old fashioned dance tune about partying forever and ever until you fall down dead. It's so Halloween.
Lady Gaga — "Bloody Mary"
Gaga's "Bloody Mary" is 100-percent guaranteed to give everybody at your big bash the creeps.
Melanie Martinez — "Mad Hatter"
Any song having to do with the looney Mad Hatter from Alice's Adventures in Wonderland is dark-sided in my book.
Rihanna — "Disturbia"
OK, OK, you got me. You've probably heard "Disturbia" at a Halloween party before, but I just couldn't bring myself to skip it. It's too good!
Tegan And Sara — "Walking With A Ghost"
The scariest thing about "Walking With A Ghost" is how mysterious its lyrics are. There's no explanation of who this ghost is or what it wants; the only thing we know is that Tegan and Sara need to get it out of their heads. Horrifying.
Natalia Kills — "Kill My Boyfriend"
The juxtaposition of "Kill My Boyfriend's" sunny, almost triumphant production with its sinister lyrics is chilling.
Lana Del Rey — "Dark Paradise"
You know Halloween is Lana Del Rey's favorite holiday!
Kerli — "Walking On Air"
"Walking on Air" is delightfully spooky.
Richard Vission & Luciana — "Primitive"
"Primitive" just sounds sinister.
Greg Laswell — "Your Ghost"
Every party needs at least one slow dance, and "Your Ghost's" lyrics are super freaky: "If I walk down this hallway tonight, it's too quiet/So I pad through the dark and call you on the phone/Push your old numbers and let your house ring/'Til I wake your ghost..." The song is almost hypnotizing.
Katy Perry — "E.T." (Feat. Kanye West)
Let's face it, Halloween wouldn't be complete without a little talk of UFOs and alien abductions.
Shakira — "She Wolf"
Finally, a disco-tinged pop song about turning into a werewolf! I love it.
Kesha — "Supernatural"
"Supernatural" was inspired by that time Kesha claims she had sex with a ghost. Yeah. Enough said.
Lady Gaga — "Monster"
A modern Halloween classic, tbh.
Moxie Raia — "Buffalo Bill" (Tiësto's Club Life Remix)
According to a 2014 interview with singer-songwriter Moxie Raia, "Buffalo Bill" has nothing to do with the human skin–wearing serial killer of the same name from Silence of the Lambs... but he's the only thing I can think about when I listen to the track (and I suspect I'm not alone).
Adam Lambert — "Ghost Town"
Adam Lambert's latest single is the perfect way to end the night.
Good luck with your party planning!
Images: beyonceVEVO/YouTube; Giphy (28); Allie X/YouTube; ytvodtest0/YouTube; KerliVEVO/YouTube