Revisit 'Good Burger's "We're All Dudes" ASAP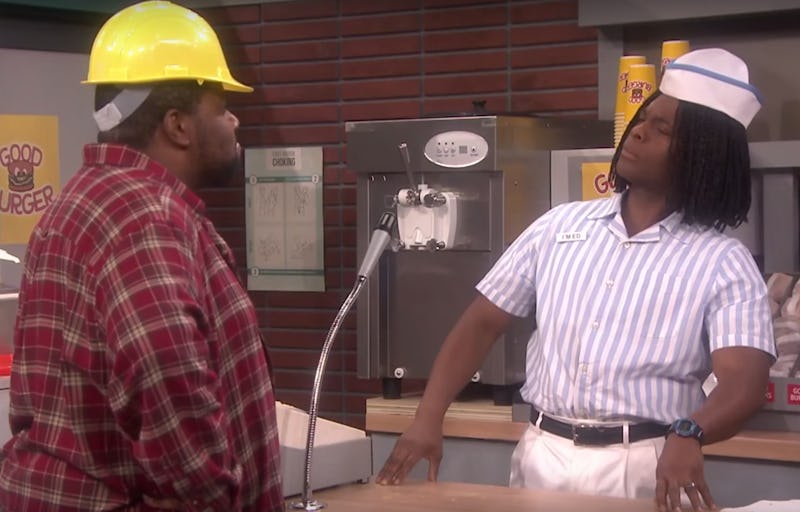 In the late '90s, fans of Nickelodeon's for-the-tweens sketch comedy show All T hat fell in love with a bumbling fast food joint employee named Ed (played by Kel Mitchell). Sure, he botched countless burger orders. Yeah, he ruined more than one customer's shirt with yellow mustard. And yes, he might've veered into Amelia Bedlia territory every now and again. But do you know what else he did? Ed the Good Burger cashier (and ska band Less Than Jake) gave us a song called "We're All Dudes." You can try to tell me track number six off of the Good Burger soundtrack is not a timeless classic, but I won't hear it. I'll be too busy listening to "We're All Dudes" for the zillionth time today.
Wednesday night, titans of Nickelodeon original programming Kenan Thompson and Mitchell dropped by The Tonight Show for a Good Burger reunion. Seeing Kenan and Kel together again was like Splat-mas come early (*makes mental note to build a The Splat advent calendar*), and hearing Kel sing "the best, catchiest song of all time" was like being surprised with a free order of Good Fries. I love Good Burger, I love good burgers, I love All That, I love Kenan & Kel, I love Nickelodeon, I love The Splat, I love the word "dude," and I love the song "We're All Dudes."
I'm not going to strong-arm you into listening "We're All Dudes" right this second, but I will politely recommend that you do just that. *Clears throat.* May I suggest you play the following song at your earliest convenience, dude? I assure you this song will put you in only the best of moods, dude. Please, thank you, and have a wonderful rest of your week, dude.
Oh, and may I also suggest you revisit the beginning of the Good Burger feature film at your earliest convenience, dude?
Listening to "We're All Dudes" 10-15 times a day until The Splat's Oct. 5 launch date feels like the right thing to dude, er, do.
Image: NBC