April & Jackson's Status Is Confusing On 'Grey's'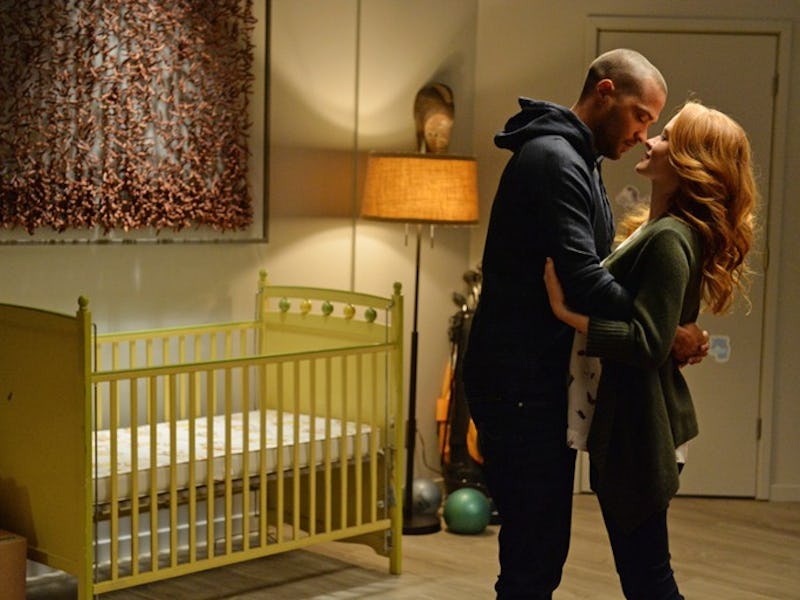 So much heartbreak so far on Grey's Anatomy Season 12. Not that it's that different from any other season, but it opened up with everyone asking Jackson about April's return. If you remember from May's finale, April, reeling from the loss of their son, decided to return back to her work with Doctors Without Borders. She didn't ask Jackson, really — she just left. In current time, Jackson deflected all questions about April, leaving everyone to wonder — are Jackson and April even still married?
I mean, when April left at the end of last season, she just bailed. Part of it was the death of their son, and part of it was this immeasurable need to help others, but she really left Jackson in the lurch. I'm not saying that I wouldn't have done it — I just think that I would have talked to my partner more about it before I up and left to a third-world, war-torn country. Conveniently, Grey's Anatomy didn't let too much mystery continue about the state of Jackson and April's marriage. At the end of the episode, Jackson, sleeping in the on-call room, was awakened by a just-off-a-plane April. Why were they both there and not at home? Because each thought the other would be at home and they wanted to avoid each other. Ouch.
Telling is Jackson's attitude toward April — she had this mini-Shonda speech about how she "wanted to talk," and Jackson simply just said, "Goodnight." My money is that Jackson feels betrayed and hurt that his wife just up and left, especially after they suffered through something very traumatic together. It's a sad day for Grey's Anatomy fans if their marriage ends up not working. April and Jackson were the most fated lovers on the show besides Meredith and Derek: torn apart, brought together, even ran away on their wedding day. April and Jackson have always been my OTP on Grey's since they showed up on the scene (even more so than Meredith and Derek, and, yes, I can feel Twitter rising up at me right now), so I, for one, will be heartbroken if they split.
Images: Eric McCandless/ABC; Giphy