What To Read This Banned Books Week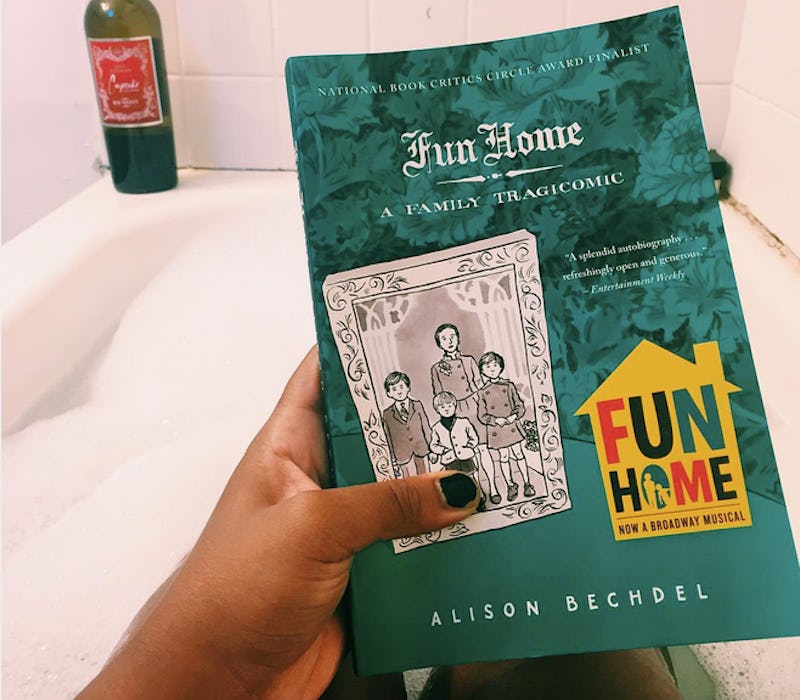 Attention book-lovers! It's Banned Book Week! In other words, time to celebrate free speech and honor all the books that have been banned and challenged in the U.S. Because believe it or not, there are still people trying to ban books in this country in the year 2015.
Fortunately, attempts to ban books from schools or libraries are still, as far as anyone can tell, pretty rare. There were just over 300 reports of such incidents in 2014 — though it's worth nothing that the number could be higher, since most attempts don't receive media coverage and it's likely that not all challenges are reported to the American Library Association (who for better or worse are the main source of information on the subject). And, terrifyingly, it seems the number of people who agree with book banning is rising. Still, challenges seem to be mercifully rare. However, the fact that any parents or community members would try to prevent other people from having access to a book is pretty mind boggling.
Unsurprisingly, many of the books on lists of frequently banned and challenged books are books either aimed at children or taught in school. People seem particularly happy to try to restrict children's access to books, and while I can certainly understand parents perhaps wanting an alternate assignment for their own child, or wanting to talk to teachers about material they might find concerning, trying to remove a book from a school's curriculum altogether is another matter altogether.
So how can you support Banned Books Week this year? Well, as always, the best way is to read banned books. And here are 9 titles to consider:
The Bluest Eye by Toni Morrison
It boggles my mind that people would try to block kids' access to a Nobel Prize winning author who happens to also be one of Americas greatest living writers. And yet The Bluest Eye was one of the most frequently banned and challenged books of 2014.
The Absolutely True Diary of A Part-Time Indian by Sherman Alexie
This young adult novel by Sherman Alexie has been on the most banned and challenged list for most of the time that it's been published. As someone who absolutely loved it, I have no idea what people find so objectionable.
Fun Home by Alison Bechdel
Allison Bechdel's smart, stunning graphic memoir isn't just the basis for a Broadway play, but also the subject of several objections, including one at a college, which is unusual.
To Kill A Mockingbird by Harper Lee
That's right, even Harper Lee's classic novel has caused some people to get so bent out of shape they want to deny other people access. Stunningly, the book made the top 10 most banned challenged books list as recently as 2011. So instead of reading Go Set A Watchman maybe check out the reason Harper Lee is famous to begin with.
Persepolis by Marjane Satrapi
This moving graphic novel about the Iranian Revolution is another top 10 most banned from 2014.
The Immortal Life of Henrietta Lacks by Rebecca Skloot
This nonfiction title explains the story of Henrietta Lacks, an impoverished black woman in the American South whose cervical cancer cells were, without her knowledge or consent, used to create the first immortal cell line, which has in turn led to a whole host of medical breakthrough. It's a fascinating story, but one mother whose child was assigned the book in school seems to feel that its sparse gynecological descriptions are pornographic. Because... women's bodies are inherently sexual? I don't get it either.
The Kite Runner by Khaled Hosseini
Khaled Hosseini's bestselling novel is stunning and is also one of the 10 most banned challenged books of 2014. Which on the bright side, probably means it's being assigned in schools more, which is definitely a good thing as far as I'm concerned.
The Hunger Games by Suzanne Collins
Oddly, the most cited reason for challenging The Hunger Games is that it isn't age appropriate, but since it's aimed at young people that makes no sense. Just because something involves some heavy themes, that doesn't mean it's unsuitable for young people — young people also deal with heavy subjects all the time. And yet, the book is on the ALA's list of most banned and challenged books in 2013, 2011, and 2010.
Brave New World by Aldous Huxley
This high school English class staple has made the most banned list several times. I suppose it's slightly less ironic than if it were Fahrenheit 451, though people have tried to ban that one, but there's something funny about trying to ban a book about a dystopian future in which knowledge is tightly controlled and everyone is encouraged to think the same.
Image: squishy.fries/Instagram