How Much Do You Love This New 'Danish Girl' Cover?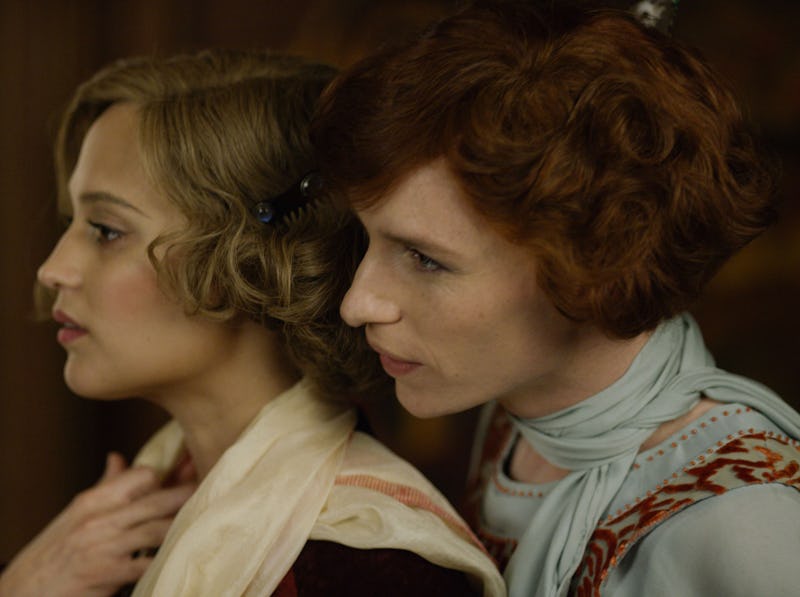 Eddie Redmayne is already getting major advance Oscar buzz for his role in The Danish Girl, and Penguin Books is paying tribute to the acclaimed adaptation by releasing David Ebershoff's The Danish Girl book movie-tie-in edition, which features Redmayne and his co-star Alicia Vikander. Ebershoff's book is loosely based on the real-life story of Lili Elbe, a Danish painter and one of the first people to undergo gender confirmation surgery to treat gender dysphoria. Elbe's story is monumental in the fight for transgender rights.
The novel, and now the movie, center on Lili's relationship with her wife Greta, who she married before reassignment surgery. Weaving fiction into factual events, The Danish Girl paints the picture of a passionate, loyal marriage and relationship that withstands monumental change. It is Greta who encourages Lili to be true to herself, and who supports her decision to come out as the woman she knows she is.
Although casting a transgender actress in the part of Lili would have been ideal, Academy Award winner Redmayne has already been garnering loads of praise for his quiet, graceful performance, and the movie is sure to be a big name come Oscar season.
Penguin Books teamed up with Bustle to get the first exclusive look at the cover of The Danish Girl book movie-tie-in edition, and it's simply beautiful:
This edition will be released October 27, with the movie one month later on November 27. Have you read it yet?
Images: Courtesy of Penguin Random House; Focus Features