8 Audiobooks For Family Road Trips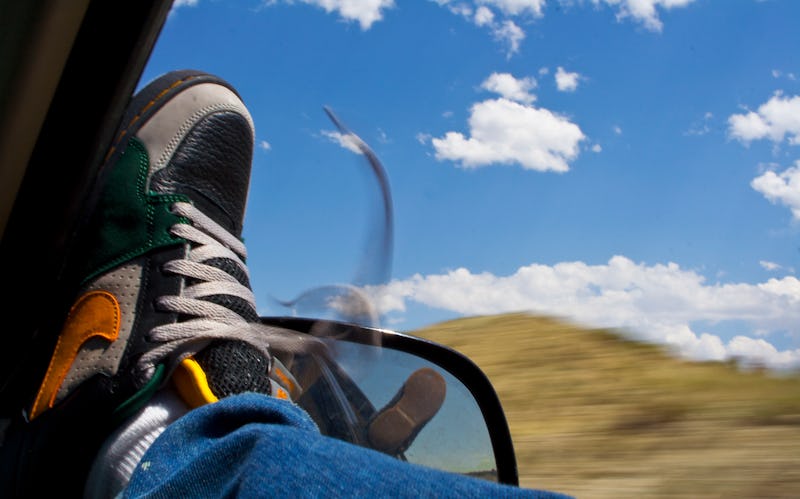 Summertime is officially over and that On the Road-inspired cross country journey you took with your girlfriends has come to an end (but don't forget, all those selfies will be on the Internet forever.) It's time to enter the season of a completely different kind of road trip: the family road trip, aka the boring road trip, the painful road trip, the road trip that every single person dreads all year long.
Whether you're headed to your beloved Aunt Barb's for Thanksgiving, or to Great Grandma Nancy's for Christmahanukwanzaakah, as a general rule, family road trips tend to suck. They're crowded, and noisy, and no one ever stops for snacks when you want to. Your little brother always takes off his shoes, your mom snores like a jackhammer from the shotgun seat, and your dad has way too many opportunities to ask you who exactly that guy with all the tattoos is in your Facebook profile pic. It's not a good time.
Enter the audiobook — the failure-proof antidote to the family road trip. As long as your audiobook falls somewhere between the genres of What Color is Your Parachute? and Fifty Shades of Grey, you're pretty much set. Here are eight audiobooks for family road trips, because books really can get you through a long drive with anyone.
In 1960 author John Steinbeck took a cross country road trip in search of America (as the subtitle suggests.) His companion? A poodle named Charley. Starting in Long Island, New York, with his Don Quixote-inspired camper named Rocinante, Steinbeck traveled to the Pacific Northwest, down the coast of California, and ended his travels driving through Texas and the Deep South; observing a much-changed America from the Depression-era landscape he wrote about in his novels. This is the perfect story for a good ol' American car ride.
Listening time: 8 hours and 27 minutes
This autobiographically-inspired novel and audiobook tells the story of Nora Ephron's second marriage to Carl Bernstein, including his affair. The story pokes fun at the main characters inexplicable neuroses, looks critically at the rise of the American "power couple," and demonstrates that there's always more than meets the eye to marriages and relationships. This one will make you wonder what's really going on between Cousin Beth and her fiancé.
Listening time: 5 hours and 30 minutes.
This British mystery novel is told through the perspective of 15-year-old Christopher John Francis Boone, a boy with an Autism spectrum condition who discovers his neighbor's dog stabbed by a garden fork. When Christopher is suspected of the dog's murder, he decides to do a little sleuthing of his own. You'll be so hooked on this story you won't even want to stop for snacks.
Listening time: 6 hours and 3 minutes.
The hilarious and candid David Sedaris shares some stories from his life in his self-narrated audiobook Me Talk Pretty One Day. The essay collection chronicles Sedaris's awkward upbringing in Raleigh, North Carolina, his time spent in New York, and his move to Normandy, France — from his recreational drug use to his difficulty learning new languages, and everything in between. You'll be laughing all the way to Grandma's house.
Listening time: 5 hours and 51 minutes
Since you're trapped in the car anyway, you might as well learn... well, everything. Starting with the Big Bang and moving through the evolution of modern Homo sapiens, all the way to the discovery of quantum mechanics, Bill Bryson's book is like the best introduction to sciences course you'll ever take. Aunt Sally will think she's having Thanksgiving dinner with Sheldon Cooper.
Listening time: 18 hours
Ten-year-old Bud Caldwell is an orphan living in Flint, Michigan during the Great Depression. After one too many unpleasant foster home experiences Bud sets out on his own, heading west to find the man who he thinks is his father. Along the way he encounters an eccentric cast of characters, and more than a few surprises. This audiobook is perfect if you're traveling with some younger siblings in tow.
Listening time: 5 hours
Perhaps Truman Capote's most-recognized character, Holly Golightly is not one to mince words. Shocking the narrator, and audiobook listeners, with tales of her life spent lounging in cafes, meeting rich men, and accepting money and gifts from them, she's definitely one compelling lady. With all the great literary brevity readers have come to know from Truman Capote, you'll want to save this one for a shorter road trip.
Listening time: 2 hours and 52 minutes
Revisit elementary school again with this classic tale of disaster and adventure. When 13-year-old Brian Robeson is the only survivor of a plane crash in the wilderness of northern Canada, he has to learn how to stay alive, quickly. WIth nothing but a hatchet and some materials he collects from the remains of the crash, Brian's coming-of-age story is one you'll still love as an adult.
Listening time: 3 hours
Image: Shane Anderson/flickr