13 Audiobooks To Keep You Sane On a Road Trip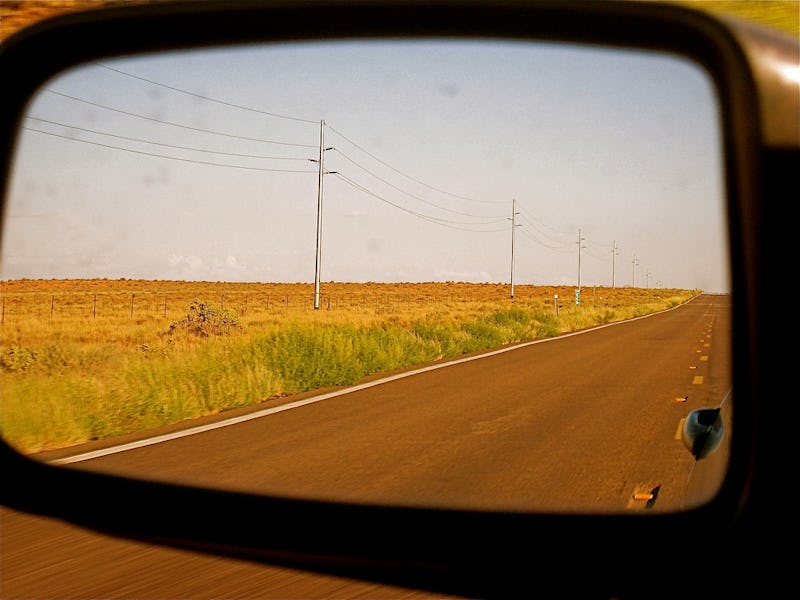 If, like me, you're hitting the highway for the annual holiday road trip home in a few weeks, nothing will make the miles fly by like a great audiobook. I've developed a bit of an audiobook addiction recently, which means that I zip through laundry-sorting, vacuuming, walking, and other previously mundane, soundtrack-less tasks. I've also become a bit of an amateur, albeit annoyingly ineffectual, lip reader. Audiobooks are an excellent way to escape from the boredom of routine chores, avoid irritating conversations, and cut down on your TBR list.
They are equally valuable on the road. With the right narrator, listening to a great audiobook can mentally transport you just as effectively as reading an incredible novel. One minute you're dropping f-bombs at the gridlock, the next you're hanging out with Tina Fey. I don't leave home without one anymore, and especially not when I'm about to embark on a seriously long haul, where blizzards and endless expanses of nothing are pretty much guaranteed.
Even if you're road tripping with your best bud, the miles get monotonous (yes, yes, he's a total jerk, your mom is crazy, yeah I don't know if purple hair is the kind of professional statement you want to make…).
And if you're traveling with family, I'm telling you for the sanity of everyone involved, bring an audiobook. To that end, I've rounded up the best audiobooks for every time of epic road trip. Whether you're traveling solo or going as a group, the audiobooks on the following list will ensure that you don't drive directly to crazy.
Bossypants, Written and Read By Tina Fey
Who'll Love It: Who wouldn't? You probably thought it couldn't get any better than reading Fey's witty, entertaining, and wise memoir, but this way you get to hear her tell it right to you, in her own voice, with all the proper inflection and emphasis. You may even, dare I say it, feel a little like Amy Poehler. You know, just a couple of gal pals talking about life.
Perfect If Your Drive is Approximately: 5hrs 35min, which would just about get you from Pittsburgh from New York City.
Matilda By Roald Dahl, Read By Kate Winslet
Who'll Love It: This is a perfect choice if there's a kid on board, but it's also an excellent listen for anyone who loves Roald Dahl, great stories, and amazing audiobooks. Kate Winslet brings every character in this classic tale about a brilliant, brave little girl to vivid life.
Perfect If Your Drive is Approximately: 4hrs 18min, like going from Los Angeles to Death Valley, California.
Heartburn By Nora Ephron, Read By Meryl Streep
Who'll Love It: This pairing is solid audiobook gold, so get ready to be totally transported into Rachel Samstat's chaotic, messy life. Streep played the title character in the movie version, as well — she knows Stamstat inside and out, and it shows in this perfect audio performance. A great choice for a solo excursion or a buddy trip (just make sure your traveling partner is really ready to listen, otherwise you're probably going to leave her on the side of the road).
Perfect If Your Drive is Approximately: 5hrs 30min, or about the time it would take you to drive from Detroit to Louisville, Kentucky.
Life By Keith Richard, Read By Johnny Depp
Who'll Love It: This is the perfect pick for a long haul with your SO, your band, or anyone who loves The Rolling Stones. Nobody can voice a perpetually pickled, dangerously disarming charmer like Depp, so this is clearly a match made in audiobook heaven. Get ready for a wild ride.
Perfect If Your Drive is Approximately: 23hrs 8min, almost halfway across the USA or just about from San Francisco to Dallas.
The Handmaid's Tale By Margaret Atwood, Read by Claire Danes
Who'll Love It: I feel like I need to make this disclaimer before I say anything else: She does not narrate this in her Carrie Mathison voice. This is my all-time fave Atwood tale, no matter how many times I read/listen/devour it, it never gets old. My mom loves this, too, so I'd say if you're lucky enough to be on a road trip with mom, give this one a listen for an ultimate bonding experience.
Perfect If Your Drive is Approximately: 11hrs, or the drive time from Seattle to Napa Valley, California.
Who'll Love It: A man (and one we've known most recently as a serial killer) may seem a strange choice to narrate Capote's intimate, elegant novella, but Michael C. Hall's voice lends a gravitas to the story of Holly Golightly that gives it the perfect bittersweet edge. Ideal for a short drive with your sister.
Perfect If Your Drive is Approximately: 2hrs 52min, or approximately the time it takes you to find a parking spot at Whole Foods on a Saturday morning.
Who'll Love It: Um, everyone, but especially your best friend who binge-watched all four seasons with you on Netflix. Obviously we know and love Kristen Bell as the voice (and face) of Veronica, but it's fun to hear her put her own spin on the other characters, as well.
Perfect If Your Drive is Approximately: 8hrs 42 min, the drive time from Boston to Pittsburgh.
Who'll Love It: You. This is one I'm really glad I listened to alone. I'm sure there are some authors who would be terrible at reading their own stuff out loud, but Junot Díaz makes you feel like every writer should be recording his or her own work. This is a heartbreaking, eye-opening story anyway, but Díaz's voice (and pronunciation) makes it that much more authentic and compelling.
Perfect If Your Drive is Approximately: 5hrs 14min, roughly the driving time from Houston to New Orleans.
Beloved, Written and Read By Toni Morrison
Who'll Love It: This is one of those classics that everyone should read/hear, so whoever happens to be in the car with you is a good candidate. Speaking of writers who should narrate their own novels, Toni Morrison is at the top of that list, and she has recorded several of her other novels as audiobooks as well. The only thing potentially better than reading a Morrison story is hearing it come alive in her voice.
Perfect If Your Drive is Approximately: 12hrs 6min, the drive duration from Portland, Oregon, to Salt Lake City.
Lolita by Vladimir Nabokov, Read By Jeremy Irons
Who'll Love It: Lolita is a classic, but unquestionably morally complicated, novel. Maybe not the best pick for your first road trip with your new SO, or your dad. Jeremy Irons brings a whole new layer to the character of Humbert Humbert, making his struggles and weakness that much more intimate. Save it for a solo drive or a journey with like-minded literary pals.
Perfect If Your Drive is Approximately: 11hrs 32min, about the time it would take to cruise from Dallas to Atlanta.
A Wrinkle In Time by Madeleine L'Engle, Read by Hope Davis
Who'll Love It: Assuming you were an insatiable little book worm like myself, you probably adored this book as a kid. It's definitely worth checking out again as an adult, and a road trip is the perfect excuse, whether you have a car full of kids or just a bunch of kids at heart.
Perfect If Your Drive is Approximately: 6hrs 8min, the time it would take to drive from Denver to Santa Fe.
Who'll Love It: All those Gilmore Girls-lovers out there, and there's about a bajillon of us. Lauren Graham's fictional tale of a young woman trying to make it in the Big Apple, is funny, heartfelt, and just the tiniest bit flaky. Exactly what you would expect from Lorelai.
Perfect If Your Drive is Approximately: 8hrs 27min, roughly the time it would take you to get from Washington, D.C., to Savannah, Georgia.
The Awakening By Kate Chopin, Read By Kim Basinger
Who'll Love It: OK, I know this isn't the most uplifting tale, but it's one of my favorites, and I can't think of anyone more perfect to play the part of Edna Pontellier than Kim Basinger. Tragic though it may be, this story of self-discovery is one of the most powerful books I've ever read. Kudos to Basinger for putting in such a stellar audio performance.
Perfect If Your Drive is Apprxo: 5hrs 38 min, about the time it would take you to get from Minneapolis to Chicago.
Images: Alan Levine/Flickr; Giphy (7)