20 Costumes You Can Make In 10 Minutes Or Less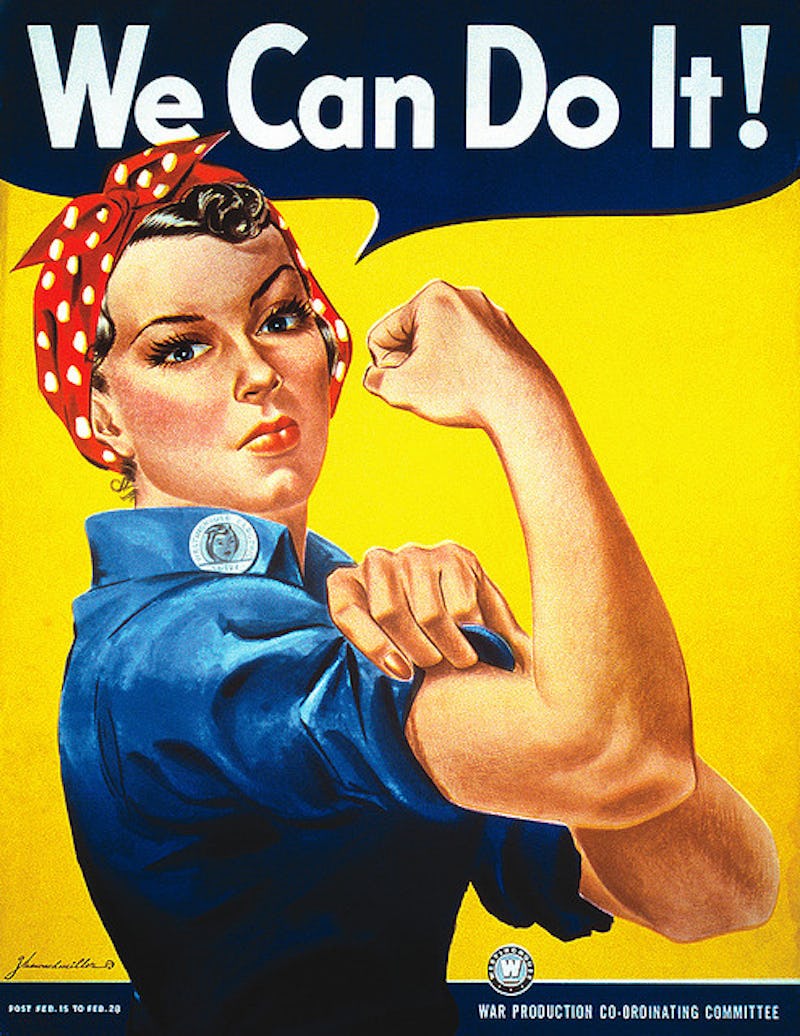 The seasonal wreath is hanging on the door, the pumpkins are carved, and the candy bowls are filled — now, all you need are some easy Halloween costumes. If you're like me, you start planning your costume as soon as the leaves start to change colors, but if you aren't as obsessed as I am, then chances are that on more than one occasion you've found yourself costume-less when Oct. 31 rolls around.
Trust me, I totally get it. Even for the Halloween-lovers of the world, choosing a Halloween costume can be time consuming, expensive, and totally overwhelming. But whether it's your work's costume party, a friend's Halloween bash, or a night out on the town, you don't want to be the only one not dressed up. Even if you don't have time to sew your own loofah dress out of tulle, or paint your face to look like a comic book character, you can still whip together an easy last-minute costume that won't cost you much, but more importantly, won't end up on the Pinterest Fails page.
Not everyone wants to spend their October days thrifting for just the right ensemble, or their nights sewing by candlelight, but that doesn't mean you have to be costume-less this holiday. Here are 20 Halloween costumes you — yes, YOU — can make in 10 minutes or less. That leaves a lot of time for eating candy.
1. Crazy Cat Lady
Just because you may be one in real life doesn't mean you can't be one for Halloween, too! The outfit may vary between cat-patterned clothes or an oversized bathrobe, but the key is in the cats. You can use safety pins to attach stuffed animals to your clothes, or stuff them into your pockets and purse.
2. Minion
One of the biggest animated films of the summer featured everyone's favorite weirdos, the Minions. You can easily transform yourself into Bob, Kevin, or Stuart with clothes you have at home. All you need is a yellow t-shirt, jean overalls, black gloves, and a pair of goggles. (If you don't have goggles lying around and don't want to buy them, you can use eyeliner or face paint to draw them on.) You can add a yellow ski cap on top if you want to complete the look, but either way, people will totally get who you are.
3. Cowgirl
If you're a country music fan, then this costume will be a cinch to throw together in minutes. Your outfit can consist of a lot of different things from dresses to jeans, but the key components are a cowboy hat and boots. Tie a bandana around your neck, and voila! From costume-less to cowgirl, all without straying outside your closet.
4. Supergirl
Although the new television superhero series doesn't premiere until Oct. 26, you can still dress up like Supergirl for Halloween — and no, you don't have to go out and buy tights and a cape. Instead, go with the Supergirl-in-transition look. Wear casual street clothes, like Kara Danvers would, but leave your button-up shirt undone. Underneath, you can wear a Supergirl shirt (if you have one), or simply wear a blue shirt with the Supergirl logo printed and taped to it. Super easy, super quick, and super badass.
5. Rosie the Riveter
Another kick-ass woman, Rosie the Riveter is the perfect Halloween costume for any feminist in a costume pinch. In less than 10 minutes, you can pin your hair up, tie a red bandana around your head, and apply some bright red lipstick. For clothes, you'll need a denim shirt with the sleeves rolled up, but you'll be ready to go — and looking amazing — in no time.
6. Yoga Instructor
I don't know about you, but I look for any excuse to wear my yoga pants in public. They're just so comfortable, and your Halloween costume can be too — if you dress like a yoga instructor. Dress in your favorite yoga pants and a fitted tank top, fling your yoga mat over your shoulder, and in literal moments, you look the part. If you really want to get into character, you can start leading sun salutation mid-party, but I wouldn't advise it after having too many festive drinks.
7. Freudian Slip
My favorite costumes are the punny ones, and this one is a personal favorite. Write common Freudian terms such as "Oedipus complex" and "transference" on sticky labels (if you don't have any, you can use paper and tape or safety pins), and stick them to a slip you have. In just a few minutes, you will have a funny, brain-tickling costume.
8. Pumpkin Pie
Speaking of word play, pumpkin pie is a great witty costume that is seasonal and geeky. To pull it off, dress in all orange, like a pumpkin, with green in your hair. On your shirt, write out the symbol or the number Pi (3.14159...). The best part is that if your significant other or your friend needs a quick last-minute costume too, you can always make it a group getup.
9. Mean Girls
There are so many ways to dress like a character from Mean Girls — dress in all pink, copy their Halloween costumes, make a group costume out of it — but there is an easier and much quicker way to make your own Regina George-inspired costume. Grab a pair of scissors, cut holes in a white tank top, and slip it over a bright colored bra, and you'll capture that iconic sabotage scene that didn't go exactly the way Cady had planned.
10. Deviled Egg
I warned you I liked puns, didn't I? Another play-on-words kind of costume, making a deviled egg costume takes way less time than making actual deviled eggs. Dress in all white, and attach a big yellow circle to the middle of your costume, like a yolk, and you're an egg. Toss devil horns on top, or make your own out of paper and a headband, and you are the much more sophisticated deviled eggs. Get it?
11. Arrow
So you want to be a super hero, but you're not into tights and masks? I don't blame you. Instead, why not dress like Arrow, the billionaire vigilante with comfy street style? Using eye makeup or face paint, draw green circles around your eyes. Instead of lugging around a full set of bow and arrows for the night, you can quickly make a single arrow (assuming you don't have one, because, why would you) with a shish kebab stick and some construction paper. Pull a green hoodie over your head, and in minutes, you could be fighting crime — or at least look like you could be.
12. Literally Any Social Media App
With a costume this simple, the possibilities are endless. Pick your favorite app — Pinterest, Twitter, Facebook, you name it — and print out a large icon, the kind that appears on your phone's screen. Attach it to a color-coordinated costume, maybe with a tutu, and your Halloween costume is complete before you can mutter the word hashtag.
13. A Clockwork Orange
If you're a book nerd, then you probably have too much reading to do to make a costume, but this literary-inspired one will only take a few minutes. Alex, A Clockwork Orange's main character, has a very specific look to him, which was masterfully envisioned in Stanley Kubrick's film version. To pull it off, dress in black boots and white thermals with suspenders. Use eyeliner to make large eyelash-style designs under one eye, and top it all off with a bowler cap. If you have a walking stick, you'll really look the part — just avoid acting like the part at all costs.
14. Pig in a Blanket
Depending on where you live, Halloween can be a pretty chilly evening, especially if your costume doesn't include warm clothing. This costume, in addition to taking less than 10 minutes to pull together, is also very warm. The clothes are easy — all pink, obviously — and the other parts of the costume, like the tail, ears, and nose, can be bought. If you don't want to spend money, the ears can be done with a headband, tape, and paper, and the tale can be done with either curled paper or ribbon and a safety pin. You can even use tape to make yours look more snout-ish instead of wearing a rubber one. The finishing touch is adding a blanket on top, and you don't only have a killer costume, but you'll be warm all night through.
15. Greek Goddess
If you ever went to a toga party in college, then this costume will be a cinch for you to make. Using a white sheet, make your own toga, and then add embellishments of gold jewelry and strappy sandals. You'll be comfortable and beautiful, and it will only take a few minutes, as long as you can get the toga-wrapping part down. Don't worry, there are plenty of YouTube videos for that.
16. Tourist
Remember how your parents used to dress on your family vacations? Keep that image in your mind while you pull Hawaiian t-shirts, visors, and fanny packs from your closet to make a tourist-themed costume. Great additions to the ensemble include socks with sandals, a camera, and sunscreen on the nose.
17. Sandy from Grease
A perpetually popular costume, Sandy's final look in Grease is a surprisingly quick and easy costume to pull off. It's basically big hair, tight black clothes, and red high heels, and you've got the look. Your leather leggings will be a crucial part of the outfit, as will a cigarette to continually stamp out with your shoe, all sexy Sandy-like.
18. Jellyfish
Don't feel like modifying any of your clothes? You can make a quick addition to one accessory, and have a fun Halloween costume without ruining a t-shirt. Use different colored party streamers or ribbons, and tape them to the inside of an umbrella, preferably a clear one, and you have just become a jellyfish. If you have battery-operated string lights, you can wrap them around the umbrella for some extra pizzazz.
19. Pizza Face & Ear Boy
Oh, All That, thank you for the many, many costume ideas you have given us since childhood. One of the easiest ones to make, and one of the most hilarious, is actually a costume for two people: Pizza Face and Ear Boy. To make these awesome and nostalgic costumes, you can pull out your '90s-styled jeans and flannel shirts. The best part is what happens up top. For Pizza Face, use face paint to make it look like cheesy pepperoni pizza, and for Ear Boy, you can just wear big fake ears. Thank goodness for the '90s, am I right?
20. Betty Draper-Inspired Housewife
Betty Draper may no longer be on television, but she'll live forever in our hearts... and our costumes. Pull out your apron over a floral dress, strap on your high heels, and throw on some red lipstick for a finishing touch. Don't forget a tumbler full of scotch and a cigarette, because Betty would have it no other way.
For more Halloween ideas, check out Bustle on YouTube.
Images: Kelly Garbato/Flickr