The Most Memorable 'O.C.' Plots Ever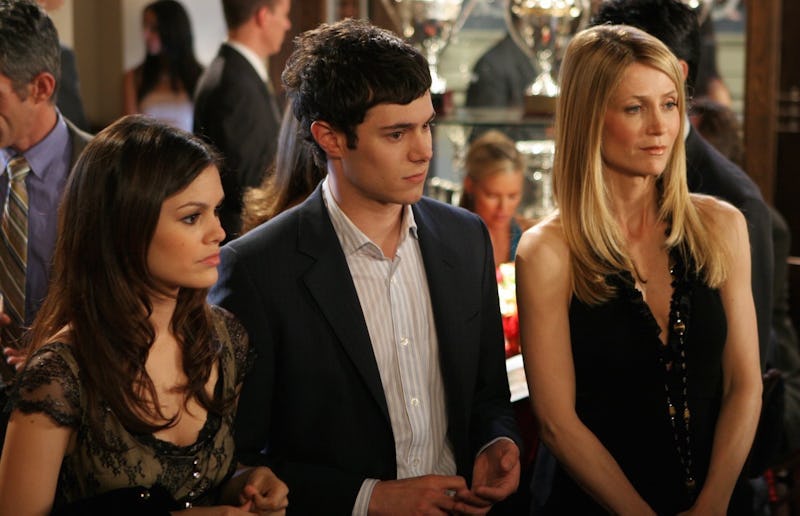 Few teen shows get quite as much love as The O.C. , despite the show being tragically short-lived. The series may have only aired four seasons, but we didn't need to spend a ton of time in Newport to see a lifetime's worth of drama. "Welcome to the O.C., b*tch"? More like: "Welcome to the O.C. You're going to witness a lot of amazing love triangles, accidental deaths, and fights on the beach. With the occasional move back to Chino."
Of course, fans of The O.C. wouldn't have it any other way. Yes, Newport was crazy dramatic, but it's not exactly like we tuned in to the teen drama to watch Sandy surf the California waves, or for Seth to complain that no one understood his undying adoration of Death Cab For Cutie. The never-ceasing feuds, torrid love affairs, and beach brawls kept Newport Beach from being just another beautiful, sleepy California beach town — because, in real life, there are way more retirement communities and way less Ryan Atwoods.
There are so many plot lines that we can remember from The O.C., and each one of them was juicier and more amazing than the last. Here are 17 plots that kept us totally hooked on the show.
1. Ryan And Luke's Girl Problems Set A House On Fire
Ryan has lived in The O.C. for about a week when he accidentally burns down Caleb's model home after fighting Luke over Marissa. That girl was always trouble.
2. Marissa Sees Luke Cheating On Her And Overdoses In Tijuana
Ryan comes to the rescue, naturally.
3. Oliver Ruins Everything
Oliver, arguably the best O.C. villain, almost kills Marissa in a fit of jealous rage, and also causes the first big Marissa & Ryan breakup.
4. Seth Has To Pick Between Summer And Anna And Royally Messes It Up
First, he picks no one. Then he picks Anna. Then he picks Summer. Then Summer picks Zach... and then picks Seth. You really do need a chart or something to understand it.
5. Luke And Julie Hook Up
Hooking up with your ex-girlfriend's mother? So not cool, Luke... even if you did really, really like her.
6. Ryan's New Girlfriend Lindsay Is Caleb's Biological Daughter
To make matters worse, Caleb is not exactly thrilled with Ryan after the whole "model home thing."
7. Marissa Starts Dating Alex
As in, a lady Alex. So scandalous for the early '00s.
8. Seth Gives Up His Comic Book So He Can Be With Summer
Seth messes up sometimes, but he always gets his girl.
9. Kirsten Goes To Rehab For Alcoholism
All of Kiki's "daddy issues" come to a head after Caleb's death, and she goes to get well in a mental health facility to get clean. Unfortunately, she also meets a con artist who tries to steal all of her money. So is life in Orange County.
10. Marissa Shoots Trey To Save Ryan
It's nice to see Marissa do some of the saving around here, but damn was this an intense situation. It completely changed the course of Marissa and Ryan's relationship indefinitely.
11. Marissa Gets Kicked Out Of School And Gets Mixed Up With Johnny
Johnny was cool, but he brought Volchok into everyone's life.
12. Johnny Dies
After Johnny gets hit by a car and can't accept his spot in a major surfing tour, he gets so depressed that he drunkenly climbs a rock and falls to his death. Season 3 of The O.C. got pretty real.
13. Volchok And Marissa Start Dating
File this one under "really bad ideas from Marissa Cooper."
14. Volchok Runs Marissa And Ryan Off The Road And Marissa Dies In The Accident
Nope, still crying.
15. Taylor And Ryan Start Dating
Season 4 proved that Taylor may have been the girl Ryan was supposed to be with all along. Too soon?
16. Ryan's Dad And Marissa's Mom Start Dating
Weird. But weirdly cute?
17. Seth And Summer Get Married
All. The. Tears. Everyone can go home now.
These are far from the only plotlines to happen on The O.C., but they are the ones that still stick with us to this very day. Whenever anyone is talking about how much they love the show, you can bet they reach for one of these moments as an example, because they're part of what made the show so great.
Image: Warner Bros. Television