Miley Cyrus' 6 Best 'SNL' Sketches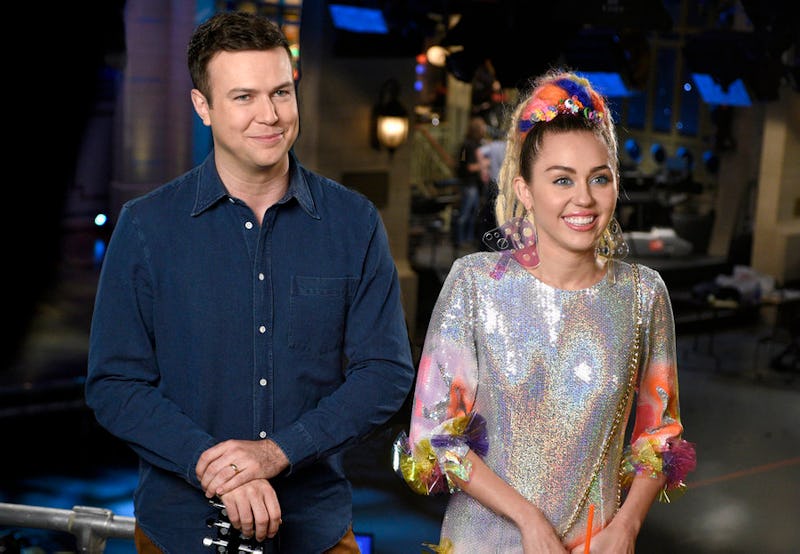 Live from New York, it's Miley Cyrus. The pop-diva is back on the Saturday Night Live stage on the Season 41 premiere on Saturday. This isn't the first time Miley Cyrus will be hosting Saturday Night Live ; the premiere will mark her third appearance as a host and second as a musical guest. Yep, Cyrus is doing it big with both host and musical guest duty. But if anyone can do it, it's Cyrus, which is evident from Cyrus' six best skits from SNL episodes past.
Cyrus has hosted the show three times in the past, her other two hosting gigs being on Season 36 and Season 39. During those episodes, Cyrus created some very memorable skits for the show's archives. Cyrus is the perfect host for a few reasons: she is an open book, she can incorporate music into a sketch, and she is ready to make fun of herself. Don't believe me? Just check out some of Cyrus' past skits from her Saturday Night Live archive to see what I'm talking about. There's no doubt that this premiere is going to be entertaining with Cyrus at the helm.
Here are the six best Miley Cyrus skits from Saturday Night Live.
1. "We Did Stop"
Cyrus and SNL's Taran Killam play Michele Bachmann and House Speaker John Boehner, respectively, in this perfect parody of Cyrus' bonkers music video for "We Can't Stop" timely tied to the government shut down in 2013. Good times.
2. "Miley Sex Tape"
Proof that Cyrus is open to anything for a laugh, she and Kyle Mooney give a sex tape a go. It doesn't really work out for him, but Cyrus gives it a solid ex-Disney Channel star effort.
3. "Disney Channel Acting School"
Speaking of Disney Channel, ever wonder where your favorite Disney Channel stars learned their acting skills? Well, Cyrus and Kenan Thompson (as Raven Symone) are here to teach you at the Disney Channel Acting School. Let's just hope there's a lesson in outlining the Disney logo with a glow stick and flipping it in the air.
4. "Rock-a-Billy Facial Cream"
I don't know if it is the way Cyrus and Kristen Wiig pronounce "cream" or if it is the "the higher the hair, the closer to God" 'do, but this moisturizing facial cream CD combo pack should exist IRL.
5. "VMAs Cold Open"
Once again, proof that Cyrus is an open book and will make fun of herself to the fullest extent. Never forget that teddy bear leotard.
6. "Miley Cyrus Talk Show"
And finally, if Saturday Night Live's signature Miley (Vanessa Bayer) can openly make fun of Cyrus in front of her face, and Cyrus is OK with it, you know Season 41 is going to be kicking off on the right foot.
Images: Dana Edelson/NBC; Giphy