All The Creepy Movies Coming Out This October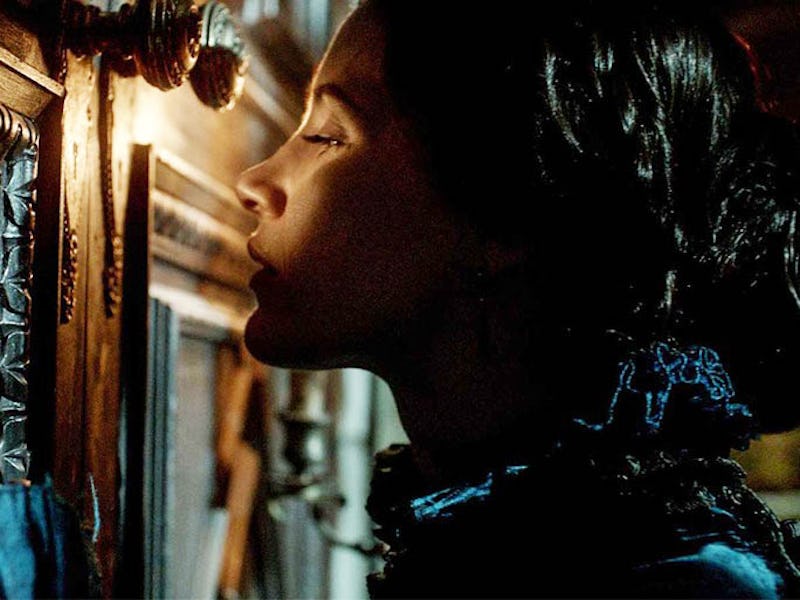 Now that we've entered October, our big screen appetites have officially shifted toward the flavor of horror. Halloween season incites something strange in all of us: the desire to be scared, tricked, unnerved, and creeped out. Luckily, this month's big screen releases look ready to sate this hunger — at least one new film every week will offer up helpings of intrusive phantasms, underworld journeys, or simply good old-fashioned psychological terror. So what scary movies are coming to theaters in October 2015?
While October 2015 has plenty to offer in terms of the creeps, the month's cinematic slate doesn't seem to be announcing itself with quite the same volume that past All Hallows seasons have. In absence of an Insidious sequel or cult favorite remake, the month to come has kept most of its scarers under wraps. Have you heard about Eli Roth's new film Knock Knock, or the latest endeavor in the neverending Paranormal Activity series? If not, perhaps this list will help you out.
Here's a quick look through the month of October's more horrifically inclined cinematic entries, each offering a different variation on the beloved film tradition of spooking viewers to their bones. Some employ the time-tested lurking ghost routine. Some toss comedy into the mix. Some play on the darkest fears that we harbor about ourselves and our loved ones. No matter your poison, this month has got you covered.
Release: October 2
Creep factor: Though more of a rattling drama than an outright thriller picture, Partisan's story of a young man raised outside the rules and mores of society looks to instill plenty of psychological horror.
The creeps involved: Star Vincent Cassel, playing the leader of his cult of teenage vagabond killers, has shown off his penchant for chills before, notably in Black Swan and the films of David Cronenberg and Gaspar Noé.
Release: October 9
Creep factor: Despite its earliest connotations with Christmas wholesomeness, stop-motion is widely recognized today as the creepiest of the animation forms. Hell and Back does Laika one better by transplanting the innately haunting claymation style to the realm of R-rated, underworld-set black comedy.
The creeps involved: Writers Tom Gianas, Hugh Sterbakov, and Zeb Wells have written for series including Saturday Night Live, Human Giant, and Robot Chicken — a better indicator of macabre comedy than bona fide spookiness. Nick Swardson, T.J. Miller, Mila Kunis, and Bob Odenkirk headline a voice cast of familiars.
Release: October 9
Creep factor: There's something especially unnerving about the uprooting of domestic sanctuary. A family man is emancipated from the margins of his cookie cutter life when he is visited by two strange women ostensibly in need of help.
The creeps involved: The biggest creep master of them all, Eli Roth, directs this sinister mind game. Keanu Reeves is his latest victim.
Release: October 16
Creep factor: If all expectations are to be met, Crimson Peak will give this generation the haunted house picture it deserves. Ghosts, suspicious new spouses, and 19th century décor team up to promise thrilling scares.
The creeps involved: Guillermo del Toro, whose Pan's Labyrinth was duly spooky, directs the intrinsically haunting Tom Hiddleston, Mia Wasikowska, and Jim Beaver in this picture. The somewhat less immediately frightening Jessica Chastain and Charlie Hunnam round out the cast.
Release: October 16
Creep factor: While this one pads its scares with PG-friendly comedy, the revival of old Goosebumps books monsters and creatures could very well resurface some latent childhood nightmares.
The creeps involved: While scare-master R.L. Stine is not directly involved with the picture, but Ed Wood and 1408 screenwriters Scott Alexander and Larry Karaszweski know their way around the eerie.
Release: October 23
Creep factor: The official synopsis for the film boasts broadcast of "the most horrifying witches in history," primed to face off with the eponymous hunter thereof. That's something to start with.
The creeps involved: Vin Diesel might be inseparable from his Fast and Furious identity these days, but we shouldn't forget that he managed to play up the weird as Richard Riddick. The team behind the camera boasts promising and unanimously black-blooded credits like The Crazies, Priest, and Dracula Untold.
Release: October 23
Creep factor: You've seen the other 13 entries in this mythology-soaked found footage franchise — you know the drill.
The creeps involved: The creative team accumulates editors, writers, and directors of past Paranormal Activity episodes, as well as horror films like The Taking of Deborah Logan.
Release: October 30
Creep factor: Another blend of horror and comedy, likely in the vein of 2009's hit Zombieland.
The creeps involved: Paranormal Activity series writer Christopher Landon directs a cast of recognizable players, including Tye Sheridan, Logan Miller, Cloris Leachman, David Koechner, and Patrick Schwarzenegger.
So, instead of saving up your money for comedy, get ready to leave the theaters screaming, because there are a lot of fun and scares coming our way.
Images: Universal Pictures