'Originals' Spoilers From Charles Michael Davis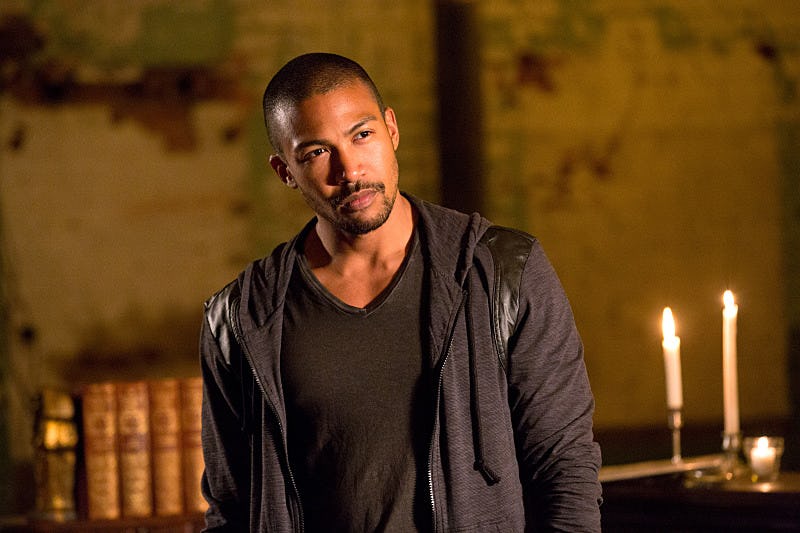 We may just be hours away from The Originals Season 3 premiere on Thursday night, but that doesn't mean viewers aren't still dying to know as much as possible about what this supernatural series has in store. Will Davina's new abilities as Reagent present a serious threat to the vampire community? How is Hayley handling the wolf curse that Klaus had placed on her? Is Elijah still rocking those stylish suits? Aside from that last one, which was obviously rhetorical (Elijah + suits = forever), these are all questions that fans are eager to explore. And thanks to a recent chat Bustle had with Charles Michael Davis, who plays Marcel Gerard, we now have a few tasty spoilers of The Originals Season 3 that we can sink our teeth into. (Pun very much intended.)
But, spoilers can be a tricky business since no one ever wants to give too much away. (Because, really, where's the fun in that?) That's why Davis took it upon himself to dish out details about the upcoming season using only emojis. So, it's up to me to decipher these mysterious images and try to piece together what it all could mean. Here's what the actor gave fans to work with:
Makes total sense, right? Wrong! But, if you break these down into smaller groups, then the clues become a little more clear…
Devil, Devil, Devil
They say the devil is in the details, which is quite literally the case here. I'm thinking the three devils represent the three different magical creatures that'll be heavily at play this season — witches, werewolves, and vampires — as they struggle to rule New Orleans and take the city as their own.
Prayer, Knife
Normally, you wouldn't think these two images would go hand-in-hand, but, for me, this shows someone pleading for mercy and someone else not honoring the request. We may have another bloodbath on our hands this season, folks. (And I am so not complaining about it.)
Happy Face, Tears of Joy, Kissy Face, Angry Face
Get ready to have your emotions put through the wringer this year, especially when it comes to your favorite 'ships. Is Davis potentially hinting at a new love interest for Marcel? (Hence the smiling and kissing faces.) Or perhaps this is teasing a rekindled romance between Hayley and Elijah? Either way, I have a feeling that the angry face symbolizes Klaus, who tends to never be happy when those around him are. Whatever couples end up getting together this season, rest assured that Klaus will inevitably get in the way.
Eggplant, Baby Bottles, Love
OK, honestly, I'm at a loss as to what the eggplant could possibly represent. (Maybe it's an ingredient to an important spell? Or, it could have another meaning if you catch my drift...) However, I think we can safely assume that the bottles stand for baby Hope, who will be back and looking cuter than ever before. Perhaps we'll even get to see the extent of her magical abilities thus far. Regardless, just watching Klaus hold her is sure to send an arrow right through our hearts.
Top Hat, Theater, Japanese Dolls, Crown
Davis assured us that Season 3 would be incorporating a lot of great flashback scenes. And, given how dapper these vamps always look in their flashback garb, I'd say that's what the top hat image represents. Maybe one of these time jumps will take place in a theater… and somehow involve Japanese dolls? Fine, so I have no idea how these all fit together, but ornamental dolls are usually a symbol for the Imperial Family. Could this mean that a new ruler of New Orleans could come into play? If that's the case, then I foresee a big battle in the very near future. We all know how Klaus feels about giving up his crown.
The Originals' third season kicks off on Thursday, Oct. 8 at 9 p.m. ET, don't miss it!
Images: Bob Mahoney/The CW; Giphy; geekorunique/Tumblr; kmze/Tumblr; klayley-love/Tumblr; glowingfluffyunicorn/Tumblr