Most Mass Shootings Involve Legal Guns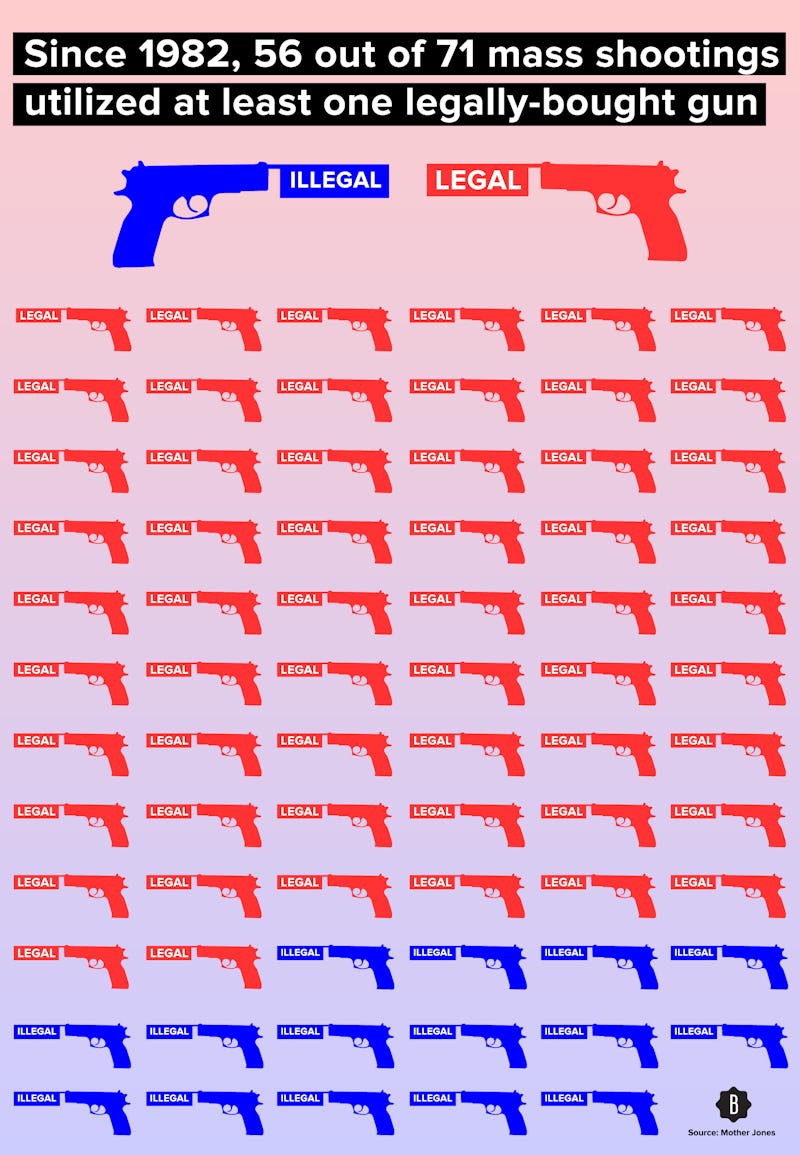 Update: On Friday, it was confirmed that there were nine victim fatalities and that shooter Chris Harper Mercer killed himself after Thursday's mass shooting at Umpqua Community College in Roseburg, Oregon. On Saturday, there were reports that Mercer handed out a box to a fellow classmate that possibly contained his final note. The note that Mercer left detailed his depression and loneliness. In an interview with CNN on Saturday, Mercer's father wondered how his estranged son was able to obtain 13 guns. Mercer was a student at the college and was enrolled in the writing class where he opened fire. He previously attended a school for mentally unstable children and was briefly enrolled in the U.S. Army in 2008, before he was kicked out a month in for not demonstrating the basic administrative standards required to serve. All of his guns were purchased legally.
ABC reports that t he weapons Mercer had were a: 9mm Glock handgun, a .40 S&W Smith & Wesson handgun, three other handguns, and a Del-Ton 5.56×45mm rifle. Six guns were found at the scene of the crime; seven more were found in his home.
The victims' names were released Friday night: Lucero Alcaraz, 19; Treven Taylor Anspach, 20; Rebecka Ann Carnes, 18; Quinn Glen Cooper, 18; Kim Saltmarsh Dietz, 59; Lucas Eibel, 18; Jason Dale Johnson, 33; Lawrence Levine, 67 (assistant professor); Sarena Dawn Moore, 44.
Earlier: In devastating news, 13 people are dead and another 20 were reportedly injured Thursday, after a shooter opened fire at Umpqua Community College in Roseburg, Ore. — a small rural town located 180 miles south of Portland. Authorities confirm that the shooter is dead, though it's still unclear what possible motives led to the attack, or what kind of gun was used. One thing's for sure: This is the 45th school shooting in 2015 alone. And since 1982, the majority of mass shootings have involved at least one legally bought gun.
In the last three decades, 56 out of 71 mass shootings were perpetrated with at least one firearm that was purchased through legal channels. Officials have yet to share specifics on the firearm used in Umpqua, but a betting person would probably put their money on a legal gun. After all, Oregon laws don't require a permit to purchase firearms.
With numbers like this, it's shocking that this country has continuously failed to pass legislation that will curb gun violence. But then again, given the country's track record on mass shootings, it's unlikely that real gun control reform will come out of this tragedy, and Umpqua will be yet another chapter in this sad narrative.
While reports are still preliminary, the UCC shooting is positioned to be the deadliest campus shooting since Sandy Hook, which left 20 children and six adults dead. After that 2012 tragedy, lawmakers attempted to pass legislation that would stiffen background checks and ban certain semi-automatic weapons. Obviously, that failed.
President Obama's time in the White House has been marred by one mass shooting after another. Soon after the Emanuel AME Church massacre in Charleston, which left nine black members dead, a grim Obama called upon the country and legislators to full-on address gun violence:
Let's be clear — this kind of mass violence does not happen in other advanced countries. It doesn't happen in other places with this kind of frequency. It is in our power to do something about it. I say that recognizing the politics in this town. But it would be wrong for us not to acknowledge it. At some point it is going to be important for the American people to come to grips with it and shift how we deal with gun violence collectively.
Obama has repeatedly said that he doesn't expect real reform to happen. And even when that time comes, there will always be gaps in legislation that continue to allow these senseless killings. Suspected Charleston gunman Dylann Roof, who had a criminal record, was prohibited from buying a gun from a licensed dealer, but South Carolina does not require background checks for private gun sales. The gun used in the hate shooting was gifted to Roof by his father. The firearms used by Sandy Hook shooter Adam Lanza belonged to his mother, Nancy Lanza — and were purchased legally.
Image: Bustle