Monif C. Talks 10 Years In Plus Size Fashion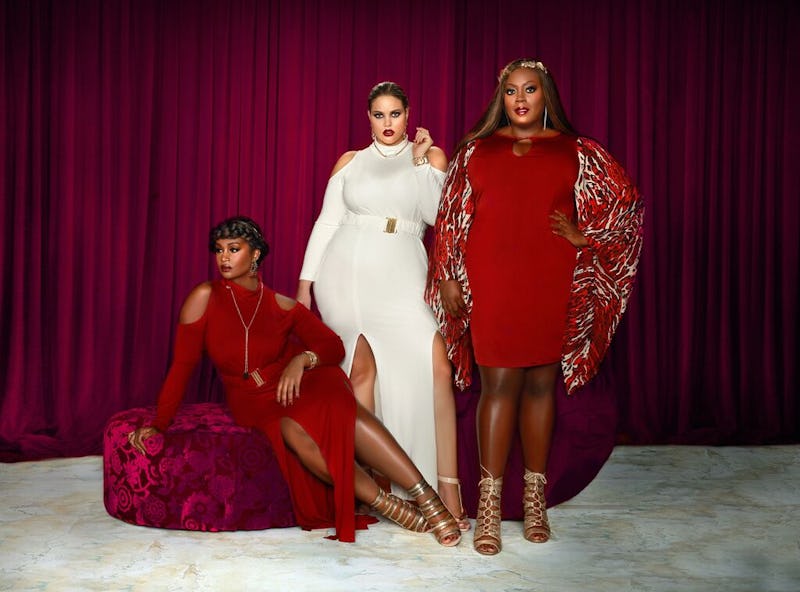 At the heart of everything she does, Monif Clarke wants nothing more than to dress women in beautiful, well-constructed clothing that they love. After 10 years in the changing plus size fashion industry as designer and CEO of Monif C., Clarke has seen countless customers transform before her eyes when they try on her garments. It's not difficult to see why: Her clothing is bold and colorful, and her silhouettes almost always boast singular details. Most importantly: They're designed, constructed, and cut for a plus size body. Despite the fact that Clarke's brand has been beloved by loyal customers for the better part of a decade, its those same customers who are still at the center of everything she does. In fact, they even have the power to humble her after all these years.
"On Labor Day weekend, I was at a function," Clarke says in a phone interview with me. "I was walking around, minding my own business, when I saw a girl wearing my dress. I've never had that happen, believe it or not. I've seen people that have worn [Monif C.] at industry functions. But this was a random event, and I realized: That's one of our dresses. I walked up to her, and she was like, 'As soon as I knew I was coming to this party, I knew I had to come and get something at Monif C. You are the only company I wear when it comes to looking great, feeling good about yourself, and standing out in the room.' You hope that's how the customer is going to respond, but to hear it in such an authentic way? That's what really keeps us going."
Earnest, unpretentious humility — combined with a healthy dose of ambition — is just how Clarke sounds when she's talking about the customers she's served over the last decade. She's overjoyed that plus size women are finding their way to sartorial magnificence, amazed by their loyalty to her line, and beyond grateful that she's one of the designers who gets to dress them.
Clarke's gratitude is refreshing and genuine, particularly when larger plus size brands often leave their clientele feeling ignored and underrepresented. When mega-retailer Lane Bryant unveiled its #ImNoAngel and #PlusIsEqual campaigns, for instance, it got mixed and sometimes critical reactions. Many called for fewer body positive catch phrases and more focus on representation (not to mention making clothes that the customer actually wants). While Clarke believes that all plus size brands are working toward the common good, she's also clear on what Monif C. is all about.
"The underlying message [of Monif C.] is going to always be body positivity," Clarke says. "For us, it's ingrained in everything that we do. It's not something we do for a time and a season: It's just who we are. When we did our swimwear campaign and we had models of three sizes and shades, people were like, 'This is a fantastic body diversity campaign.' As much as I agreed, I also just really wanted to see a swimsuit on a size 22 woman. This is what our customer looks like, we value our customer, and this is why we make clothes for her."
Her attitude has been the foundation of the Monif C. brand for the last decade, a time when plus size fashion has emerged from the dark corners of neutral poly-rayon blends and unfortunately pleated pants to the varied multi-million dollar industry it is today. Plus size women of a certain age often remember what it was like to shop just 10 years ago, when being over a size 14 meant a constant stream of frustrated tears in department store dressing rooms, trying to hide sniffles from concerned moms and empathetic saleswomen who couldn't think to do anything but offer a matronly, appliqué cardigan as a consolation prize. Now plus women have more options — and fewer reasons to cry in dressing rooms — than ever before.
Brandon Coates started as an intern for Clarke in 2007, and he now serves as her brand manager and creative second-in-command, helping her vision become a reality. He remembers what the plus industry was like during Monif C.'s early days, and he describes the bleak landscape when they started.
Monif Clarke and Brandon Coates in the Monif C. studio.
"It was a much smaller industry then," Coates says in a phone interview. "There were only a few brands out. A lot of the clothing was colorless and shapeless."
When Clarke hired him as an intern, Coates immediately recognized that what she was doing was nothing short of revolutionary.
"She was accentuating curves." Coates exclaimed with the same passion one would imagine he had during his intern days. "She had such a vision of what she wanted. It helped the rest of [the Monif C. team] innovate."
Perhaps the reason that Clarke's vision was so singular and profound was because it came from her own frustrating search for fashionable, plus size clothing. For Clarke, Monif C. wasn't just about business: It was personal.
"I was 26 years old, single, and looking for clothing that reflected how I wanted to feel about myself," she says."There was none of that. You couldn't find clothes to really express who you are. That was really the impetus for me to start this brand."
She dreamt of striking, colorful clothing that played up women's curves. She wanted plus size women to have access to unique silhouettes, luxurious fabrics, and statement pieces that had been reserved for slimmer women. In effect, she wanted plus size women to be able to dress as magnificently as they felt, with no limitations.
Monif Clarke and her team in earlier days.
Clarke didn't have a formal background in fashion, but at that moment, it didn't matter. For her, the beginning of Monif C. began with herself, a frustrated 20-something who repeatedly asked the question, "Why can't I just have the clothes that I want?"
After asking the question, she spent the next several years getting bad answers. When she designed the first Monif C. garments in 2005, she met with countless retailers and kept hearing the same thing: If her clothing was for sizes 0-14, she'd get a contract immediately. However, most buyers didn't believe that the plus market was ready for Monif C., or any bold moves in plus size fashion at all.
"I was very fortunate that very early on, I was able to sit down with many of the major retailers," Clarke recalls. "There was a belief that plus size women wanted to lose weight before they looked fashionable, or that they hated their body. It was interesting, because many of the buyers [for these brands] were not plus size women. Some of them were even men. They would say, 'There's no way that plus size women are going to wear that.'"
Clarke and her team have spent the better part of a decade proving them wrong. According to the designer, Monif C. sales have doubled year over year since its inception. It's now a seven figure business that shows no signs of slowing down.
One of Monif C.'s most popular and iconic garments, the Marilyn Ruched Convertible Dress.
Monif C. garments have ebbed and flowed with the trends, while maintaining an unmistakable aesthetic: Daring, powerful, and almost instantly recognizable to her customers. The brand offers pieces at a variety of price points (from $38 to $158) and gives plus size women the opportunity to dress to make a statement, as opposed to just fading into the background. Think lush fabrics, bright, saturated hues, and plenty of glitz.
"I've always wanted to align myself with a brand that has this vision," Coates says. "[The vision of] giving plus size women the fashion and the lifestyle that they deserve. To look at the landscape of the industry and our business over the last 10 years, and to see so many women rocking their confidence, living their best lives in our garments — that's what's been the most rewarding."
As they enter into their second decade, Clarke and her team are keeping their customers at the heart of what they do. In 2016, the brand will extend its sizing from 12 to 24 to 10 to 28. It's also got plans to release a four piece collection for the 10th anniversary, with a new anniversary-inspired garment launching each month until Aug. 2016. Monif C. fanatics will also be excited to learn that the anniversary collection harkens back to some of her most popular styles over the years, remastered and reimagined for the contemporary shopper.
Looks from the 10th anniversary collection.
As excited as she is about the upcoming collection, Clarke still can't stop talking about her customers. In a lot of ways, it's because she is her customer: When you shop at Monif C., you buy clothes from someone who knows exactly what plus size women have gone through to find apparel they love, because she's gone through it herself. When a customer walks through her door, Clarke often knows how they're feeling and how they want to feel.
"[Monif C.] is part fashion, part fashion education, and part psychology," Clarke says. "I recently posted on Instagram about how grateful I am to be celebrating 10 years with my customers, and a young lady commented. She said, 'I bought a prom dress from you nine years ago. My mother was at her wits' end, and going to all these places. She said she couldn't find anything, and I told her, 'I know about this designer, its not the traditional prom dresses but I want to stand out.' She bought a Monif C. prom dress, and nine years later, she's still here."
Thankfully, Monif C. is still here too. As Clarke reflects on a decade that's been so crucial in bringing plus size fashion to the forefront, she's ready to continue building the legacy that will carry plus size women out of dim dressing rooms and poor designs and into the fearless, unapologetic future.
Images: Courtesy Monif Clarke