Why This May Be Your New Favorite Move In Bed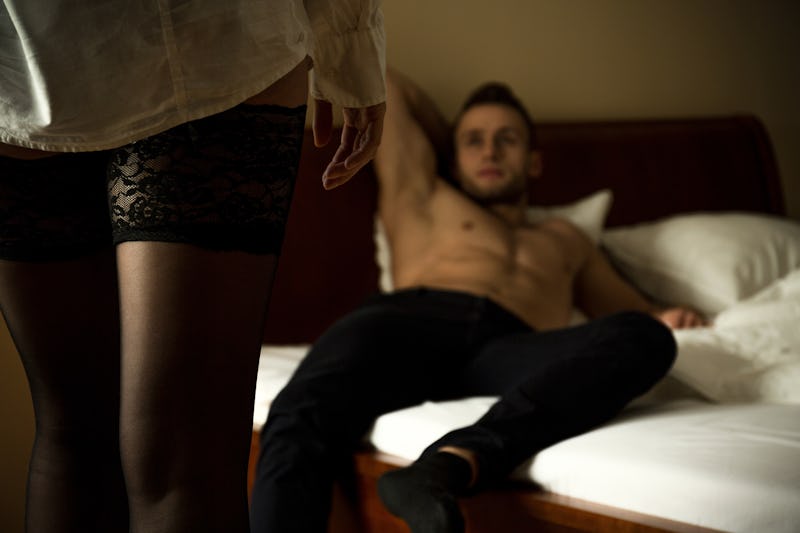 I was recently involved in a conversation with a friend who was on the cusp of trying pegging with her partner. Although her partner had been pegged once before by a former girlfriend, he was ready to give it a try with this friend of mine. And, she, being the open-minded, fellow sex writer that she is, was all for it. I couldn't wait to hear the details.
If you're scratching your head, wondering wtf pegging is or are, perhaps, envisioning something that involves a wooden peg leg, then allow me to clear a few things up for you. Pegging is when a woman penetrates her male partner's ass with a strap-on. Although pegging has probably been around since the dawn of time (anything we do, the Romans did first, for sure), it wasn't until the 1998 release of the Bend Over Boyfriend series of sex ed videos that pegging, at least for this era, was given a decent amount of attention. At the time the video series was released, the act was dubbed "BOB" by Dan Savage, but after a contest in which his readers voted on a term that was more appropriate for the sexual act, pegging, as the official term for penetrating your male partner's ass, was solidified.
Although pegging isn't exactly mainstream (but it was on Broad City !), similarly to other forms of anal play, it's definitely becoming something that couples are willing to not just open up their minds to, but even give a try. Are you ready to strap on a dildo and go to town on your partner's butt? Maybe, but you just don't even know it yet. Here are five reasons to give pegging a try.
1. Taboos Should Be Challenged
Every time we indulge in something that is considered taboo, we're helping to chip away at the fact that it's taboo. Think about how taboo it was to — gasp! — have anal or — gasp! — use sex toys at one point. When we help destigmatize things, especially those related to sex, we're helping other people get over their insecurities about what turns them on, we're aiding in eliminating shame, and we're starting conversations.
2. It Will Give You And Your Partner A Deeper Understanding Of Your Bodies
In 2011, sexual educator Dr. Charlie Glickman wrote a column entitled, "How Pegging Can Help Save the World." In it he wrote how cisgender male/female couples can truly benefit from experiencing what sex is like from the other side, especially since men experience sex with the outside of their body, while women experience it from the inside of her body.
As Glickman wrote:
When sex is external to your body, it can be easier to do when you have a headache or you're not quite in the mood. A lot of men discover than when sex is about catching rather than pitching, their mood, their emotions, and their connection to a partner can often have a bigger influence on what they want to do and how it feels.
In his research, he found that men in heterosexual couples who had tried pegging, were more in tune with what their female partner needed from them during penetration.
3. Role Reversal Is Fun
No matter what role play you like to enjoy in the bedroom, you can never go wrong with reversing those roles. If you're usually the submissive, then take the dominate role while your partner becomes the sub. A great way to reverse those role is to be the one who does the penetrating. Not only are you learning about how each of you experience sex from an emotional standpoint, as Glickman wrote, but in reversing roles, you can get to see what it's like on a physical level, too.
4. The Prostate Needs Love
Just as women have a G-spot, so do men. But to get to a man's G-spot, you need to go in through the anus and stimulate it from there. According to a study from just this past summer by LELO sex toys, 71 percent of straight men have tried some sort of prostate massage, and even more women, at 80 percent, would love to massage their partner's prostate.
While jumping from a prostate massage, either with a finger or a toy, to a strap-on dildo might seem a little overwhelming, it really isn't. With enough lube, there doesn't have to be a fear of pain and a prostate that's stimulated means stronger orgasms by up to 33 percent.
5. You've Never Tried It Before
When it comes to sex, especially if things start to get a little mundane in the bedroom, it's important to change things up. If both you and your partner agree that pegging seems like it's something you'll both enjoy and are interested in giving it a whirl, then go for it. Your sex life, like every aspect of your life, should be about adventures and occasionally pushing the boundaries, as long as you're both on board for the ride.
Want more of Bustle's Sex and Relationships coverage? Check out our video on sex positions to make him last longer:
Images: Gipy(5)