How to Make Halloween Makeup Last All Night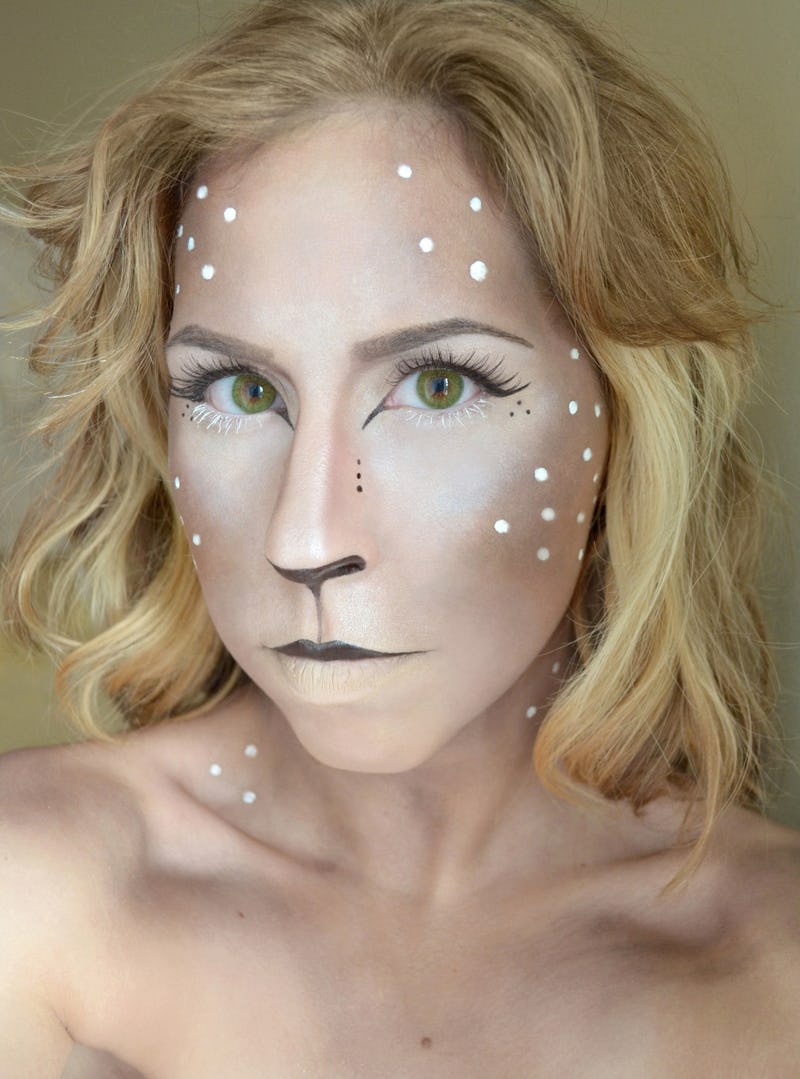 You labored for hours on your Halloween makeup last year, replaying that YouTube tutorial at least a thousand times. Yet, not even an hour into the costume party, your face melted halfway down your face. Not this year, my friends. Here's how to keep your Halloween makeup on all night, no matter what.
Maybe you already picked out your favorite Halloween makeup tutorial earlier this month. As you start gathering supplies, there are some items you definitely need in your shopping cart to ensure your artistic precision and makeup vision stays in tact, through bobbing for apples or pumpkin-flavored beer pong tournaments. These suggested items will not only keep your makeup on, but will help the application process go smoothly and save you time and product. How can you say no?
Most of these lasting makeup products come in high end and drugstore options and no matter what you choose, know that you can always use whatever you buy and integrate it into your daily makeup routine. It's not just for Halloween! I own and use most of these products on a regular and sometimes daily basis, and they totally make a difference in how much product I use and how my makeup looks at the end of an eight-hour workday.
Here are some products you should use to lock in your makeup this Halloween.
1. Urban Decay All-Nighter Makeup Setting Spray
Urban Decay All-Nighter Makeup Setting Spray, $32, S ephora
This stuff is a life saver. It sets your makeup for long lasting wear, and personally keeps my makeup from caking up and drying out my skin.
2. DUO Waterproof Eyelash Adhesive
DUO Waterproof Eyelash Adhesive, $9, S ephora
This product is found at any drugstore, and is popular among professionals. I love it. Just remember to let the glue become tacky by waiting 30 seconds after applying the glue to apply the lash. You can even use it on different little pieces you might be attaching to your skin in the name of Halloween — sequins, extra eyeballs, you name it!
3. Smashbox Iconic Finish Foundation Primer
Smashbox Iconic Finish Foundation Primer, $36, Sephora
This goes on before your foundation or makeup, so your skin is smooth and pores are invisible.
4. Use Like Products
Have both water and oil-based makeup products? According to YouTube beauty guru Wayne Goss, you shouldn't be mixing unlike products. When it comes to makeup ingredients, water and oil based products mix like Drake and Meek Mill, so keep them separated.
5. MAC Pro Longwear Paint Pot
MAC Pro Longwear Paint Pot, $22, MAC Cosmetics
Use this to prime your eyelids and eye area so your shadows and liners go on rich, opaque, and pigmented.
6. Use Waterproof Products
Lipliner, eyeliner, mascara — when in doubt, go waterproof when you know you'll be wearing products for a long time. You don't have to be jumping in a pool to use waterproof — waterproof means it won't be transferring to another area of your face (like mascara onto your under eye area).
Image: Brittany Greene/Flickr