15 Body Positive Couples Halloween Costumes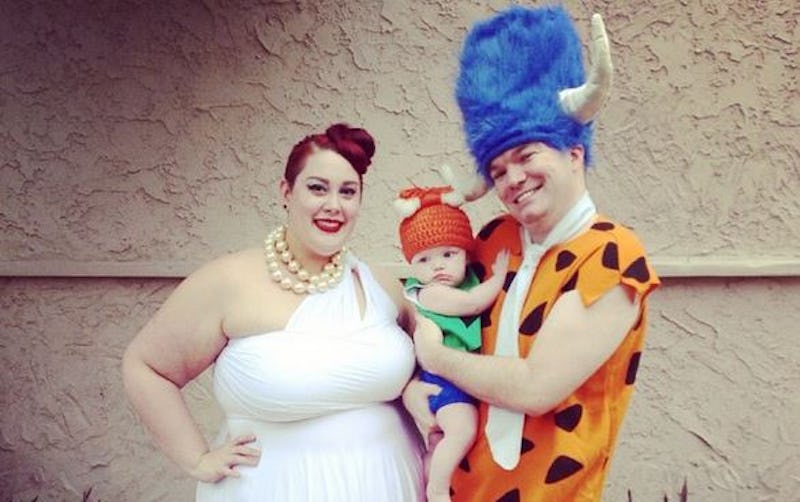 As a kid, Halloween was basically all about having a costume that no one else would be wearing at school and making sure you went trick-or-treating at the house that gave out full size candy bars. As an adult, however, I dread seeing the inevitable sexist and racist Halloween costumes that surface year after year, craving instead body positive Halloween costumes. Costumes that radiate self love not just for the wearer, but hopefully for those around them too.
When I set out to find couples costumes this year, I saw quite a few of the aforementioned offensive ones and far too many with a man dressed as a hunter and a woman dressed like a deer. Most of the time, the dude in the photo was even holding the woman like she was a dead animal. There's just something about a man shooting his partner while she's dressed as a deer that doesn't sit well with me, though, and I'm willing to bet I'm not alone in thinking as much.
To my surprise, couples costumes weren't all bad, though. In fact, I encountered pairs of all sizes that found creative ways to match without drawing on offensive tropes. From the extremely complicated to the simplest designs, these duos were able to do Halloween DIY and inspire couples everywhere to step away from the pre-packaged salt and pepper shakers. Here are just 15 body pos couples costumes to draw inspiration from.
1. The Flinstones
Plus size fashion designer Tracy Broxterman of Domino Dollhouse transformed a dress from SWAK designs to make an authentic looking Flinstones look for the whole family.
2. Pebbles And Bam Bam
This one's proof that there are many ways to turn character or TV show-based costumes into something unique.
3. Gray Scale Duo
I knew plus size fashion blogger Stina of Fatshion Peepshow would probably have a pretty cool Halloween costume because her aesthetic is like year-round Halloween. This gray scale couple costume looks just like a black and white photograph.
4. Danny And Sandy From Grease
I love this costume from plus size blogger Jennifer Buckingham of Model Radical because it shows that plus size women can dress as straight size characters. The costume is instantly recognizable as well.
5. Emojis
At this point, emojis are a part of every relationship. Hell, even my mom knows when to break out the wine one. So what better way to celebrate the many emotions of any given relationship than with this costume?
6. Jem And The Holograms
Just in time for the Oct. 23 release of the new Jem And The Holograms movie, this '80s classic is perfect for a bold look. Model Saucye West nails the graphic makeup too.
7. Waldo And Carmen San Diego
I found this pair on the #couplescostume tag and although the costumes were for Comic Con and not Halloween, the sentiment of "they found each other" is still totally adorable.
8. John Waters And Divine
I am likely one of the only plus size women who hasn't yet seen the 1972 cult classic, Pink Flamingos, but I've seen enough photos to know that plus size designer Jen Wilder nailed this look.
9. The Maitlands
Full disclosure, I haven't seen Beetlejuice either, but I can definitely tell that plus size blogger Liz Black of P.S. It's Fashion put some serious work into making these masks look super authentic.
10. Khal And Khaleesi
Bustle's own Courtney Mina made these Khal and Khaleesi costumes look effortless. Even though I've never seen Game Of Thrones (are you surprised?), I totally love her take on the characters.
11. Pop Art Couple
Although a comment on this look says Catherine put the costumes together in an hour, a few YouTube tutorials might be needed for a novice to get this makeup look down so quickly. However, this couple shows that as long as you have the patience to create literal art on your face, the look will work for anyone and can likely be completed with existing wardrobe pieces.
12. Pizza And Ranch
I found this gem under the #couplescostume tag and I feel like this is the glorifying obesity costume of my fat girl dreams. Everything really is better with ranch.
13. Frankenstein And His Bride
Although I wish that the bride of Frankenstein had her own name independent of her partner, I'm a sucker for a costume with a horror theme, so this look totally got me. Also, the #MonstersLove tag is pretty good, too.
14. Will Smith And Hilary Banks
Unlike most of the film and television shows referenced on this list, I am a big Fresh Prince Of Bel-Air fan so I actually remember when OG plus size fashion blogger GabiFresh created this look three years ago. She's always someone I can count on to take a costume to the next level, right down to the expressions.
15. Your Selfies
If you can't think of a costume, grab a partner and just go as your selfies.
There's nothing quite like wearing a costume you know is going to make you feel good, so draw inspo from these body positive folks and spread the self love on All Hallow's Eve.
Want more Halloween inspiration? Check out the video below, and be sure to subscribe to Bustle's YouTube page for more excitement!
Image: chubblebubble/Instagram