Kendall Jenner Was Kim K's #WCW & We Know Why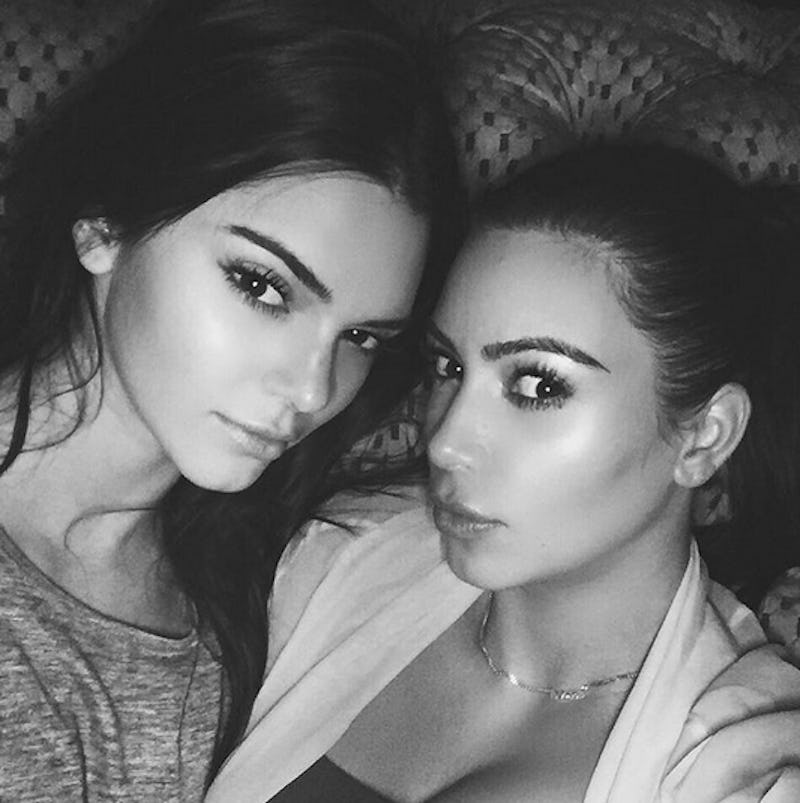 Everybody's got a woman crush by the time Wednesday rolls around, right? Kendall Jenner was Kim Kardashian's #WomanCrushWednesday this week, so Kim K and I have more in common than I thought. Jenner is all sorts of style goals 24/7, and it's nice to know that even her sister feels the same way.
Jenner and Kardashian have sweet sister moments like this all of the time because you know "America's First Family" is tight-knit, after all. Jenner even responded to Kim K's post by saying "right back at you," because obviously the love and style admiration is mutual. The two sisters are both members of the #BalmainArmy and share so much more than just that. Whenever they're together, it's always a fabulously stylish affair.
From hitting the red carpet to attending fashionable parties and family events together, these sisters know how to share their love in style, and I think that's part of what makes them their own (and everyone else's) woman crush. Let's honor their sisterly love by seeing some of their most glamorous moments together. That really seems like the most appropriate way to celebrate their WCW status, after all, doesn't it? I surely think so. Without further ado — the fashionable pair, themselves.
Aww, you guys!
1. Partyin' It Up
Attending fashionable parties is kind of what they do.
2. Sister, Sister
Smize, ladies!
3. K X K
It's a sister thing.
4. Admiration
I'd say making someone your #WCW counts as looking up to them.
5. Sister Love
XOXO.
6. Family Fun
These ladies know how to have a good time together, too.
7. Glitz & Glam
They're both so gorgeous.
How sweet are they? They're my woman crushes everyday of the week.
Want more Kardashian inspired beauty tips? Check out the video below, and be sure to subscribe to Bustle's YouTube page for more hacks and tricks!
Image: kendalljenner/Instagram (1)